DWP Social Fund Loan Online
Table of Contents
BUDGET LOANS EXPLAINED: The Department for Work and Pensions (DWP) administers advance Budgeting Loans through the Social Fund.
The short-term, interest-free, government loans can help you cover the cost of much needed essentials at home after unexpected changes or while you continue searching for a job.
So, disadvantaged claimants can use this type of Jobcentre Plus budget loan to pay for necessities and for certain types of services (e.g. a fridge, other household items).
Quick loans for people on benefits:
You can use the payments to buy clothes, footwear, and furniture. Loans from social security can also go towards advance rent payments or the cost of moving homes.
Note: You might consider these budgeting advances as a safer alternative to payday loans. In some cases, the borrowed money can even help you repay hire purchase (HP) fees and certain other debts.
---
Budgeting Loan 2022 How Much Can I Get?
You must be claiming one of the qualifying benefits to apply through the Budgeting Loan process. Certain other eligibility factors determine how much you can get from DWP loans for people on JSA.
So, here's how it works:
Most cash advances must be repaid in full, and within a two (2) year time frame. But, they are not taxable. The lowest amount you can borrow is £100 for this special job seeker benefit crisis loan.
A DWP Budgeting Loan is interest-free. That means you pay back the exact same amount that you borrow. Even so, you usually need to pay back the full amount that you borrowed within 104 weeks.
And the repayments…
Budgeting Loan repayments are taken 'automatically' out of your regular benefit payments. So, you must agree to an alternative method to pay back the advance if your rights to benefits ends.
There are no specific age rules to make an application for a budget loan from the Social Fund. You can also read the help guide in Welsh language. See 'Benthyciadau Trefnu' for information on DWP loans 2022.
Other Payment Schemes
There are several other types of payment schemes that do not need to be repaid. Check to see it you qualify for:
Local Welfare Provision (LWP) from the council
---
DWP Budgeting Loan Amounts
Coronavirus and Budgeting Loans
The DWP announced several changes to repayments during the coronavirus outbreak (COVID-19) in the United Kingdom. As a result, they will write to claimants to notify them about restarting repayments.
Here is a list of the most important changes:
Budgeting Loan repayments were stopped 'temporarily'. However, claimants need to start making repayments again.
Is your money currently taken from your benefits or pay? If so, there is no need to do anything at all because your payments will renew by automatic process.
Do you make your Budgeting Loan repayments through a bank standing order? If so, you will need to contact your bank to restart the payments.
Do you make Budgeting Loan repayments through online banking or by bank giro credit? If so, you should start your payments again.
Note: As a rule, the total amount they think you can pay back will limit the amount that you can borrow. The current DSS Social Fund loan amounts are available for this financial year.
You could get the starting amount of £100 loan or you might get a Social Fund grant up to the maximum of the three rates.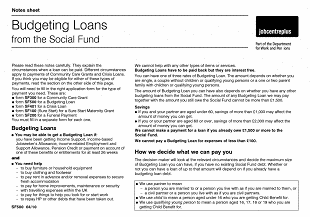 How much Budgeting Loan can I get?
£348 (for a single person)
£464 (for claimants with a partner)
£812 (if you or your partner claim for Child Benefit)
The advance payments have upper limits. So, you cannot owe more than £1,500. The threshold applies to all Social Security loans and grants.
In case you were wondering:
There are three determining factors on how much you can get (full or partial Jobseeker loan). It will depend on whether:
After their consideration they believe you will be able to pay back the loan in full.
You have any savings over £1,000 (the amount is £2,000 if either you or your civil partner are 63 or older).
You are already paying back an existing Budgeting Loan DWP or Crisis Loan.
---
Budgeting Loan Time Scale 2022
Waiting time for the DWP to consider your application begins from the actual day that they receive it. It takes up to six (6) weeks to assess and then process a claim. The advance payments go straight into a bank or a building society account.
Note: They can use a Post Office Account or the Payment Exception Service if the normal process is not possible.
---
What's the Effect on other Benefits?
Jobcentre Plus Budgeting Loans or advances do not affect other claims or benefits. They are not counted as an income or included in the Benefit Cap.
What is the Benefits Cap?
It is a threshold that limits the total amount of social security that working-age people can receive from welfare benefits in the United Kingdom.
---
Jobcentre Plus Budgeting Loan Eligibility
What is the eligibility criteria and how to get a Social Fund payment? You may qualify and get accepted if either you, or your partner, are getting income-related benefits such as:
An example:
A partner would mean a person you live with who is your spouse, civil partner, or someone you live with as if you are a married couple.
Note: Other sections cover eligibility criteria and conditions for claiming PIP and carers allowance benefits.
What if you moved over from Universal Credit to Pension Credit? In this case, the time spent claiming Universal Credit would count towards the six month requirement.
Budgeting Loan eligibility depends on several other factors. They assess the urgency of your need and any health problems that you or your family may have.
How long have you been on benefits?
You must have been receiving one of the qualifying benefits for at least 26 weeks (6 months). You should also still be claiming the benefit on the day they assess your eligibility.
Note: As a general rule, they ignore a break in benefits claims up to 28 days. The rules are different for income support in Northern Ireland. You should check Budgeting Loan NI for further guidance.
---
Budgeting Advance Loan Universal Credit
You might qualify for the Budgeting Advance payment if you get Universal Credit. The eligibility for a Budgeting Advance is not the same as the qualifying criteria for Social Loans from DWP.
So, if you have income below a maximum threshold, and you are:
Single: Apply for a Budgeting Advance if your earnings in the 26 week qualifying period are £2,600 (or less).
Couples: Apply for a Budgeting Advance if your combined earnings in the 26 week qualifying period are £3,600 or less.
The final decision depends on:
Your circumstances and any existing Budgeting Loan or Advance that you may already owe money for.
Your personal savings and your ability to pay back the credit payment.
---
When You Cannot Get Social Security Loans
If you have involvement in industrial action at work (e.g. on strike, in a walkout, or in a lockout).
If you already owe more than £1,500 in total for Crisis Loans and Budgeting Loans.
This part is important:
You will be ineligible for a Budgeting Advance if an earlier Budgeting Loan or Budgeting Advance has not been repaid in full. This usually means within a 12 to 18 month time frame.
---
What Can Budget Loans DWP Be Used For?
You can use the DWP Social Fund Budgeting Loan payment to help you pay for any of the following items and services.
Clothing, footwear, household furniture, or 'white goods' equipment (e.g. a washing machine).
Improving, maintaining, securing your home.
Removal expenses if you move to fresh accommodation.
Maternity costs.
Certain traveling costs within the United Kingdom.
Covering advance rental payments.
Repaying hire purchase or other debts (to pay for any of the above).
Essential travelling expenses or things that help you search for a job or to start work.
---
DWP Budgeting Loan Online Application
If you are applying for a social fund budgeting loan how long does it take after accepting 2022? The information in this section explains how to apply for a Budgeting Loan online.
You will be able to choose how you get the decision about your loan if you apply online, such as by (either):
Email
Text message (usually within 7 days)
Letter
You can use the same application for a social funding loan as claiming for a budgeting advance. If you choose not to apply online, you will need to download and fill in the special Jobcentre Budgeting Loans form SF500.
What about appointees?
You will need to use the paper form if you are an appointee for someone claiming benefits and you are applying on their behalf.
External link to DWP Budgeting Loan application form SF500 download from the GOV.UK loans website.
---
Tracking Budgeting Loan 2022
A postal claim can take up to thirty one (31) working days to process. Tracking a Budgeting Loan application is easier if you include your mobile phone number on the document. That means they can send you a progress report by text message.
The text message will confirm that they paid the money into your bank, building society or credit union account. They will give you a phone call if you are unable to receive text messages.
Following that, it usually takes seven (7) working days for you to get the money once you accept the loan offer using the online facility.
Note: Getting your money may take up to twenty one (21) days if you applied online but accepted the loan offer by post, and twenty five (25) days if you applied and accepted the loan offer by postal methods.
An Example (taken from a recent forum post):
Info for anyone looking for recent timescales on the acceptance letter and tracking your budgeting loan….
I applied for a job seekers loan online on the 16th November and got a text same day saying they'll send me a letter with a decision within 20 working days. I was hoping to find a DWP budgeting loan tracker to get an update on the status of my application.
Anyway, I got a letter saying it had been accepted on the 28th and I signed and posted back on the same day.
Today (7th) I got a text saying they'd received my acceptance form and it will be paid in on the 12th December.
It was an easy process and didn't really have to wait that long, but didn't stop me checking online to see how long I might have to wait…. And I couldn't find anything more recent than this post so… So, there's my experience.
Feedback from Genuine Claimants
I read with interest your article about the time scales for a budgeting loan – it looks like the DWP have made some changes to the system as it's now a lot quicker cutting the time in half pretty much – here is my timeline [February 2020].
20th Feb – Applied online
22nd Feb – Decision received in post
24th Feb – Acceptance letter posted using their envelope no additional postage
27th Feb – Text message approving payment
3rd March – Payment Due
Hope this helps inform people on your website
regards
Dave Bagnall
---
Want to help others?
You can leave any helpful comments or information for other applicants who may be struggling. Go ahead and send us an email or you can join us on Facebook.
The Jobcentre Plus loans contact number and social fund DWP Budgeting Loan return address depends on where you live. You will need to provide your National Insurance number on the declaration.
Note: They also need details of who lives with you (partner and children) and any current debts or savings that you may have.
---
Where to Send Social Fund Budgeting Loan Form DWP?
The Social Fund will send out a pre-addressed envelope with the claim form. So, send the Social Security loan form to the address written on the envelope (or to Jobcentre Plus) after filling in the application.
Note: You can also find the address in the business section of the phone book under the 'Jobcentre Plus' section.
---
How to Send a Freepost Letter
The FREEPOST address is all you need to write on the envelope. In fact, Freepost is not a free service because the recipient pays the bill. The Freepost code informs the Royal Mail which account they should bill.
You can also get the claim form at your local Jobcentre Plus. But, using postal methods can take longer than six (6) weeks to process.
For example:
They will mail the budget loan form to your address if you phone the Budgeting Loan helpline.
Social Fund Budgeting Loan Contact Number
Budgeting Loan Telephone Number: 0800 169 0140
Textphone: 0800 169 286
Welsh language: 0800 169 0240
NGT text relay: 18001 then 0800 169 0140
Monday to Friday: 8am to 6pm
Details on free and paid call charges in UK.
You should allow at least two weeks before contacting the Social Fund if you are getting loans from the Jobcentre and having the Social Security loan application mailed to you.
Note: Crisis Loans are no longer available in England, Wales or Northern Ireland. There are other methods of support which include:
---
Paying Back Social Security Loans
Because these types of government loans are interest free you will pay back the same amount that you borrow.
Paying back a Budgeting Loan is an automatic process. Repayments get taken from your benefits when they get paid. How much benefit you receive, and what you can afford, determines the amount that you repay.
Two tables show Budgeting Loan deductions based on weekly and fortnightly benefit payment time schedules. It may help you work out how much you owe on Social Fund loan repayments.
Social Fund Repayment Calculator £100-812 (weekly)
| Your Weekly Benefit Payment | Jobcentre Loans Deduction |
| --- | --- |
| £73.10 | £3.66 – £8.77 |
| £87.50 | £4.38 – £10.50 |
| £102.15 | £5.11 – £12.26 |
| £109.30 | £5.45 – £13.12 |
| £114.85 | £5.74 – £13.78 |
| £300.00 | £15.00 – £36.00 |
Social Fund Repayment Calculator £100-812 (fortnightly)
| Your Fortnightly Benefit Payment | Jobcentre Loans Deduction |
| --- | --- |
| £146.20 | £7.31 – £17.54 |
| £175.00 | £8.75 – £21.00 |
| £204.30 | £10.22 – £24.52 |
| £218.60 | £10.93 – £26.23 |
| £229.70 | £11.49 – £27.56 |
Note: As a rule you must repay a hardship loan within 104 weeks (2 years). But, if you lose your entitlement to benefits you will need to arrange another method to pay back the loan.
---
How Many Budgeting Loans Can I Have in a Year?
The Social Fund does not stipulate how often you can apply. Even so, they have strict rules for taking out further loans. But, 'YES' you can get another loan even if you already owe money from a previous arrangement.
But, they will consider your circumstances and the amount of debt that you already have. They will want to know that you can afford to repay a further loan before agreeing to it.
---
Answers to Essential Questions
Can You Still Get Crisis Loans from the Jobcentre?
Crisis Loans ended in March of 2013. Your local council is now responsible for helping in cases of severe financial hardship. They can issue Discretionary Funds to provide extra support.
But, eligibility criteria for financial hardship assistance depends on your circumstances and the specific guidelines of your regional council.
Can I Lower My Budgeting Loan Repayments?
Are you having difficulty making the repayments? There are ways to reduce the burden if you are unable to make the repayments at the original rate (e.g. extending the repayment period). Contact your nearest Jobcentre Plus office or the Pension Service for further advice.
How Much Do You Get for Christmas Bonus Benefit?
You might know it as the job seekers Christmas Bonus. But £10 DWP Christmas payments go out to most benefit claimants who are getting certain welfare benefits during the qualifying week.
How Long Does a Budgeting Loan Take?
In general, the Social Fund loan online process takes around three (3) weeks after applying for a Budgeting Loan.
DWP will usually reply with your acceptance after two (2) weeks of your application. It may take up to one more week for the money to clear in the bank and show in your account.
You can help speed up the process by filling in Budgeting Loan forms accurately and completely. Hand delivering the documents to your local Jobcentre Plus could save you at least a week of waiting time.
Do You Qualify for Free NHS Prescriptions?
Some people get an exemption from paying NHS prescription charges. Check if your age, a low income, or medical grounds would make you exempt.
What is JSA Benefit?
Jobseeker's Allowance is the main unemployment benefit for those who are searching for work. The JSA benefit helps to cover living expenses for qualified claimants.
Can I Work and Claim Jobseekers Allowance?
In fact, working while claiming JSA is allowed and encouraged. But, it must be part time employment and job-hunting for longer working hours must continue.
---
---
Appeal a Benefits Loan Decision or Claim
Contact your Jobcentre Plus office for questions about Budgeting Loans. Allow 15 working days after posting your Jobcentre budget loan application form. They will need about two weeks to process your claim.
The way appeals work:
You can request a Budgeting Loan decision review if you are unhappy with the outcome. Write to Jobcentre Plus within 28 days. You should provide a full explanation of why you think the decision is wrong.
You are also entitled to ask for a further review by the office of the Independent Case Examiner. This service is for those who still think the decision was wrong (after the initial review). This extra review should take no longer than 21 working days to complete.
Note: The short YouTube video [5:01 seconds] explains quick ways to get financial help and emergency loans.
Did you find all the answers you were looking for, especially on 'how long does it take to get a budgeting loan'? You will find even more information on grants and allowances for job seekers in the main section.
---
DWP Social Fund Budgeting Loan How Long Does It Take and How Can I Apply?