DWP SAME DAY PAYMENT: What if you have cash-flow difficulties and cannot afford to wait for your first welfare payment?
You could qualify for a 'short term benefit advance' to help you pay your priority bills.
The DWP short term advance is for 'awarded claimants' who are experiencing hardship or a financial crisis.
They award it most often to a person or family when not doing so, 'could create a serious impact on health or safety'.
You must have already applied to receive a benefit (for the first time). But, you may then be eligible to get support from a short term benefit loan.
Your local Jobcentre might award the short-term advance payment of your welfare when you make a new claim. It is available for people who already had their claim awarded.
In some cases, credit can get approved early if the Jobcentre adviser feels your new claim is likely. Furthermore, it can also occur if you report 'significant changes' in your family or household circumstances.
---
Short Term Benefit Advance Eligibility Criteria
Emergency Payment Example:
Seeing a big increase to your existing benefit rate could trigger a claim for DWP short term advance same day payment. It can also occur if a technical issue causes a processing problem for payment on your due date.
The eligibility criteria to get a short term advance applies only when you have recently made a new claim to get:
Note: These are 'means tested benefits' administered by the Department for Work and Pensions. They are only available for individuals who are at least sixteen (16) years old living in England, Scotland, Wales, or Northern Ireland.
---
How to Apply for a Short Term Benefit Advance
As a rule, you would need to pay back a short term benefit loan within twelve (12) weeks. The Jobcentre adviser can extend it to six (6) months in exceptional situations. Repayments are usually taken weekly from your future welfare payments or allowances.
This part is important:
Be sure to use the correct advance payment number associated with the benefit you are claiming. You will need to inform the Jobcentre Plus adviser about your situation, circumstances, and the amount you want to borrow.
They usually need to have your phone number for 'call back'. But you can provide them with an alternate phone number or use the Jobcentre office as a contact point.
In some cases you can use the telephone at your local Jobcentre Plus. They can even apply to the benefit centre on your behalf if you have difficulty speaking on the phone.
---
DWP Short Term Benefit Advance Number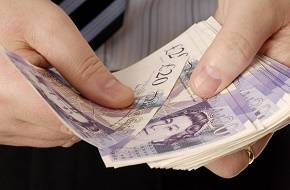 Carer's Allowance Advance Helpline
Telephone: 0800 731 0297
Welsh language: 0800 731 0297
Textphone: 0800 731 0317
Monday to Friday: 8am to 6pm
Pension Credit or State Pension
Telephone: 0800 731 0469
Welsh language: 0800 731 0453
Textphone: 0800 731 0464
Monday to Friday: 8am to 6pm
UK paid and free phone call rates.
Note: Information on how to get an advance on your first benefit payment, and same day payment times, is also available in Welsh language 'Cael taliad ymlaen llaw o'ch taliad budd-dal cyntaf' (Cymraeg).
---
If the Emergency Benefit Loan Gets Awarded
They will inform you when benefit payments get paid and how. So, how long does a same day payment take to get from the Department for Work and Pensions (DWP)?
Most often they get paid on the same day as the approval. In some cases, it may be the next working day after they award your claim.
The amount you get depends on each individual situation. But, all the money would go straight into a bank, into the Payment Exception Service, or a Post Office card account.
Note: You do not pay interest on same day benefit loans. The benefit cap would treat this kind of early payment in the same way as regular income support.
---
How to Repeat an Advanced Benefit Payment
You might be able to repeat the short term advanced benefit payment if your circumstances change. A repeat advance can happen straight after receiving the first one.
This might also happen if you had a previous claim turned down or when you need more than you had previously thought. If you are unhappy with the decision you can ask for a reconsideration (at the time of the decision).
---
Challenging a Short Term Benefit Advance Decision
You can request a reconsideration after you get the decision. This is for cases where you feel the decision maker did not consider the correct information.
Another decision maker will look at your case based on any new and correct information. But, there is no specific right of appeal against short term benefit advance payment or refusal.
Note: In some cases you can challenge the decision through the courts using a legal adviser. The judicial review is for cases where staff failed to follow the correct procedures.
---
Related Help Guides
---
DWP Same Day Payment: How to Get a Benefit Advance in United Kingdom