ESA BENEFIT: Employment and Support Allowance is an unemployment allowance. It has replaced several other incapacity benefits.
It provides monetary support for people who are unable to work due to an illness or a disability. You do not need to be out of work to apply for ESA. Being employed, or a self-employed worker, means you may still qualify.
In some cases, claimants will get transferred to Employment and Support Allowance. Thus, you might move from certain incapacity benefits to ESA (e.g. from Income Support to ESA).
The main focus for ESA is getting people with a disability back into the workplace. It combines financial help with vital personalised support and guidance. The aim is to find you a job that is both appropriate and suitable.
ESA benefits also offer access to a trained Employment Service Adviser. They help claimants cope with their illness or disability in their working environment.
Claiming Employment and Support Allowance comes with some responsibilities. The expectation will be for you to prepare for, and return to, the workplace in some capacity or another. As a rule, this means you will get asked to attend job focused interviews.
---
ESA Work Capability Assessment Test
The ESA medical test assesses you on the tasks that you 'CAN' perform rather than those you cannot. The main purpose is to evaluate the extent of your illness or disability. They want to find out how it might affect your ability to work.
Here's how it works:
The Work Capability Assessment is mandatory if you want to claim ESA. The outcome will determine whether you qualify for Employment and Support Allowance. If so, you get placed into one of the two ESA groups, which are:
A work-related activity group (WRAG) attending regular interviews with an Employment Service Adviser.
A support group where there would be no requirement for claimants to attend job interviews.
---
How Much Do You Get for ESA Benefit 2022?
If you meet ESA entitlement, the amount you get will depend on several factors, including:
Your financial circumstances (e.g. income and savings).
Which type of Employment and Support Allowance you get placed in. There are three different types of ESA levels.
The outcome of the Work Capability Assessment process.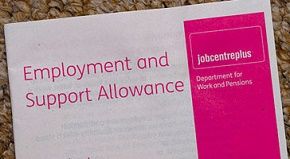 Note: You can use a benefits calculator before making an application. It helps you check whether you might get Employment and Support Allowance (ESA).
---
Reporting a Change of Circumstances
You must report any changes to your circumstances while claiming ESA. It ensures you get the correct amount of Employment and Support Allowance.
If you delay reporting a change, your payments might get stopped or reduced. Typical examples of circumstantial changes include:
Starting work or stopping work, training, education, or an apprenticeship.
Moving house or people moving into or out of the place where you live (e.g. a partner or a child).
Changes to the benefits that you or anyone else in your household receives.
Changes to your savings, pension, investments, or property or any other money you get (e.g. student loans, grants, sick pay, or money from a charity).
Changing your name (e.g. by deed poll).
Changing your doctor or changes to your medical condition or disability.
Going into hospital, a care home, or sheltered accommodation.
Going abroad for any length of time.
Note: Contact the ESA helpline if you need information about reporting a change. Giving incorrect, incomplete, or delayed information can result in a prosecution or a £50 civil penalty.
---
How to Report Changes to the ESA Helpline
There are several ways to report a change of circumstances including:
Phoning the Employment and Support Allowance helpline.
Writing a letter to the Jobcentre Plus office that pays your ESA. Their address is on the letters they send to you about your ESA.
ESA Helpline
Telephone: 0800 169 0310
Textphone: 0800 169 0314
Welsh language: 0800 328 1744
Monday to Friday: 8am to 6pm
Check the cost of making a phone call.
---
Employment and Support Allowance Centre in Northern Ireland
New Claims: Telephone 0800 085 6318
General enquiries or to report a change of circumstance: Telephone 0800 587 1377
Text number: 0800 328 3419 (for deaf and hard of hearing users only)
Mail Opening Unit
PO Box 42
Limavady
BT49 4AN
---
ESA Overpayment
Failing to report a change straight away, or giving false information, means you might get paid too much. If this happens, you may need to pay back benefit overpayments.
---
ALSO IN THIS SECTION
Find out if you meet the conditions for claiming Employment Support Allowance.
A list explaining Employment and Support Allowance groups and the weekly amounts.
Check how different types of Employment and Support Allowance determine the payments.
There are several different ways to apply, but claiming by phone is often the quickest way.
Note: Check to see if you qualify for the Christmas Bonus 2022 extra payment arriving in December.
---
Moving from Incapacity Benefits to ESA
You get moved from incapacity benefits over to Employment and Support Allowance. If so, they will inform you which one of the ESA groups you get allocated to.
It could be the support group or the work-related activity group. It may apply if you get transferred from:
Note: In such cases as these your benefit will be automatically transferred and there should be no break in your ESA payment dates. But you will need a Work Capability Assessment to determine your eligibility for Employment and Support Allowance.
Your payments increase as soon as you move to ESA if your previous benefit was a lower amount. You should receive a 'top-up payment' if your current benefit is more than the normal Employment and Support Allowance rates.
The benefit you get does not increase until the normal amount of ESA has also increased by the amount of the top-up payment.
---
Employment and Support Allowance: ESA Regulations in United Kingdom