NEW REGISTRATIONS: Vehicles that may not yet have registration with the DVLA include:
Those that are brand new from the manufacturer.
Those built from scratch by amateurs or enthusiasts (examples include kit cars and replicas).
Models that have been personally imported vehicles such as from overseas or outside the United Kingdom.
Those undergoing major rebuilds (e.g. following a major accident).
Limited production makes, some old vintage models, or classic cars.
---
Applications for New Registrations: Form V55/4 or V55/5
There is a set process to follow no matter what type of newly registered vehicle you have. You will need one of these documents from the DVLA form ordering service.
DVLA Form V55/4: For new registrations of a new vehicle, newly imported vehicle, or a newly-built kit car.
DVLA Form V55/5: For new registrations of a used vehicle, rebuilt vehicle, used imported vehicle, or an older vehicle that never got registered.
---
Identity Documents Needed for New Registrations
You will need to prove your identity when you make a new registration at DVLA. One way is to send a photocopy of your photocard driving licence along with your application form.
There may be a reason why you are unable to do this. In this case you must still prove your name and address. You would need to send in photocopies of two separate documents. One to prove your name and another to prove your address.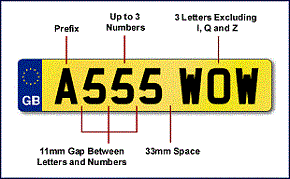 Any of these documents will confirm your name:
Passport.
Marriage certificate (or decree nisi or absolute).
Birth certificate.
Current UK paper driving licence (not the paper counterpart).
Any of these documents will confirm your address:
Your medical card.
Your council tax bill for the current year.
A recent utility bill such as electricity or gas (within the last 3 months).
A recent bank account or building society statement (within the last 3 months).
Note: Current trade plate holders can fill in the DVLA Form V959 instead. The 'Notification of name and address check' also proves your identity.
---
Supporting Documents Required for All New Registrations of Vehicles
Making a new registration at DVLA will require some supporting documentation as well. You will need to send:
Payment of the correct fee for your vehicle tax rate.
The fee of £55 for making a new registration (where applicable).
A current MOT certificate for vehicles more than 3 years old (4 years in Northern Ireland).
A certificate of newness if it is new (use a declaration of newness for imported vehicles).
Any relevant documents appertaining to the vehicle (e.g. build plans for kit cars).
Insurance certificate or cover note if registering the vehicle to a Northern Ireland address.
In some cases you will also need to send extra forms and support documents if your vehicle is:
---
DVLA Inspection for New Registrations
As a rule, the Driver and Vehicle Licensing Agency inspect vehicles before issuing new registrations. DVLA send the V5C registration certificate (log book) once it gets approved and return any identity documents. A new V5C log book registration will show:
The registration number of the vehicle.
The name and address of the registered keeper.
Other relevant information about the vehicle. This includes the vehicle identification number (VIN), its make, and the number of previous keepers.
The DVLA do not make any guarantees for the return of the documents by any specific date. Even so, you should receive the new registration certificate within 6 weeks of them getting your application.
Note: You can get your documents returned by special delivery. But, you would need to provide a prepaid self-addressed, special delivery envelope. Contact DVLA after six (6) weeks if you do not get a response from them.
New Registrations Fee 2022
There is a single fee of £55 to register and tax a vehicle for the first time with DVLA. Payment methods include a cheque or postal order. But, you should not send cash through the post.
Some exemptions exist and there will be no fee for new registrations of some vehicles, such as:
Vehicles first registered and licensed in the exempt taxation class for disabled persons.
Most historic vehicles previously registered with the old local authorities (includes late conversions).
Vehicles which were previously registered in Northern Ireland.
Imported vehicles previously registered under the personal export scheme and the new means of transport scheme.
Visiting military forces vehicles and some Crown exempt vehicles.
Those registered under the direct export scheme.
Vehicles registered for off-road use only such as some quad bikes and quadricycles.
---
---
New Registrations Process with DVLA for Vehicles in the United Kingdom