QUAD BIKE LAWS UK: This page explains the rules and regulations for driving an ATV on roads in the United Kingdom.
To do so, in most cases your quad bike must have vehicle approval, have registration, road tax, and an MOT (where required).
That is because some quad bikes do not meet the UK Highway Code road safety standards.
The Government classes a quad bike as being a B1 vehicle. That means the driver must be at least 17 years old and have the correct licence to drive a road legal ATV on public roads.
In fact, quad bike drivers must hold either a full car licence or a full motorcycle licence category B1 (if issued before January 1997). Road legal quad bike laws do not allow the use of any other motorcycle licence version.
As a general rule, the manufacturer of your quad bike will confirm whether it is 'vehicle type approved' for road use. If not, in some cases you may need to apply for a type approval certificate.
This applies to quads, trikes, and ATVs that did not get standard approved registration but they meet road safety standards.
---
Quad Bike Rules UK for Riding on the Road
How to Road Register a Quad or Trike
Your quad bike needs registering with the DVLA before you ride it on the road. They get classified as a Private Light Goods Vehicle.
To register a quad bike and get Motorcycle Single Vehicle Approval it must either:
Comply with European Community Whole Vehicle Type Approval (ECWVTA).
UK National Type Approval (Small Series).
UK Motorcycle Single Vehicle Approval Scheme (MSVA).
Have proof of compliance with a Certificate of Conformity (CoC).
Note: UK quad bikes law also states you must have number plates on the front and the rear of the vehicle. The bike must be under 10 years old if your 4×4 quad has been off-road and not yet registered.
---
Do You Have to Wear a Helmet on a Quad?
What is the quad bikes law for wearing a crash helmet? If you are driving your quad bike on a public road you do not have to wear a safety crash helmet.
But, because you are not restrained by a seat belt, the police in the United Kingdom recommend wearing a safety crash helmet. The same applies to pillion passengers but it is not a legal requirement.
Note: Failing to wear a helmet while driving a quad bike in Northern Ireland can result in a fine up to £500.
---
Quad Bike Passenger Law
Drivers are usually straddled on the front seat of a road legal ATV and get steering control from the handlebar. If yours got designed to carry passengers then you can have pillion riders seated on it.
What happens if you build your own quad bike or modify an original version? In this case, you would need to get the DVLA to certify the bike and confirm the number of passengers allowed.
Note: You should check with the manufacturer if you are unsure whether you can carry passengers – and how many.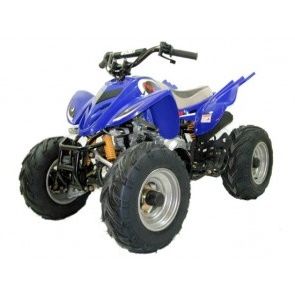 ---
Quad Bike Licence UK
Can you ride a quad on a car licence? Yes, you can drive a quad bike or trike on the road if you have a full car licence. But, anyone with car driving licences issued before January 1997 is going to need a B1 license type.
---
ATV MOT Rules
If your quad bike is over 3 years old, you need to have it tested and hold a valid MOT certificate to use it on the road.
---
Road Legal Quad Bike Insurance
The third party insurance is the legal minimum to ride quad bikes on a public road. Even so, having full comprehensive insurance is always recommended.
---
Light Quad Bike Laws at 16 and Mini Motos
Lighter quad bike classifications must also meet maximum power and speed restrictions. Light quad bike laws for construction requirements are the same as a motor tricycle or a 3 wheel moped.
The legal age to drive quad bikes has an exception. It applies to those who are age 16 years if they receive, or have applied for, the enhanced rate of the mobility component of PIP.
---
Quad Bike Rules for Riding Off-road
Quad bike laws say you can only ride an off-road version on private land. You must also have full permission from the land owner to do so. Land owned by local councils is not classed as private land in the United Kingdom.
Children under 13 years old are not allowed to drive or be a passenger on a quad bike while driven on private land. Those aged 13 or over can ride quad bikes of an appropriate size and power. But, only after they have received formal training for driving ATVs.
You do not need any type of driving licence to ride quad bikes off-road. Likewise, if you only use your quad bike off-road you do not need to get vehicle registration or tax it.
How does that work?
You can register your off-road quad bike if you have concerns about theft or vandalism. Registration takes place on the DVLA Off Road Register.
The ORR facility gives instant access to the police national computer and registered keeper files. This helps police forces track stolen vehicles and may result in the recovery of your quad bike.
---
Agricultural Quad Bike Regulations
Quad bikes need registering as a light agricultural vehicle if you use them for:
Agriculture
Horticulture
Forestry
---
Using an Agricultural Quad Bike on the Road
Registered light agriculture vehicles do not need an MOT test for use on public roads. But, to use it on a public road it must be:
Registered and licensed for road use.
Covered by at least third party insurance.
Fitted with number plates displaying vehicle registration on the front and the rear.
Fitted with lights if it gets used during darkness.
Note: Night (the hours of darkness) gets defined as the period between half an hour after sunset and half an hour before sunrise.
---
Quad Bike Tax
Vehicle tax is not needed for quadricycles used in agriculture, horticulture, or forestry. But, you must pay road vehicle tax if it's used on the road. The specific road tax class depends on its use and will either be:
Limited use tax class for bikes.
Agricultural machine class for bikes not licensed for road use.
---
Carrying Pillion Passengers
As a rule most quads used as light agricultural vehicles only have a driver seat and no passenger seats. Any quadricycle registered as light agriculture vehicles do not allow passengers. This also applies to those designed to carry pinion or passengers.
Note: The Department of Transport has further information about using quads and quad bikes law.
---
International Vehicles and Standards
Department for Transport
Zone 1/33 Great Minster House
33 Horseferry Road London SW1P 4DR
Email: [email protected]
Telephone: 020 7944 2091
Not all phone calls are free in UK.
---
Related Help Guides
Highway Code Rules: Essential reading for vehicle drivers, motorcyclists, and all other road users.
Electric Bike Laws: Basic guide explaining the rules and regulations for riding electric bikes.
Police FAQ Section: Quick and simple answers to the most common questions about driving laws.

Road Safety for Kids: A simple guide teaching young children how to stay safe near the streets.
Tinted Windows Law: Outlining all tint measurement regulations and car window tinting rules.
www.kent4x4offroading.co.uk: An informative website all about 4×4 and SUV sports utilities.
Note: The Government plans to scrap EU 'Vnuk' motor insurance law (e.g. requiring insurance for a wide range of vehicles such as quad bikes, mobility scooters, and ride-on lawnmowers).
---
Quad Bikes Law: Legal Requirements for Use in United Kingdom