THIRD PARTY: You cannot have anything less than the legal minimum vehicle insurance.
The lowest level of cover you can have is third party only insurance. It is the minimum legal requirement in the United Kingdom.
It covers damage or injury caused to any other person, vehicles, animals, or property. But, third party only does not cover 'all' costs (e.g. repairs to your own vehicle).
This level ensures financial compensation is available if you injure other people. It also covers passengers and any damage caused to property.
Third Party Fire and Theft
This level provides extra coverage beyond third party only insurance. It also insures your vehicle against damage caused by fire or if it gets stolen.
Comprehensive Insurance
This level provides extra coverage beyond third party fire and theft. Comprehensive also covers your vehicle if it gets damaged in an accident. Most insurance companies offer additions to this level of cover, such as:
Providing you with a courtesy car while yours is off the road getting repaired.
Covering your legal expenses and a recovery of uninsured losses (e.g. insurance excess).
Certain types of roadside recovery schemes and vehicle repairs in case of breakdown (e.g. windscreen replacement).
Note: Different insurance companies offer varying levels of motor insurance cover. The British Insurance brokers' Association can help you search for an insurance broker. Their 'Find-A-Broker' tool returns results based on the distance set by your location or postcode.
---
If You Have an Accident
As a rule, you must give some basic information if you have an accident that causes damage or injury. If they have 'reasonable grounds for requiring them' (e.g. an insurance company) you must give:
Your name and your address.
The vehicle registration number.
The name and address of the vehicle owner (if it is not yours).
Note: You must report an accident to the police within 24 hours if your details are not given at the time. You must also report an accident to your insurance company. This rule applies even if you do not plan on making a claim.
Having an Accident with an Uninsured Motorist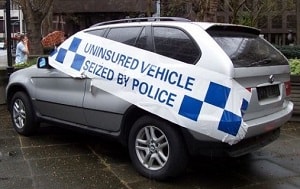 You should contact the police if you have a road accident with someone who does not have vehicle insurance. You can also get more advice from your insurance company if it happens.
In some cases, innocent victims can claim compensation from the Motor Insurers' Bureau. They deal with injuries or property damage caused by an uninsured or 'hit and run' driver. Contact the MIB to check what you can claim for, the deadlines, and how make a to claim.
The Motor Insurers Bureau (MIB)
Linford Wood House
6 – 12 Capital Drive
Linford Wood
Milton Keynes MK14 6XT
www.mib.org.uk
Telephone: 01908 830001
Find out more on call charges.
---
Vehicle Insurance Driving Abroad
Driving in the European Union
Any UK vehicle insurance meets the vehicle insurance law to drive in EU countries. As a rule, the coverage will be third party only. Thus, check with your insurer if you need extra cover while driving abroad for vehicle damage or theft.
Driving in Countries Outside the EU
A 'green card' proves minimum insurance coverage in any country outside of the EU. As a rule, your insurance company will issue one for you.
---
Uninsured Vehicle Law
Vehicle Insurance Law in England, Scotland, and Wales
You need motor insurance for any vehicle if you use it on the roads or in public places. But, motor insurance is not required if it gets kept off the road and declared as 'off the road'.
This type of SORN rules is also known as 'continuous insurance enforcement'. Failing to have it could mean:
You will get a fixed penalty of £100.
Your vehicle gets wheel-clamped, impounded, or destroyed.
You will face a court prosecution which may result in a maximum fine of £1,000.
Note: The registered keeper gets penalised no matter who is driving the car. Motor insurance will still need paying on top of any fines. You can check if a vehicle is on the Motor Insurance Database (via askMID.com).
Exceptions for Motor Traders
Exclusions exist for vehicles registered as 'in trade' with the DVLA. Thus, it would get excluded from continuous insurance enforcement. But, this exclusion does not apply to vehicles kept for your own private use.
Vehicle Insurance Law in Northern Ireland
Note: Vehicle insurance law differs in Northern Ireland compared to England, Scotland, and Wales.
---
Driving without Vehicle Insurance
Driving a vehicle in a public place or on a road without 3rd party insurance (or better) is illegal.
Note: You are breaking the law if you do not have the correct insurance to drive it, even if the vehicle is in fact insured. In this case, you could still get penalised.
Penalties for Uninsured Drivers
The police can give a fixed penalty of £300 and 6 penalty points to an uninsured driver. That means you would have got caught driving a vehicle that you are not insured to drive. In some cases it may also go to court which means you could get:
Note: A vehicle driven without insurance can get seized by the police. They also have the power to impound it and completely destroy the vehicle in some cases.
---
Vehicle Insurance Law in the United Kingdom