DISABILITY TRANSPORT: What is it like using public transport if you are disabled? We list the rights of people with disabilities to use trains, planes, ships, and automobiles in the UK.
---
Disabled Travel on Trains
The 'National Rail Enquiries' website is the official source for train times and timetables in the United Kingdom. Disabled people can give National Rail train companies advance notice of a journey.
This is useful if you will need help from the staff. It is also a good way to check if a particular train station has accessible facilities.
Using Wheelchairs on Trains
There is space for wheelchair users on mainline trains (intercity, suburban and cross-country). There are several requirements to meet while the train is moving. You must put the chair in the designated space and apply the brakes. You should switch off the power on powered wheelchairs during the trip.
Disabled People's Protection Policy
The Disabled People's Protection Policy protects your right to travel by train. It is a requirement for each train company to produce a DPPP.
Note: You can request a copy of the Disabled People's Protection Policy from any train company. It explains how they assist passengers with disabilities use their trains and stations.
Disabled Railcard Rules
Those who qualify can get up to 1/3 off rail tickets for themselves and for a friend. You can apply for a disabled persons railcard online. You will need to give some evidence of a relevant disability.
---
Disabled Travel on Planes
The facilities for disabled people tend to vary a lot between airports and airlines. You will need to check the particular airport or airline you are using. They will confirm whether the facilities you need are available. A typical example would be having disabled access to a toilet.
Getting Help at an Airport
Some people have a sensory, physical, or a learning disability. It often affects a person's mobility when they use transport. You have disability rights at European airports, which includes:
Getting help at specific arrival stations. Typical points include terminal entrances, transport interchanges, and around the car parks.
Receiving mobility assistance to reach the check-in and then getting help with registration.
General help moving through the concourse at the airport. It includes getting to the toilet areas if needed.
Note: You get the right to help due to age or a temporary illness or injury (e.g. a broken leg in a cast). Disabled people can travel with 2 items of mobility equipment free of charge. It does not count as part of airline baggage allowances. Inform the airline 48 hours before departure if you are going to need help with a disability.
Taking a Wheelchair on a Plane
Airlines do not allow a personal wheelchair in the airplane passenger cabin. They store it in the hold compartment for the flight. Thus, the airline will provide help for people with disabilities when boarding.
Note: What if you plan to take a battery-powered wheelchair or mobility aid onto the plane? In this case, you must inform the airline or travel operator without delay.
Travelling with a Companion
Disabled people must travel with a companion if they are not self reliant. This rule applies to anyone who needs help with breathing, feeding, taking medication, or using the toilet. Most airlines try to ensure you both sit next to each other on the plane. But, you should give them at least 48 hours advance notice before the departure.
Travelling with an Assistance Dog
Your rights during transport if you are disabled also extend to your assistance dog. But, you must follow all the rules on pet travel in and out of the United Kingdom.
---
Driving a Car with a Disability
You will need to check certain things if you are driving with a medical condition or a disability. There may be rule differences for learning to drive and getting the vehicle insured.
Note: The UK Blue Badge scheme helps people who have severe mobility problems. It addresses the difficulties and problems disabled people face when using public transport. Thus, applying for a Blue Badge means disabled drivers can park closer to the place they want to visit.
---
Motability Car and Scooter Scheme
The UK Motability Scheme enables disabled people to get more mobile. It exchanges their mobility allowance to lease a new vehicle. That mobility vehicle could be a car, a scooter, or a powered wheelchair.
---
Disabled Travel on Buses and Coaches
You can apply for a disabled person's bus pass if you are 'eligible disabled'. Passes are part of the English National Concessionary Travel Scheme. You can use a bus pass from a council in England:
Anywhere in England at any time on a Saturday, a Sunday, or one of the bank holidays.
Anywhere in England from 9:30am to 11pm on any other day.
Note: Contact your relevant council for travel outside of these times.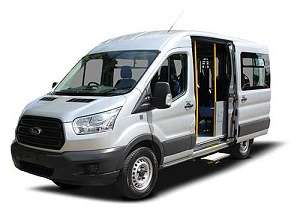 Giving On and Off Assistance to Disabled People
Bus and coach drivers must follow certain laws for disabled passengers. The driver must provide 'reasonable assistance' to help them get on and off the bus or coach. The law does not require them to 'physically' lift a passenger or any heavy mobility equipment.
Note: It is not uncommon for disabled people to use public transport. But, if you need help getting on and off, you should let them know when you book the ticket.
---
Disabled Transport in Taxis and Minicabs
Laws on Wheelchair Access
Licensed taxis must be wheelchair accessible in many areas (e.g. most large cities). But, there may not be any wheelchair accessible taxis in your particular region. You can contact the taxi licensing office located at your local council to check.
---
London Taxi Black Cabs
All black cabs in London are wheelchair accessible. Many modern 'black cabs' also have induction loops and intercoms fitted. This helps the driver communicate with passengers who use hearing aids.
---
Disabled Travel with Assistance Dogs
Some disabled people have an assistance dog when travelling in public transport. As a rule, the driver of a taxi or minicab must allow an assistance dog in their vehicle.
The only exception to the rule is if the driver has an exemption certificate. The authority may issue it if the taxi driver has a medical condition that gets worse with dog contact.
There is an easy way to recognise a taxi driver with an exemption certificate. They will display a yellow 'Notice of Exemption' card on the windscreen of their vehicle.
You can take any of these types of assistance dogs with you inside taxis or minicabs:
Guide dogs trained by the Guide Dogs organisation.
Hearing dogs trained by Hearing Dogs.
Assistance dogs trained by Dogs for the Disabled, Support Dogs, or Canine Partners.
Note: It is against the law for the driver to charge extra for you to travel with your assistance dog in a taxi or minicab. The driver can get fined up to £1,000 for doing so.
---
Travelling with Your Assistance Dog
Taxi and private hire vehicle drivers understand how to identify an assistance dog. Thus, the dog should wear its harness or identification jacket while travelling. Some dogs get an identification card too. You should carry this with you if so.
Your dog should stay on the floor and be under your control at all times. The driver can ask you to pay for any damages to the vehicle if they got caused by your assistance dog.
Note: You can hail a licensed taxi on the street, pick one up at a taxi rank, or pre-book them. But, all minicabs (aka 'private hire vehicles') must get pre-booked.
---
How to Report Problems
Disabled passengers have the same discriminatory rights as able-bodied passengers. Thus, all taxi and minicab drivers must not discriminate against you. They cannot treat you less 'favourably' than any other customer.
Note: The law expects taxi drivers to make any 'reasonable adjustments' to make the journey easier. Thus, you can report unlicensed taxi or minicab drivers or any issues to the taxi licensing office at your local council.
---
Disabled Travel on Ships
Help for disabled people who travel on ships is available on any of the following:
A local ferry service (e.g. the Thames River Bus)
A cruise ship leaving from a port within the European Union
A ferry leaving from (or going to) a port within the European Union
In some cases, you may need to make specific arrangements for the journey. For example, you might choose to have accommodation or certain seating requirements. Make sure you inform the cruise line, the ferry service, or the tour operator when you book the ticket.
---
Travelling on a Ship with a Carer
Always inform the cruise line or the ferry service if you must travel with a carer. In some cases, the company may allow the carer to travel for free.
Getting Help to Embark and Disembark
It is not unreasonable to assume that a disabled person would need help getting on and off a ship or boat. It is best to inform the ferry service or cruise line in advance (at least 48 hours).
---
Shopmobility Wheelchair Hire
Shopmobility is a company that lends out wheelchairs and powered scooters to people with a disability. That helps them to go shopping or visit leisure facilities in a town or city. Contact Shopmobility for further details.
The National Federation of Shopmobility
Email: [email protected]
Telephone: 01933 229644
2-4 Meadow Close Ise Valley Industrial Estate
Wellingborough NN8 4BH
Check the cost of phone calls in England.
---
Travel and Transport if You are Disabled in the United Kingdom