INFORMING DVLA: Having a driver's licence means you must disclose certain medical conditions to the DVLA. The typical physical and mental situations would be if:
You develop a 'notifiable' medical condition or disability.
A condition or a disability worsens since getting your licence.
Note: Contact the DVA about medical conditions, disabilities and driving in Northern Ireland.
Having a 'notifiable' condition means it could affect your ability to drive a vehicle, or ride a motorbike, in a safe manner.
Some of the common notifiable conditions and disabilities associated with driving and licences include:
Cardiac or coronary angioplasty
Diabetes or taking insulin
Epileptic attacks, seizures, fits and blackouts
Myocardial infarction (heart attack)
Neurological and mental health conditions
Physical disabilities and visual impairments
Transient ischemic attack (stroke)
---
How to Inform the Driver and Vehicle Licensing Agency
You can view the full list to check if a health condition affects your driving on the GOV.UK website. If so, you will need to inform DVLA about the condition. Each condition has further details on the questionnaires, forms, and addresses you need. Different medical conditions and disabilities use different forms.
Note: Failing to report a driving medical condition which may affect your ability to drive 'safely' can result in a fine of £1,000. Having an accident means you may also face prosecution.
When to Surrender Your Driving Licence
Your doctor may tell you that a medical condition means you need to stop driving for three (3) months or longer. If so, you would need to meet the medical standards for driving again before reapplying.
Note: There is a special process for surrendering your driving licence to the DVLA. You can then reapply for a driving licence following a medical condition.
First Licence Application or Renewal Over 70
There are other times when you must inform the Driver and Vehicle Licensing Agency about notifiable conditions, such as:
Note: You get asked information about your health on the application form. Thus, there is no need to contact DVLA as a separate issue.
---
After Telling the DVLA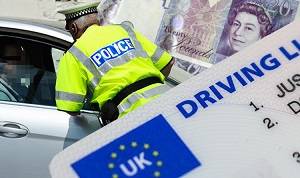 Several things can happen after informing the DVLA about a medical condition or disability. As a rule, you will get their decision within six (6) weeks. DVLA will write to you if it will take longer.
The Driver and Vehicle Licensing Agency may then decide to:
Contact your doctor (or consultant) or ask you to get examined.
Ask you to take a driving assessment, an eyesight test, or a driving test.
Note: Follow DVLA guidance in the form for licence renewal. Read 'DVLA INF188/6' guide on the rules for driving while waiting for your licence. You can also contact DVLA if you need further advice on your case.
---
Action taken by the DVLA
The DVLA assess the severity of your medical condition or disability. They will then decide whether you:
Need to get a new driving licence.
Can have a shorter licence (e.g. 1, 2, 3 or 5 years).
Need to adapt your vehicle by fitting special controls.
Must stop driving altogether and surrender or 'give up your driver's licence'.
---
Adapting Your Vehicle
DVLA may tell you to adapt your car. In this case, you must get an independent assessment of your adaptation needs. As a rule, this takes place through the Forum of Mobility Centres.
The Research Institute for Disabled Consumers has more information about adapting a vehicle and where to get special controls fitted.
---
If You Must Stop Driving
DVLA will give you a medical reason if you must stop driving. They will also inform you whether you can reapply for your licence, and when.
---
Disagreeing with DVLA Decision to Stop Driving
Write to the Driver and Vehicle Licensing Agency if you disagree with their decision that forces you to stop you driving. You will need to provide several pieces of information:
Some relevant information not included in the original assessment.
Proof that you now meet the required standards for driving (explained in the DVLA decision letter).
The case reference number written on your decision letter.
Drivers Medical Business Support
D7
DVLA
SA99 1ZZ
You can also contact your local magistrate's court to appeal the decision. You must do this within 6 months of the decision. Contact the local sheriff's court within 21 days if you are in Scotland.
As a rule, it is best to seek legal advice before making an appeal. But, in some cases you may get legal aid to help pay for the costs.
Note: If you choose to appeal you must inform the Driver and Vehicle Licensing Agency.
Driver and Vehicle Licensing Agency
Drivers Medical Group
Swansea
SA99 1DF
---
How to Make a Complaint to DVLA
There are several courses of action if you are unhappy about the service given by DVLA. First of all, contact the particular department dealing with your case. Often, this is the quickest way to resolve an issue. You will need to give them:
Your full name, address, and date of birth, and driver number (for complaints about a driving licence).
Your vehicle registration number, make, and model (for complaints about vehicle licensing, registration or enforcement).
Any reference number you have on previous correspondence.
Note: There is another process to make a formal complaint for issues unresolved by a department.
---
Renewing a Licence or Reapplying for a Licence
You may need to reapply for a licence or renew a driving licence. It will depend on the reason why you had to give up your licence. In some cases, you might have a short-term licence instead of a full one.
---
Short-term Licences
If you have a 1, 2, 3, or 5-year licence, DVLA send a renewal letter 90 days before it is due to expire. You can either renew a short-term licence online, or you can return the renewal reminder back to them by post.
---
If You Surrendered Your Licence and Stopped Driving
DVLA send out a letter when a licence gets taken away. The letter informs you whether you need to wait before reapplying.
Check with your doctor before you reapply for a licence following a medical condition. The doctor must confirm you are fit to drive if the licence got taken away because of a health condition.
---
Driving with a Medical Condition or a Disability in United Kingdom