DVLA EYESIGHT LAW DRIVING: Further driving eyesight requirements apply any time you drive a car, lorry, bus, or a motorbike.
You must meet the minimum legal driving eyesight rules before you can start learning to drive or ride.
What if you need to wear glasses or corrective lenses to meet the driving eyesight requirements?
Drivers who need them to meet the minimum 'standards of vision for driving' must wear them all the time for driving or riding.
You must inform DVLA if you have any problems with your eyesight for driving UK. This rule applies if the issue affects both of your eyes, or the remaining eye for those who only have one eye.
Driving eyesight rules do not include short or farsightedness. Colour blindness is another eye condition unaffected by the eyesight requirements for driving.
There is no need to inform DVLA if you have surgery to correct a problem with short sightedness. But, that is only providing you can still meet the minimum eyesight standards for driving.
How can you check whether you need to inform DVLA about a problem with your eyesight for driving? You can search the full list of medical health conditions that sometimes affect your driving ability.
Note: You can get prosecuted if you drive and fail to meet the minimum standards of vision for driving.
---
DVLA Standards of Vision for Driving
The minimum eyesight standards of vision for driving are very specific. You must be able to read a car number plate from 20 meters distance.
The number plate must be a version made after the 1st of September 2001. But, the driving eyesight law allows you to read it wearing spectacles or contact lenses if you need to use them.
There are other eyesight requirements to meet the minimum legal eyesight standard for driving. You need a visual acuity (sharpness) of at least decimal 0.5 (6/12).
As a rule, keenness of sight gets measured on the Snellen scale. You can use glasses or contact lenses for these eye test requirements. The scale measures your eyes together, or the remaining eye if you have sight in only one eye.
Having adequate field of vision is also an eyesight requirement for driving a car or riding a motorbike.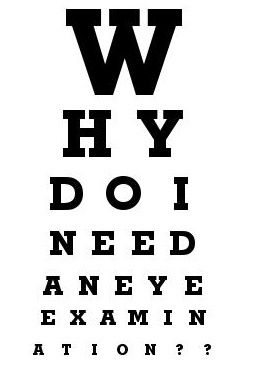 Note: An optician can give you more information about the procedure and perform a test for you.
---
DVLA Eyesight Requirements: Driving a Lorry or Bus
Lorry and bus drivers must have a visual acuity at least 0.8 (6/7.5) measured on the Snellen scale in their best eye. They should also have at least 0.1 (6/60) on the Snellen scale in their other eye.
Driving eyesight law allows you to reach this standard using glasses with a corrective power not more than (+) 8 diopters. You can also use contact lenses to meet the regulations. There is no specific limit for the corrective power if you wear contact lenses.
You must also have a horizontal visual field of at least 160 degrees. The extension should be at least 70 degrees left and right and 30 degrees up and down. There should be no defects present within a radius of the central 30 degrees.
What happens if you are unable to meet these standards? You may still be able to renew your bus or lorry licence if you held your licence before the 1st of January 1997.
Note: Lorry and bus drivers must inform DVLA if any eyesight problem affects either eye.
---
Minimum Eyesight for Driving Test UK
Drivers need to pass some standard eyesight requirements for the practical driving test. The same DVLA eyesight rules for driving apply to both the car test and the motorcycle test.
Your test examiner will ask you to read the standard number plate of a stationary vehicle. The reading assessment happens at the beginning of your practical driving test.
As a rule, the letters and figures on a number plate will be 79 mm high and 57 mm wide. You will need to identify and read out the correct lettering from a distance of 20 meters. Category K is for a mowing machine or a vehicle controlled by someone on foot. In this case the reading distance is 12 meters.
In most cases the examiner asks you to read a second number plate if you fail to read the number. Failing to read a second may prompt the examiner to measure the precise distance from a third plate.
Note: You fail the driving eyesight test if you cannot read the correct numbering on the licence plate.
The examiner will determine your inability to meet the eyesight requirements. The driving test will not continue any further in this case. The test examiner will ask you to sign a form agreeing that you could not meet the driving eyesight rules. He will inform DVLA and they will revoke your driving licence.
What happens if you apply for a driving licence after failing the eyesight rules? DVLA will ask you to get another eyesight test with the DVSA at a driving test centre.
You can take another practical test if you pass their reading exam. But, you will still need to pass the eyesight requirements on any future practical driving tests you take.
---
Driving Test Wearing Glasses
Driving eyesight law allows you to wear glasses or contact lenses for the practical test. But, you cannot remove spectacles or corrective lenses at any time during the examination. This rule also applies when you carry out the required vehicle maneuvers.
Your examiner will remind you of the legal requirement if you try to remove them during your test. The driving exam will stop if you still refuse to wear them.
Note: Inform your examiner before the test begins if you have broken them, forgot to bring them, or brought the wrong glasses.
---
DVLA Legal Eyesight Standard for Driving in the United Kingdom