DISCRIMINATION RIGHTS UK: It is illegal to discriminate against:
Age or disability.
Marriage or civil partnerships.
A pregnancy (or someone on maternity leave).
Race (including skin colour, nationality, ethnic, or national origin).
Religious beliefs (or lack of religious beliefs).
Gender, sexual orientation, or gender reassignment.
Note: This type of UK discrimination is most often referred to as personal or 'protected characteristics'.
The United Kingdom Equality Act 2010 protects people against being discriminated. Thus, you would be protected in most places and situations including:
The workplace and periods in education.
As a consumer and when using public services.
When buying a property or renting one as a tenant.
While being a member or a guest of a private club or an association.
Discrimination rights also protect those associated with someone with a protected characteristic. Typical examples would be a family member or a friend.
The same protection applies if you complain about discrimination. People are also protected from prejudice for supporting another person's claim.
---
Positive Action Discrimination UK
Taking 'positive action' discrimination is lawful in the United Kingdom. It allows you to do make a 'voluntarily' act to help those with a protected characteristic. But, to be legal the positive action must be for people with a protected characteristic and:
They are disadvantaged in some way.
They have some particular needs.
They are under-represented in an activity or a type of work.
---
Forms of Discrimination and Harassment
There are many different types of discrimination, victimisation, and harassment. The most serious forms of discrimination include:
Direct Discrimination: Treating someone less 'favourably' than others because of their protected characteristic.
Indirect Discrimination: Putting arrangements or rules in place that apply to everyone, but they create an unfair disadvantage for people with a protected characteristic.
Harassment: Unwanted behaviour linked to a protected characteristic violating someone's dignity or creates an offensive environment for them.
Victimisation: Treating someone 'unfairly' because they complained about discrimination or harassment.
Note: Putting specific arrangements or rules in place is not always unlawful. But, they must be justified to be lawful in the United Kingdom.
---
Discrimination Your Rights in the Workplace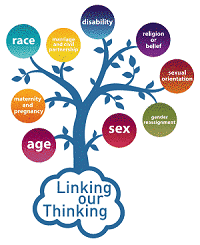 There are several ways the law protects the people in the community against discrimination at work. Some of the most important include:
Employee recruitment.
Remuneration (pay) and workplace benefits.
Promotion and transfer opportunities.
Specialist work-related training.
Not all forms of discrimination are unlawful. They may be lawful if needed for a specific way that an organisation works. Typical examples include:
Application restrictions set out by a Roman Catholic school for admission of pupils to Catholics only.
Employing only females in a health centre catering only for Muslim women.
---
Disability
Disabled people have the exact same rights as all other workers. Thus, all employers must make 'reasonable adjustments' to help any disabled employees. The same protection applies to job-applicants with a disability.
Employers should do their best to arrange reasonable adjustments with:
Job application forms (e.g. provide forms in Braille, use audio formats).
Aptitude tests (e.g. allow extra time for test completion).
Interview access arrangements (e.g. use of wheelchair, communicator support).
Ensuring the workplace has proper facilities and equipment for disabled workers (or someone offered a job).
Promotion, transfer, and training opportunities.
Pay and terms of employment.
Work-related benefits (e.g. access to recreation or refreshment facilities).
Discipline and grievances.
Dismissal or redundancy.
---
Other Types of Workplace Unfair Treatment
United Kingdom employment laws also protect workers against being treated unfairly:
---
Steps to take after being Discriminated
What can you do if you are discriminated against while at work? There are several different ways of dealing with the problem.
All employers must follow the law on preventing discrimination at work. But, if you feel you have been 'unfairly' discriminated against, you can:
Make a direct complaint to the person or to the organisation you work for.
Use 'alternative dispute resolution' or 'mediation' to help you find a solution.
Make an application to claim in a court or at a tribunal.
Note: Contact Equality Advisory Support Service for further help and advice. They are experts on discrimination rights laws and human rights issues. EASS now replaces the helpline provided by the Equality and Human Rights Commission.
EASS Helpline and Online Contact Form
Telephone: 0808 800 0082
Textphone: 0808 800 0084
Monday to Friday: 9am to 7pm
Saturday: 10am to 2pm
Find out about call charges.
Freepost
EASS Helpline
FPN6521
---
UK Discrimination at Work
Employees should try to deal with all types of workplace discrimination. Often, employers can solve a workplace dispute using informal methods. In short, that means talking to their employer in the first place.
Note: You can also talk to Acas, the Citizens Advice, or a trade union representative. In some cases you can take a claim to an employment tribunal for discrimination.
Being discriminated against means you may qualify to get legal aid to help with the legal costs. The Civil Legal Advice have more information for those who are eligible.
---
Discrimination Your Rights in the United Kingdom