PETS SCHEME UK: Other important topics in this guide also include pet passports and the most current microchipping laws.
We cover the law for travelling with a guide dog or assistance dogs. Read on for essential information on animal rabies vaccinations and quarantine rules.
There are specific rules for bringing your pet dog, cat, or ferret into the United Kingdom.
There are no animal restrictions to enter or return to Britain with a pet dog, cat, or ferret providing: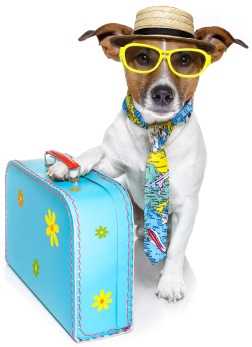 Note: The pet will also need a blood test if you travel from an 'unlisted country' into the United Kingdom. As a rule, pet dogs need a tapeworm treatment as well.
Failing to follow these rules has its consequences. Pets may get put in rabies quarantine for a period up to 4 months. The same applies if you travel by sea and get refused entry into the United Kingdom.
Any fees or charges caused by this will be your responsibility for payment. Extra rules also apply if the animal:
Will get sold in the United Kingdom. This rule applies to animals from countries inside and outside the European Union.
Will be rehomed in the United Kingdom. This rule applies to animals from countries inside and outside the European Union.
Note: Different rules apply for entering other countries with your pet from the UK. It is best to check the regulations of the country where you plan to travel.
---
Checks to Make Before Travelling
It is prudent to check a few things before you travel out of the United Kingdom with pets. You should find out whether the company you choose to travel with:
Is going to accept your pet for travel and how their rules apply to your journey.
How many pets they will accept if you plan travelling with several animals at one time.
Requires any specific proof that the pet or pets are fit and healthy for travel purposes.
Need a letter from a veterinarian. Some companies may ask for verification of information stamped in the pet passport.
---
Bringing Your Pet into the United Kingdom
The PETS travel scheme rules allow up to five (5) days for pet arrivals to the UK before or after you. There are a different set of rules to follow if the animal does not arrive within that five day window period.
As a rule, you must travel with your pet using an approved transport company and route. The exception applies when travelling between Ireland and the United Kingdom.
Note: You will need to fill in a 'Declaration for the non-commercial movement of animals'. This form is to confirm that do not intend to sell or transfer pet ownership to another person.
Authorise another Person to Travel with Pets
The Pet Travel Scheme legislation permits someone else to travel with your pet or pets. But, you would need to provide authorisation in writing. Make sure you do this before another person travels with the animal(s).
Bringing in other Animal Species
Note: There are some different rules that apply when bringing certain other animals into the United Kingdom.
---
Pet Travel Scheme UK Rules
The process of bringing your pet cat, dog or ferret into the United Kingdom varies. In simple terms the rules to follow depend on whether you are entering from:
A country within the European Union or another country that meets the UK pet passport rules.
One of the listed countries.
An unlisted country. The UK does not accept a pet passport from any of the unlisted countries.
Country's Pet Passports accepted by the United Kingdom
The United Kingdom accepts pet passport entries from all countries listed in the EU. The same applies for these other Non EU countries:
Andorra, Azores, and Madeira
Canary Islands
French Guiana
Gibraltar, Greenland, Guadeloupe, and the Faroe Islands
Iceland
Liechtenstein
Martinique and Monaco
Norway
Reunion
San Marino and Switzerland
The Vatican City
Pet Passport Listed Countries
Listed countries for bringing in pet dogs, cats, and ferrets to the United Kingdom include:
Antigua and Barbuda, Argentina, Aruba, Ascension Island, Australia
Bahrain, Barbados, Belarus, Bermuda, BES Islands (Bonaire, Saint Eustatius and Saba), Bosnia-Herzegovina, British Virgin Islands
Canada, Cayman Islands, Chile, Curacao
Falkland Islands, Fiji, French Polynesia
Hong Kong
Japan
Malaysia, Mauritius, Mexico, Montserrat
New Caledonia, New Zealand
Russian Federation
Saint Maarten, Singapore, St Helena, St Kitts and Nevis, St Lucia, St Pierre and Miquelon, St Vincent and The Grenadines
Taiwan, The former Yugoslav Republic of Macedonia, Trinidad and Tobago
United Arab Emirates, USA (includes American Samoa, Guam, Northern Mariana Islands, Puerto Rico and the US virgin Islands)
Vanuatu
Wallis and Futuna
Special rules apply if you travel with a pet from Jamaica to the UK. You need to get your pet microchipped and vaccinated in a different non-EU listed country. The alternative would be to put a pet in rabies quarantine for the minimum period.
Note: Extra rules apply to pet passports and other documentation. Check the laws if you enter the UK with a cat or dog from Malaysia or a cat from Australia.
---
Approved Routes for Assistance Dogs
If you travel with a service dog you must use specified travel routes to enter England, Scotland, or Wales. The same rule applies to using certain travel companies.
The GOV.UK has a publication covering those routes. Check 'Pet travel: approved air, sea and rail carriers and routes' before you travel. But, be aware that they may change or only operate at certain peak times of the year.
Note: As a rule, pets will travel as cargo. Even so, different rules apply when arriving by sea or air with a guide dog or assistance dogs.
Travelling to and from Ireland and Northern Ireland
The Department of Agriculture, Environment and Rural Affairs is in control here. You can contact DAERA if your journeys goes to Northern Ireland. But, there is no need to use an approved transport company while travelling from Ireland to the UK.
Note: If you travel with a pet into the UK from Ireland you can only bring it on an airplane or by private boat.
---
Bringing Multiple Pets into the UK
There are strict rules about bringing more than 5 pets to the United Kingdom. You cannot do so without a valid reason. Examples include attending or training for a show, competition, or a sporting event. In this case 'all the pets' must:
Be attending the training or event.
Be at least 6 months old.
Meet all the UK Pet Travel Rules and regulations.
Note: You must provide written evidence of the event registration when travelling.
You will need to complete a declaration confirming that you meet the requirements. There is a different declaration form if you will arrive in Northern Ireland.
What if you are not attending or training for a show, competition, or sporting event? There are other commercial rules for importing animals when you travel with more than 5 pets.
---
Dogs Arriving in the UK
Staff at the airport, or from the travel company, will scan the pet microchip upon arrival. They will also check your documentation when you arrive with dogs in the United Kingdom.
In some cases they will check your pet before you board. This would happen if you travel by sea ferry or through the Eurotunnel.
Border control can put the pet into quarantine or send it back to the country that it travelled from unless you:
Have the correct documentation for entering the United Kingdom with a pet.
Prepare the dog, cat, or ferret properly for international travel.
Note: It is your responsibility to pay for any fees or charges if you fail to follow the rules.
Entering the UK from a Country Outside the EU
You cannot collect the pet until it gets taken through customs control. A travel company, agent, or the airline will often do this for you. But, there may be a fee. Failing that, you should either:
Contact the customs department where you will arrive (before travelling).
Get more information from the National Clearance Hub at [email protected].
---
ALSO IN THIS SECTION
Pet Microchipping Laws
The pet microchipping procedure is most associated with the PETS Travel Scheme. The section explains how the pet microchip rules function in the United Kingdom.
Pet Passport and Documents
Travelling to and from abroad with a pet is much easier since the 2012 changes in the Pet Travel Scheme. Even so, the guide will help you understand how the pet passport scheme works.
Rabies Vaccination Rules
Getting a dog, cat, or a ferret vaccinated against rabies means it can travel in and out of the UK. Check how the pet rabies vaccination rules apply to dogs, cats, and ferrets.
PET Helpline
The page lists the Pet Travel Scheme helpline number and email address. Use these contact details to get more information or make a complaint to the pet travel helpline.
Note: Pet owners can check the GOV.UK website for the latest advice on travelling with pets ahead of the formal end to the EU exit transition period.
---
Taking Pets Abroad: PETS Travel Scheme for Entering or Returning into United Kingdom