GUIDE & ASSISTANCE DOGS: The introduction of the Pet Travel Scheme took place in 2000. Since then, there has been a relaxation in the rules for flying with dogs.
The changes mean guide dogs and other service dogs can now travel in an aircraft cabin with their owners.
The result also means that people with assistance dogs can travel:
On an increased number of routes than those with pet animals.
Using modes of transport that other animals cannot (e.g. inside airplane cabins).
Note: All guide dogs or assistance dogs must meet the rules for taking a pet abroad of the United Kingdom.

---
Guide Dog Eligibility to Travel Abroad
As a rule, UK travel companies recognise and accept most guide or assistance dogs. They understand when canines get trained by organisations that are members of either:
Assistance Dogs International
International Guide Dog Federation (IGDF)
Note: The organisation who trained your dog may not be a member of these associations. If not, we recommend you check with your travel company before the journey. The Guide Dogs Association website has further advice on taking assistance dogs abroad.
---
Travelling with a Guide Dog by Plane
The rules for flying with a guide dog are clear. The airline cannot stop you travelling with your assistance dog providing the flight departs from a country within the EU.
But, you need to take a car harness with you if you travel with a service dog by air. The harness gets used to secure the canine during the takeoff and landing.
Note: There is no problem for you to enter any airport within the United Kingdom with your assistance dog.
But, check for any extra rules that apply to flight departing from countries outside the EU. Your airline can give you further advice before you make the journey.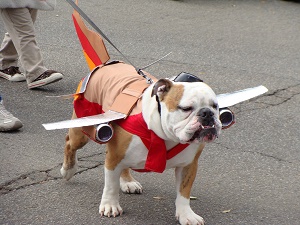 ---
Travelling with a Guide Dog by Ferries
It is best to confirm the details with a ferry or cruise company if you travel with a guide dog by sea. But, the rules allow for travelling with an assistance dog on:
Ferry services that enter and leave countries within the European Union.
Cruise services that leave from any country within the EU and arrive in either England, Scotland, or Wales.
---
Travelling with a Guide Dog by Train
There are some general rules for travelling with a guide dog by rail. For example, EU rail operators cannot refuse access to assistance dogs.
But, some rail operators may attach conditions to journeys with guide dogs on trains. It is best to confirm it with the train operator before travelling inside or outside the EU.
---
---
Travelling Abroad with a Guide Dog or Assistance Dogs from the United Kingdom