What is DLA for Child?
Table of Contents
DLA is one of the disability benefits for children. Special help and financial support is available for young kids who are disabled or deaf as they grow through childhood.
The money helps to pay for the extra costs involved when taking care of a child with a disability. To qualify, your child must not be over the age of sixteen (16) and (either):
Has some walking difficulties (e.g. needs to use a wheelchair).
Needs a higher level of looking after than a child without a disability of the same age.
The lowest DLA child rates 2022 start at £23.70 and the highest rate is £152.15 a week. The amount you get depends on the level of help needed for the child.
Note: In most cases, the child will get an assessment to determine what kind of help will be most appropriate.
---
DLA Child Rates 2022/23
The Disability Living Allowance for children is a tax-free benefit. It is made up from two (2) separate components (parts).
DLA Care Component for Child
| Care Component | Weekly Rate |
| --- | --- |
| Lowest Care Rate | £23.70 |
| Middle Care Rate | £60.00 |
| Highest Care Rate | £89.60 |
DLA Mobility Component for Child
| Mobility Component | Weekly Rate |
| --- | --- |
| Lower Care Rate | £23.70 |
| Higher Care Rate | £62.55 |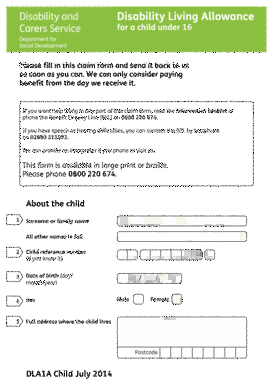 Note: The total amount of DLA you get depends on the individual circumstances. Your child may qualify for one part only or for both components.
---
Disability Living Allowance Eligibility Criteria
You do not have to be in work to get DLA awarded for a child. As a rule, you will qualify for the Disability Living Allowance if the child is under the age of 16 and:
Requires extra looking after or they have walking difficulties.
Is in Great Britain, a European Economic Area country, or Switzerland at the time of the claim. There are some exceptions to this rule (e.g. for family members of the Armed Forces).
Has lived in Great Britain for two (2) of the last three (3) years (for children over the age of 3).
Is habitually resident in the United Kingdom, the Isle of Man, Ireland, or the Channel Islands. Check with the Citizens Advice if you need to confirm.
Has the correct immigration status (e.g. not subject to immigration control).
Note: Some exceptions also apply if the child is living in, or coming from, an overseas EEA country (or from Switzerland) and claiming illness and injury benefits.
DLA for Children Under 3
What if your claim is for a child under 6 months? In this case they must have lived in Great Britain for at least thirteen (13) weeks.
Children aged between six (6) months and three (3) years would need to have lived in Great Britain for a minimum of 26 of the last 156 weeks.
Note: Check to see how the residence rules differ if the child has a terminal illness (details below).
DLA Child Disability or Health Condition
To meet the conditions the child's disability or health condition must mean that they:
Have some difficulty getting about.
Need more taking care of than a child of the same age (without a disability).
DLA rules state that the child must have had these difficulties for at least three (3) months and expect them to continue for at least 6 months.
But, there is an exception for a child who is terminally ill (not expected to live more than 6 months).
Note: In this case, the child would not need to have had the health conditions for at least 3 months.
DLA Care Component Rates
The DLA care component rates for a child depend on the level of care they need:
Lowest Rate: Needing help for some of the day or part of the night.
Middle Rate: Needs frequent help or constant supervision during the day, supervision at night, or help with dialysis.
Highest Rate: Requires help or supervision through the day and night (or those who have a terminal illness).
DLA Mobility Allowance for Children
The DLA mobility allowance child component rates depend on the level of care they need:
Lowest Rate: Can walk but need guidance or mobility supervision outdoors.
Highest Rate: Cannot walk or can only walk short distances without severe discomfort. Also applies if the child could become seriously ill if they try to walk or they are blind or severely sight impaired.
Disability Living Allowance Assessment for Child
What happens if you get a letter asking you to go for a DLA assessment for child? The Disability Living Allowance assessment checks the level of help that the child may need.
The letter will state:
Why the assessment is necessary and where the child must attend.
What DLA paperwork you will need as proof of identity for yourself and for the child (e.g. passport or birth certificate).
---
DLA Change of Circumstances for Child
If the child's circumstances change, such as their disability worsens, it can alter the amount of Disability Living Allowance you are entitled to.
In this case, you should contact the helpline at the Disability Service Centre without delay. But, the care rates of DLA for children is not usually affected if the child:
Goes into a local authority care home for less than 28 days.
Goes into hospital for treatment.
Lives abroad for less than thirteen (13) weeks.
Stays abroad for less than 26 weeks to receive medical treatment for a health condition which began before they left.
DLA Renewal 2022
The government responded to a petition on renewing DLA as an automatic process for a child under 16 with a lifelong medical condition.
They said the DLA renewal process is an important feature at appropriate frequencies. It's the best way to ensure that people claiming Child Disability Living Allowance receive the correct financial support at an appropriate time.
Note: The local council can provide some help if you have a disabled child (e.g. short break services).
---
How to Claim DLA for a Child
Use DLA claim form DLA1A for children under 16 when you apply on the GOV.UK website. The document informs you where to return the application.
You can also ask for a printed version of the DLA1A claim form by calling the DLA helpline phone number.
Disability Living Allowance
Telephone: 0800 121 4600
Textphone: 0800 121 4523
NGT text message: 18001 then 0800 121 4600
Monday to Friday: 9am to 5pm
UK telephone call charges list.
Note: There is no specific DLA entitlement calculator. But, using a benefits calculator will help you make sure you are not missing out on any financial support available or access to means-tested benefits. The process for claiming Disability Living Allowance for children differs in Northern Ireland.

---
Dates for DLA Child Payments
The DLA payment is paid out every four (4) weeks. When benefits and allowances get paid they go into a secure account (e.g. your bank or credit union account).
You may also be eligible for the Carers Allowance payment if you spend at least 35 hours a week caring for a child.
Even so, the child must be getting the middle or highest care rate of children's DLA for you to qualify.
Note: The main section on carers and disability benefits has further advice and helpful information.
---
Advice about DLA for a Child
A child DLA claim is for children who are under the age of 16. Claimants over 16, and below 65, must apply for the Personal Independence Payment (PIP) instead, to avoid payments being stopped.
If you claim DLA for a child you must look after them as though you are their parent. For DLA claims, the term 'parent' would usually include guardians, step-parents, grandparents, older siblings, and foster-parents.
You should return the claim pack within six (6) weeks to avoid delaying the decision time scale. But, you cannot backdate a claim for Child Disability Living Allowance.
There is no facility to track DLA claim online or determine a response time. But, the date of your claim is usually the date the DWP receives the application form or the date you contact the enquiry line.
What are the current DLA waiting times for 2022? As a rule, you should expect DWP processing time to take up to forty (40) working days to make a decision and then deal with your claim.
In most cases, the child will need a medical assessment carried out by a healthcare professional to complete the claims application.
How to Appeal a DLA Decision
You can appeal to the Social Security and Child Support Tribunal if you disagree with a decision. But, as a rule you must first ask for a mandatory reconsideration before you lodge an appeal.
---
DLA for Child with Terminal Illness
Special rules exist for children who are not expected to live more than 6 months. This means they can get the child payments faster. But, you must first:
Complete a DLA child claim form.
Get a DS1500 medical condition report and send it with your claim form (or soon after). The medical reports are free, but you can only get them from either a doctor, a consultant, or a child specialist.
Note: The rules on terminal illnesses are similar to claiming Disability Living Allowance for adults.
---
When Your Child Turns 16
When your child reaches sixteen (16) they will need to apply for Personal Independence Payments. The child should get a letter inviting them to apply for PIP benefit. DWP send the letter to the child:
Soon after they have their 16th birthday.
When they leave hospital if they get hospitalised for treatment during their 16th birthday.
Around twenty (20) weeks before their DLA award ends (if it's awarded under the rules for the terminally ill).
Note: Child DLA payments may stop if they do not apply for PIP by the date recorded in the letter. But, applying by the date given means they will continue to receive the award until their claim is assessed.
Note: The DWP video [6:39 seconds] contains information about the face-to-face Personal Independence Payment assessment.
Note: The DWP video [6:39 seconds] contains information about the face-to-face Personal Independence Payment assessment.
---
DLA Child Rates and Eligibility in the United Kingdom