How Much is Carer's Credit in the UK 2022?
Carers Credit is a weekly Class 3 National Insurance tax credit used to fill gaps in your NI record.
The aim of care allowance NI is to protect carers' future and automatic entitlement to certain benefits.
In particular, the tax credits and other benefits for carers help them qualify for bereavement payments and the State Pension.
Note: National Insurance records affect the State Pension. Also, Carer's Credit helps in cases where a spouse or civil partner makes a claim for bereavement benefits.
You need to be caring for someone to qualify for Carer's Credit. The care you provide must be for at least twenty (20) hours each week.
But, there is no maximum limit to the number of people you can care for each week. Eligibility for Carer's Credit is not a means-tested benefit. Thus, it is not affected by your savings, investments, or your income.
---
Carers Credit Rates What Will I Get?
Carers NI credits help to fill any missing National Insurance Contributions. So, qualifying for Carer's Credit means you can take on extra caring responsibilities. Doing so has no effect on future qualification for the State Pension.
---
Carer's Credit Eligibility Criteria
Who can get Carer's Credits allowance? To meet the eligibility criteria for Carer's Credit you must be:
Aged 16 years or older and below the State Pension age.
Caring for one or more people (minimum of 20 hours a week).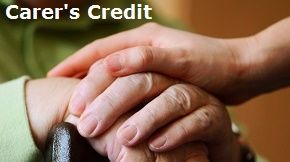 Also, qualifying for carers allowance means the person you are caring for must be getting one of these benefits or allowances:
You may still qualify for Carers Credits even if the person you look after does not get one of these benefits. As a rule, a health care professional must certify that they need caring for each week.
Make sure your complete the 'Care Certificate' section on your Carer's Credit application form. A health or social care professional must sign that part of the form.
Notes: Some carers who fail to qualify for Carer's Allowance may be eligible for Carer's Credit. The caring week usually runs from Sunday to Saturday. That means you may get tax credits even if you only provide care at weekends.
---
Carers Credit Allowance Break in Caring
The tax credits for Carers Allowance NI allow a break in caring. You can still get them even if you take breaks for up to 12 weeks in a row. You would still receive Carer's Credit for 12 weeks even if:
You take a short holiday break or you need to go into hospital.
The person you look after needs to go into hospital.
Notes: You must inform the Carer's Allowance Unit if you break from caring more than 12 weeks in a row.
Carer's Allowance Unit
Telephone: 0800 731 0297
Textphone: 0800 731 0317
Monday: 8:45am to 2pm
Tuesday to Friday: 10am to 2pm
---
How to Claim Carers Credit Allowance
In most cases, there is no need to apply if you already:
Carer's Credit Application Form CC1
You can download the Carer's Credit application form(CC1) online or get it from the Carer's Allowance Unit. The form includes a Care Certificate which needs signing by a health or social care professional.
Notes: Contact the Carer's Allowance Unit to request alternative formats (e.g. braille, large print, or audio CD).
Where to Send the Carer Credit Claim Form?
Carer's Allowance Unit
Mail Handling Site A
Wolverhampton
WV98 2AB
Telephone Call Charges
CALL CHARGES GUIDE: Check the rates for making a telephone call from a landline or mobile. Call charges vary to popular numbers like 0800, 0808, 0845, 0870, 03 and others.
---
DWP Help Guides
Note: The short video presented by the Government Digital Service explains more about the process and requirements when applying for Carer's Allowance online.
---
Carers Credit Eligibility and Care Allowance Rates in the United Kingdom