WHAT CAN YOU TOW? There are laws for towing caravans, trailers, and horseboxes with a vehicle.
That means you need to have the right driving licence to tow a trailer of any kind. Check the weight and size limit example below.
The year you pass your driving test determines the rules on what you can legally tow. It also gives you the limits you can tow without further testing.
MAM is one of the popular acronyms used for Maximum Authorised Mass. This does not mean the actual weight of your vehicle or your trailer.
The Maximum Authorised Mass refers to a highest weight rating and limit when loaded. This is also known as the gross vehicle weight rating (GVWR) or permissible maximum weight.
The best way to see what you can tow is to check your driving licence for the most relevant information.
An Example: The physical weight of your vehicle and trailer is less relevant when working out if you are towing legally. MAM ratings get used to calculate vehicle and trailer weight limits.
Your licence may allow you to tow a 3,500kg combined weight. So, if your physical weight is only 3,000kg, but the vehicle and trailer MAM rating is 4,000kg, you are towing over the legal limit.
---
Driving Licences Issued Before January 1st 1997
The rules differ for those who passed their car test before the 1st of January 1997.
The MAM rating is 8,250kg for a combination of your vehicle and a trailer.
You can also drive a minibus with a trailer if the MAM rating is more than 750kg.
Note: You can view your licence information on the government website for more details.
Driving Licences Issued From January 1st 1997
Drivers who passed the practical driving test for cars on or after the 1st of January 1997 can:
Drive a car or van up to 3,500kg MAM if you tow a trailer not over 750kg MAM.
Tow a trailer over 750kg MAM if the combined MAM of the towing vehicle and trailer is not over 3,500kg.
Note: You will need to pass the car and trailer driving test to tow anything heavier than 3,500kg MAM. The Driver and Vehicle Standards Agency are making changes to car and trailer legislation. The new rules mean car drivers may not need an additional licence to tow a trailer weighing up to 3,500kg.
---
Licence Requirements for Towing Heavy Combinations
What if you want to tow heavier vehicle and trailer combinations than your car driving licence allows?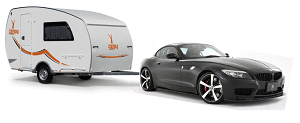 Follow these 3 steps to tow heavier combinations:
Apply for a provisional licence for a medium-sized lorry and trailer (category C1+E). Use DVLA forms D2 and D4.
Take and pass the lorry theory test.
Take and pass the C1+E driving test.
Passing these tests means you can then drive a combined vehicle and trailer weight of 12,000kg MAM.
Note: What if the main part of your job is driving a medium sized lorry? In this case you need to take the Driver Certificate of Professional Competence test (CPC).
---
Car Towing Weight and Width Limit
You must check the maximum weight specifications your car can tow. They are usually listed in the user's handbook or you can check the manufacturer's website.
Some Vehicle Identification Number (VIN) plates may contain the "Gross Train Weight" (GTW). As a rule the VIN is inside the driver's door or under the car bonnet.
The rules do not allow towing with a car licence if the VIN plate does not show the GTW or GCW.
Note: Gross Train Weight (also called Gross Combination Weight) is the car MAM plus the trailer MAM. In simple terms, GTW is the maximum allowable weight of your car, fully loaded plus the maximum allowable weight of your trailer, fully loaded. You must not exceed either of these maximums.
Towing Rules: Licence and Age
You can use an online tool to work out if you meet all towing licence and age requirements. The facility helps you check whether you are old enough to tow a trailer and whether you have the correct licence for towing with different kinds of vehicle.
The online tool assumes you already have the appropriate driving licence categories and codes for towing (i.e. category B). You would also need to have a full car licence for towing with any large size vehicles.
Reminder: Having a full car drivers licence allows you to tow trailers that do not weigh more than 750kg. Towing heavier trailers with a car licence is also permitted providing the total weight of vehicle and trailer is not over 3,500kg.
Trailer Width Limits UK
An overall width of 2.55 meters is the maximum trailer width for any towing vehicle. If your vehicle MAM rating is 3,500kg or less, the maximum length of the trailer must not exceed 7 meters. Note that the A-frame is not included in the overall length.
Note: Different rules apply if you tow a trailer using a larger vehicle, such as when driving a motorhome in United Kingdom.
Caravans, Trailers and Towing Equipment
You should always carry out safety checks before you tow a trailer, caravan, or horsebox with a car. The towing equipment must:
Conform to all current safety standards.
Have tyre tread depth of at least 1.6 mm.
Get used in a safe and correct way.
Note: You can get a fine up to £2,500 if your vehicle, caravan, or towing equipment are in a dangerous or unsafe condition. You could have your licence suspended, get 3 penalty points on your licence, or get banned from driving altogether.
Rules for Towing Bars
When you buy a tow bar for your vehicle it must be 'type approved'. EU type-approval means it got designed for your car type and meets all European Union regulations for safety. The tow bar will have a type-approved label showing:
A specific approval number.
The type of vehicles it can get used on.
Note: Trailers with a MAM rating not exceeding 750kg do not need to have brakes fitted.
Regulations for Towing Mirrors
All drivers who tow trailers or caravans must have an 'adequate view' of the road behind them. There is a confusing and technically exact definition of adequate view.
As a rule, a good approximation for a typical car-caravan combination is that you can see a zone at least 4-5 meters wider than the caravan at a distance of 10-20 meters behind the caravan.
You need to fit suitable towing mirrors if your caravan or trailer is wider than your vehicle. Different types of towing mirrors include those which:
Clip on to existing mirrors.
Mount on the car wing.
Mount on the car door.
Note: Towing without the correct type of mirrors can result in a fine up to £1,000 plus 3 penalty points on your driving licence.
Rules for Trailer Brakes and Caravan Brakes
Trailers with a MAM limit not exceeding 750kg are not required to have brakes fitted. But, when it has brakes fitted, they must meet all current regulations. Trailers over 750kg MAM rating must have a braking system which meets its weight regulations.
You also need secondary coupling or breakaway cable. The system engages the trailer's brakes (if fitted) or brings the trailer to a complete stop if it becomes detached from the car.
Towing Regulations for Number Plates
Your caravan or trailer must display the same vehicle registration plates as the vehicle you are towing it with. Towing more than one trailer means the rear number plate must get attached to the trailer furthest away from the vehicle.
Rules for A Frame Towing and Dollies
Towing another vehicle with an A-frame or dolly means they then get classed as a trailer. All the requirements for that vehicle apply as per a standard trailer. The towing vehicle must be MAM rated to tow the other vehicle. As a rule, this means you use a big car to tow a small car.
You should only use a dolly to tow a broken down car to a repair station or for scrapping a vehicle. You cannot use it for recreational towing.
It is often recommended to use a front wheel driven car or 4×4 Sports Utility Vehicles to tow with a dolly. But, make sure you can disengage the 4-wheel drive function and do not use one with permanent 4 wheel lock. This could compromise the handling and safety while you tow.
Towing an American Caravan or Trailer
UK towing laws allow vehicles weighing up to 3,500kg to tow trailers up to 2.55 metres in width (8 feet 4 inches). If your American 5th wheel caravan or trailer exceeds these dimensions, you cannot use it on the roads in the United Kingdom.
The biggest difference is the American electrical braking system. It might not meet all the required standards in Great Britain. Check American caravan and trailer safety standards before bringing or importing a vehicle into the United Kingdom.
Note: You may need to re-calculate weights from Pounds (lb) to Kilograms (kg) on American specifications.
Towing with a Motorbike
If your motorbike has an engine size of at least 125cc you can use it to tow a small trailer. The motorbike must have a clear and permanent marking that shows its 'kerbside weight'.
Note: Motorcycle kerbside weight refers to the weight of the vehicle with a full tank of fuel and filled up with all necessary oils, fluids, and water but without any passengers.
The trailer that you are towing with a motorcycle must not be over one (1) metre wide. It must also have a clear and permanent marking that shows its unladen weight. A loaded trailer must weigh the lighter of (either):
No more than 150 kilograms.
Two thirds of the motorbike kerbside weight.
Important: The distance between the rear axle of the motorbike and the end of the trailer must not be more than 2.5 metres when the trailer is hitched to the motorcycle.
Register a Trailer to take it Abroad
The rules on driving with trailers through mainland countries in Europe changed in March 2019. As such, you would need to register commercial trailers over 750kg and all other trailers if they weigh more than 3,500kg.
Once you have set up a trailer account with GOV.UK you will be able to use the service for:
Checking whether you need to register a trailer to take it outside the United Kingdom.
Creating an account for registering all your trailers.
Managing the details of your registered trailers (e.g. if you decide to sell or scrap them).
Note: The rules differ when you are transporting abnormal loads (e.g. you would need an abnormal load trailer keeper's certificate). The Department for Transport produces extra guidance on how to check if you need to register a trailer before towing it abroad.
Cost to Register a Trailer to take Abroad
The current fees for trailer registration are:
£26 (when registering a trailer for the first time).
£21 (for issuing a new registration certificate for a new registered keeper).
£10 (to get a replacement United Kingdom trailer registration certificate).
You will need to supply an email address and a method for payment (e.g. a debit or credit card) to create a trailer account. You will also need to know:
Important: Use your user ID and password if you already have a Government Gateway account. If not, you will be able to create one when using the trailer registration service.
---
Towing with a Car Licence Regulations for MAM in United Kingdom