Driving a Minibus Not for 'Hire or Reward'
Holding a current and valid car drivers licence might allow you to be a minibus driver (under certain conditions).
But, you can only use a normal car driving licence to drive minibuses when there is no more than sixteen (16) passenger seats inside the vehicle.
The minibus must not be for 'hire or reward'. That means it is voluntary and there will be no payment made by any of the passengers (or on their behalf).
As the driver, you would also need to meet certain other licence conditions for driving a minibus within the United Kingdom, such as:
Being at least 21 years old (and holding a valid driving licence for at least two years).
Meeting 'Group 2' medical standards if you are over 70 years old (your GP can confirm if you meet these standards).
Driving the vehicle on a voluntary basis (e.g. a non-commercial body uses the minibus for social purposes).
Not having a maximum vehicle weight more than 3.5 tonnes. The limit increases to a maximum of 4.25 tonnes if it includes specialist equipment for carrying disabled passengers, such as a wheelchair ramp.
Not towing a trailer at the same time.
Note: You can view or share your driving licence information online. The DVLA service allows you to check what vehicles you can drive. But, obtaining someone else's personal information without their permission is a criminal offence.
---
Licence Rules for Driving a Minibus Abroad
The rules for driving a minibus overseas of the United Kingdom vary. It is best to contact the licensing authority in the particular country that you will visit for further clarification.
Renewing Your Driving Licence at 70
There is a set process for renewing a driver licence at 70 or older. If so, you would need to send two forms to the address written in section F of form D2:
Order DVLA D2 pack online (application for a driving licence for a lorry, minibus, or bus).
Download the medical examination report for a Group 2 (lorry or bus) driving licence (D4) and get it filled in by a doctor.
Note: Passing your car driving test since the 1st of January 1997 means you will not have category D1 on your driver's licence. You would need to apply for a minibus licence to add the D1 category.
---
How to Apply for a Minibus Permit
In some cases, minibus drivers may need to charge a fee to passengers to cover the running costs. If so, you can apply for a minibus permit (PSV372) from the Driver and Vehicle Standards Agency (DVSA).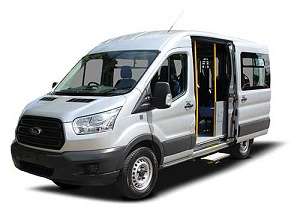 The driver of the minibus must be at least 21 years old, and:
The vehicle carries between nine (9) and sixteen (16) passengers.
It is being driven for a voluntary organisation that benefits the community (e.g. an educational, sports, or religious organisation).
The minibus service is available only to members involved in that particular organisation (not to the general public).
The charges will only be used to cover the running costs of the vehicle (not for financial gain).
---
Get a Licence to Drive a Minibus for Profit
DVLA licensing requirements for driving a minibus change if you want to drive it 'commercially' (for a profit). The same would also apply if you do not meet the conditions listed above.
In either of these situations you would need to apply for (both):
---
Driving a Motorhome Licence Requirements
You must have the correct licence to drive a motorhome or a campervan in the United Kingdom. The vehicle also needs to be within the UK size limits for motorhomes and campervans.
As a rule, two factors determine what licence you need to drive a motorhome. It would depend on the age of the driver and the maximum authorised mass (MAM) for the vehicle.
Still not sure?
A definition of maximum authorised mass (MAM) is the weight of the vehicle plus the maximum load it can carry.
You need to have a category C1 licence to drive a motorhome with a MAM between 3.5 and 7.5 tonnes.
You need to have a category C licence to drive a motorhome with a MAM rating over 7.5 tonnes.
Drivers Licence Rules and Regulations
The help guide in the main driving licence rules section covers all the popular services and legal obligations with the Driver and Vehicle Licensing Agency (DVLA).
Note: Another section explains drivers licence staging and upgrading (adding higher categories by getting a 'provisional entitlement' and then taking a test).
There is a way to check which vehicles you can drive online. The service also informs you of the licence and age requirements for towing various vehicles.
Note: Some licence requirements for driving motorhomes in Northern Ireland may differ (including importing one from another country).
---
Importing a Motorhome into United Kingdom
You need to follow the procedures for new vehicle registrations to import a motorhome into the United Kingdom on a permanent basis.
But, the vehicle registration rules in UK restrict the size of motorhomes that you can import. For instance, you cannot register a motorhome if it is longer than twelve (12) metres and more than 2.55 metres wide.
Note: Driving mirrors, lamps, rear bumpers, and reflectors are not included in the measurements. Even though there is no height limit for motorhomes, there must be a notice showing the height (in view of the driver) if it is more than three (3) metres high.
---
Driving a Minibus and Licence Requirements in United kingdom