What Does Abnormal Load Mean in the UK?
The authorities, such as the police and the DVSA, will class a vehicle as an 'abnormal load' if it meets any of the following characteristics:
Its weight is more than 44,000 kilogrammes.
Its width is more than 2.9 metres.
It has a rigid length over 18.65 metres.
It has an axle load over 10,000 kilogrammes for a single non-driving axle and 11,500 kilogrammes for a single driving axle.
There are specific rules and obligations for people in transport and driving businesses to follow. Transporting an abnormal load, either in the United Kingdom or overseas, also comes with a set of responsibilities.
Note: You must follow set regulations for notifying the relevant authorities. The criteria for abnormal load vehicle measurements may differ when taking an abnormal load abroad (further details below).
---
Notification of Abnormal Loads Movement
In some cases, notifying the authorities about the movement of an abnormally wide or heavy load is going to be a requirement. The cargo and the route will determine whether you need to provide advance warning to the police, as well as:
The highway authorities
The bridge and structure owners (e.g. Network Rail)
Highways England operate the Electronic Service Delivery for Abnormal Loads system. Using the ESDAL abnormal load notification allows hauliers to plot a route for movements around the road network.
You can also use the ESDAL system to:
Notify the police and the highways and bridge authorities.
Receive advance notification about any potential problems with the planned route.
Save information about your vehicle details and road routes for use in the future.
---
Giving Advance Notice
The regulations for transporting abnormal loads dictate how much time you must allow for getting any necessary clearances from the police and from the highway and bridge authorities.
So for example, you would need to complete a Special Order application at least ten (10) weeks before the actual date you schedule the move.
Note: The factsheet titled 'Notification requirements for the movement of abnormal indivisible loads or vehicles' provides further clarity about this topic.
---
How to Register with ESDAL
ESDAL is the Electronic Service Delivery for Abnormal Loads. It provides an official way for road hauliers to notify the police and the highways and bridge authorities about their intention to transport very large items by the road networks.
You can register with ESDAL by completing the haulier application form. Keep in mind that you need to complete an online registration form for every person that will use the system.
Setting up an account means you will be able to plan your route as well as:
Notify the police and the highways and bridge authorities about your abnormal indivisible load (AIL) movements around the road network.
Receive advance notice and updates of any possible road route problems.
Save your routes and vehicle details for future use.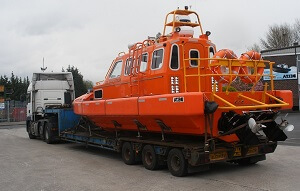 The system will only pass on your route information to the relevant authorities.
ESDAL Help Desk
Mail: [email protected]
Telephone:0300 470 3733
Highways England
Great North House
20 Allington Way
Darlington
DL1 4QB
Note: Because the ESDAL system is password protected you will only be able to see details and information about your own company.
---
Using ESDAL Abnormal Load Notification
As a rule, it will take up to three (3) working days to process your application. But, once you have registered with ESDAL you will be able to start using the service. The system will inform you about who needs notification of your planned route.
Note: The Driver and Vehicle Standards Agency and Highways England produce further application forms and guidance material for hauliers who will be making an abnormal loads movement by road.
---
Taking an Abnormal Load Outside the UK
If you are planning to take an oversize or overweight item overseas of the United Kingdom you are going to have to:
Checking if a Load is Abnormal in an Overseas Country
Not all countries use the same system as the United Kingdom to measure abnormal loads. So, you would need to check with each country that you will be travelling through to confirm whether the load you are transporting will count as abnormal.
---
Transporting Abnormal Loads in the United Kingdom and Abroad