Halloween is a ritual observed and celebrated on the evening of the 31st of October every year.
According to tradition, it is a time for trick-or-treating and scary Halloween parties. Most small kids, and party revelers, dress up as ghosts, spirits, skeletons, and other scary figures.
Among the most common symbols of Halloween are pumpkin lanterns and flying bats.
Some people will dress up as witches, wizards, and 'ghostly' characters from horror films (e.g. the scariest Halloween movies).
There will be scary spiders, black cats, and other animals associated with the ritual. It's a time for costume planning, jack-o'-lanterns carving, and stocking up on candy.
The mixed colors of orange and black are very common for fancy dress at Halloween parties. The run up to trick-or-treating is a time for stores to promote zombie products with a Halloween theme.
---
Halloween History
The origins of Halloween go all the way back to pagan festivals in England, and the other home countries. People believed that the spirits of the dead could come back to life and walk among the living.
According to the laws in British history, Halloween was also called 'All Hallows Eve'. Others used to call it the day before All Saints' Day, which was in fact observed on the 1st of November.
But wait – there's more:
During this time of year, they would dress up in costumes before venturing outdoors. Pagan folk surmised that wearing scary clothing would keep them safe. They believed that the spooky diversion would stop the spirits from harming them.
Note: Halloween is not one of the public holidays in United Kingdom. So, most businesses and public transport operate normal working hours.
---
Children Trick-or-treating at Halloween
Halloween in the United Kingdom is a fun time – and not only for kids! Grown-ups often go to, and will organise, parties dressed in an eerie costume – reflecting the theme of the day.
Whereas, others will watch gruesome horror films, guarded by the walls of their home or at a local cinema.
This part is important:
Children observe the evening of Halloween by going out trick-or-treating. They dress up in spooky costumes and make house-to house calls to get treats. In fact, the gift would be money in some cultures (instead of candy).
Youngsters will go knocking on doors for a treat – using the phrase 'Trick or Treat'!
As a rule, the handout has to be sweets or a candy snack – at the door!
But, some homeowners will refuse to give children a treat. Hence, they could be on the wrong end of an 'idle' threat for a trick or a prank.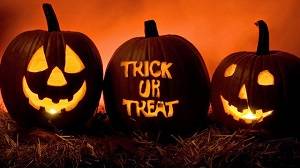 Disgruntled children might threaten to perform mischief on the property of the homeowner. But, in most cases, the 'trick' is not carried out.
Trick-or-treating should only occur during the early evening of October 31. That means it always falls a few days after the clocks go back in the United Kingdom, and a few days before bonfire night.
So, it will be dark and cold!
There is a way for homeowners to signal they are willing to hand out treats to kids. They can put up Halloween decorations outside their windows and doors. In some cases, people will leave treats available for children to take and enjoy.
---
Halloween Rules UK
We accept and understand that there are no 'set rules for Halloween' per se in the United Kingdom. But, giving anything a set of rules tends to make things very 'British'!
Check out our full list of UK rules and regulations if you want to see further proof of how the United Kingdom is ruled!
So, what can parents do to make Halloween safer for kids? After all, small children wandering around the streets in darkness has inherent dangers.
Browse through these basic trick-or-treating rules for some common sense safety tips and advice:
Young children should have proper adult supervision. Make sure everyone is wearing clothing appropriate for pedestrian safety in the dark and crossing the road safely.
Halloween is most often celebrated by small kids, under the age of 12. It's unlikely that a gang of teenagers beating at someone's door will result in a candy treat. So, you want to be sure that the child's fancy dress costume fits them properly to avoid any unnecessary injuries.
Approaching only the neighbours that you know will help to keep Halloween super safe. If not, knocking on houses decorated with a pumpkin in the window would be the next best thing.
Despite threatening to carry out a 'trick', it should be an idle threat. Your kids will get treats for being cute – not aggressive or intimidating!
Always be respectful to your neighbours and their property. There may be little point trick-or-treating a house in darkness. So, be prudent, use caution, and trick-or-treat in safe areas.
Be extra careful about accepting 'homemade' treats. Parents should check any suspicious looking candy to make sure it is safe for kids to eat.
It might be a smart idea to provide any unsupervised children with some form of identification. For example, you could hide some basic contact details inside a coat pocket.
Note: Most families love Halloween time because it's an opportunity to dress up. Even so, a children's safety and learning guide teaches small kids not to talk to strangers. Be mindful of polite Halloween etiquette and be wary of the darkness in strange places.
---
Legal Facts about Halloween UK
Halloween celebrations around the world seem to get bigger each year. In fact, people now spend more money on Halloween in the United Kingdom than they do for Valentine's Day.
It's expected that Tesco sales of pumpkins will break through 3 million mark towards the end of October – and with some ease.
You may be one of the many enjoying the spooky events or you may prefer to sit this one out. But, there is also a legal side to Halloween and trick-or-treating activities.
Is it OK to 'Trick-or-Treat'?
Despite millions doing it every October, many see it as an 'unwelcome cultural import' from north America. But:
Can Under-18s Watch Horror Movies?
Not everyone is a fan of horror movies, despite them making a huge amount of money at the box office. But:
Any film classified as 18+ has content suitable for adults only.
The law does not allow anyone younger than eighteen years old to watch 18+ rated films in a cinema. The same rule applies to renting or buying copies of them.
These restrictions do not apply to watching 18+ rated movies at home as per the British Board of Film Classification. Read more about age ratings in the 'when are you old enough to' section.
What to Do with Faulty Halloween Goods?
So, you bought a dodgy zombie school boy costume or the vampire teeth dentures let you down. Your consumer rights will protect you if you end up buying faulty goods. But:
The goods must be of satisfactory quality, fit for the purpose, and as described at the time you buy them.
Act without delay to get a full refund. Find out more from the independent, charitable enterprise 'Which?'.
---
Keep your children safe and have a Happy Halloween!
Note: The short video presented by Thames Valley Police provides essential information on how to keep yourself and others safe during Halloween.
---
Halloween Safety Tips for United Kingdom