YOUR RIGHTS: This page explains the law for motorists if the police stop you when you are driving a vehicle.
Note: Police officers can stop your vehicle for any reason. You should always slow down and pull over when it is safe to do so. If the police have stopped you while driving they can ask to inspect your:
They can check for faults with your vehicle and then seize it in some cases. The police can also issue a breath test and hand out penalties for motoring offences.
The police will allow you 7 days to take your vehicle documents to the police station if you do not have them with you. Failing to show the requested documents within 7 days of being stopped by the police is breaking the law.
If you got stopped for a minor motoring offence the police can give you an on-the-spot fixed penalty notice. They can also force you to take a breath test in certain situations and circumstances.
The police may stop you if they suspect you are driving without adequate insurance for your vehicle. In this case the legal powers of the police mean they can have your vehicle immediately seized from you.
---
Identification at Police Roadside Checks
The Home Office and the Driver and Vehicle Licensing Agency (DVLA) have made roadside checks easier for the police.
New technology means police officers can get access to, and confirm, the identity of the driver while dealing with motoring offences – at the side of the road.
The use of this innovative digitisation allows law enforcement to get instant access to the actual photograph held in the DVLA's driver database.
Bringing this tech to police roadside checks reduces the likelihood of being arrested (e.g. having to complete the driver checks at the station).
Benefits for Police and Motorists
The Home Office confines the use of DVLA data to actual motoring offences. Even so, since they piloted the use of these technological advances in August 2019, some of the benefits have been:
A decrease in time needed for roadside checks (around 66% faster). The benefits for law-abiding motorists means they get back to their journey quicker.
More than 14,000 hours saved for Road Police Unit Officers and Local Policing Officers. As a result, they can spend more time patrolling and supporting investigations.
Police use of over 86,000 driver licence images to confirm the identity of drivers after stopping motorists at the roadside.
Note: You are breaking the law if you fail to pull over your vehicle when requested to do so by a police officer.
---
Police Breath Test Procedure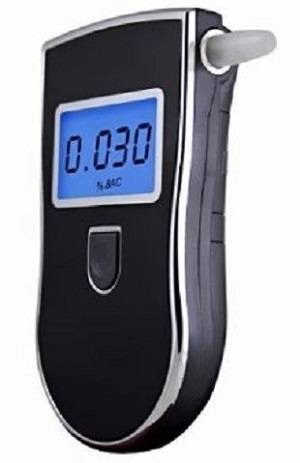 There are times when the police can stop you while driving and ask you to provide a breath test.
They can conduct a breathalyzer test and breathalyse you at any time if:
The police think you have been drinking alcohol.
You have committed a traffic offence.
You or your vehicle have been involved in a road traffic accident.
What happens if you refuse to take a breath test or fail to supply a sample of breath? In this case the police can arrest you unless you have a 'reasonable excuse'.
Note: A genuine physical or mental condition which stops you giving a breath sample could be a reasonable excuse.
The police breath test procedure will provide an instant result. In most cases you will be free to go if the breathalyser test kit shows you are below the legal drink drive limit for alcohol.
In England, Wales, and Northern Ireland the maximum level of alcohol is 35 micrograms for 100 millilitres of breath.
The police will take you to the police station if you fail the breath test. They will give you a final breath test inside the station. You will get charged if your final breath test shows a positive result for excessive alcohol.
If a police officer thinks you may be under the influence of alcohol or drugs, they can also ask you to:
Take a drug test.
Perform a physical test often called a 'field impairment test'. An example would be to walk in a straight line then turn around and walk back in a coordinated manner.
Failing either of these tests means you can also get arrested. The law does not allow you to drive your car until you are sober. So, if you fail a breath test you may ask someone else to collect your car on your behalf.
---
List of Minor Motoring Offences
Minor motoring offences are those considered to be less serious traffic violations. Even so, the police can give you a 'fixed penalty notice' for:
---
Fixed Penalty Notice Offences (FPN)
A Fixed Penalty Notice can get you a fine up to £200 and penalty point endorsements recorded on your driving licence. In some cases you may also get disqualified from driving if you build up 12 points or more within three (3) years.
But, the police have some discretion and may also decide to:
Take no further action.
Issue you with a warning.
Offer you a driver training course.

If you believe the fixed penalty was an unjust punishment you can choose not to pay it. But you need to argue your case in a UK court of law.
---
Vehicle Defect Rectification Notice
The police can issue a vehicle defect rectification notice if they find faults with your vehicle or there is something wrong with it. Examples of faulty car parts include the brake light, headlight, or trafficator.
First you must get your vehicle fixed. Follow that by providing proof to the police within 14 days that it got fixed and is now in good working order. You can show them a receipt for the work from a car mechanic.
---
When Can Police Seize Your Vehicle?
Having being stopped by police while driving you also run the risk of having your vehicle seized. The police can seize it from you if they think it is causing danger, distress, or harassment.
The police can also seize your vehicle if they think it is:
Being driven by someone who does not have the proper driving licence or insurance cover.
Parked in an illegal place, causing danger, or obstructing the roadway.
Broken-down in the road or abandoned.
Note: There is a release fee up to £200 and £20 daily storage charge to get a seized vehicle back from the police.
---
Your Rights If Stopped by Police While Driving in United Kingdom