How to Renew Your Digital Tachograph Card
This guide is for lorry and bus drivers to get a digital tachograph card online (via the fast DVLA digital service) or by post (around 10 days).
Remember the process used to apply for a company digital tachograph card is different than the one for driver cards.
You should send the application to the Driver and Vehicle Licensing Agency (DVLA) to get a digital tachograph driver smart card.
Note: Having a digital tachograph Vehicle Unit (VU) installed allows it to record travel details. Hence, it will track the daily information and store it as data on the plastic microchipped card.
---
Apply for Digital Tachograph Card Online
You can apply online (in minutes) or use the special form to make a digital tachograph application with the Driver and Vehicle Licensing Agency (DVLA) if you have:
A Great Britain (GB) photocard driving licence (England, Scotland, and Wales).
Your driving licence number and an accepted method for payment (e.g. a credit or debit card).
---
DVLA D777B/DL Form Order
Use the DVLA D777B(DL) form to apply using postal methods to get a new digital tachograph driver smart card or renew an expired card.
Click to 'download D777B/DL digital tachograph driver card'. You do not need to send a new photograph if you already have a GB-issued tachograph card or a GB photocard driving licence (e.g. you live in England, Scotland, or Wales).
You must apply by postal methods to:
Change the name or address on the card.
Change an EU, EEA or Northern Ireland tachograph card to a GB tachograph card (providing you have lived in the United Kingdom for at least six months during the past year).
Get your first GB driver digital tachograph card (e.g. if you are living abroad).
Replace a faulty or damaged card (or if your version is the paper driving licence).
Note: You might also get the DVLA digital tachograph card application form at some of the bigger MOT testing stations but not at Post Offices.
Following that, you should fill in the document and mail it to the address written on the digital tachograph form. There will be a specific postcode to use for the Driver and Vehicle Licensing Agency in the United Kingdom.
Do not use the digi tacho card form if your tachograph driver card does not have a postal address written on it. If this is the case, all you need to do is change the address on your driving licence.
---
DVLA Digital Tachograph Card UK Prices
| Digital Tachograph Card Cost | DVLA Driver Card | Company Card |
| --- | --- | --- |
| First GB driver digital tachograph card | £32 | £32 |
| Replacement card: lost digicard, stolen, or damaged | £19 | £19 |
| Change of name or address on existing digital tachograph card | Free | £32 |
| Changing EU, EEA or Northern Ireland tachograph card to a GB tachograph card | £32 | N/A |
| Workshop or Malfunctioning card: card is not working properly | Free | Free |
| Digital tachograph card renewal or yours has expired | £19 | £19 |
| Your present card gets withdrawn or suspended | £32 | £32 |
| Additional cards | N/A | £32 |
---
Important: It is against the law for a driver to hold more than one valid digital tachograph driver card at any given time. Another section contains more information about the rules for transport and businesses in the United Kingdom.
---
Stolen or Lost Digital Tachograph Card
What if your digital tachograph driver card gets lost, damaged, stolen, or it is malfunctioning (e.g. stops working correctly)?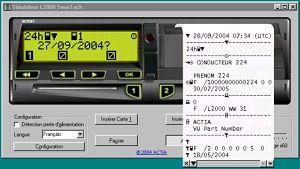 If this happens, you must report it immediately to the DVLA and apply for a digi card replacement within one week (7 days).
You can also use the same DVLA D777B form download to:
Change the name or address on your digital tachograph card.
Renew a digital tachograph card after it expires (within 90 days).
Replace a tacho card if you lose it or it gets damaged or stolen.
Note: You should also return any damaged cards to the DVLA if you apply for a replacement tachograph card.
You can order an ST1A application pack by post. Call the DVLA tacho card contact number to report lost, stolen, or damaged cards:
Driver and Vehicle Licensing Agency
Telephone: 0300 790 6109
Monday to Friday: 8am to 7pm
Saturdays: 8am to 2pm
Fax: 01792 783 525
Check 0300 call charges.
Note: Providing there are no changes to your details you can also phone for a replacement tachograph card.
---
Applying for Digital Tachograph Card in Northern Ireland
Drivers can make a request by email for a driver smart card application form to the Driver and Vehicle Agency (DVA) in Northern Ireland.
Driver and Vehicle Agency (licensing enquiries)
Telephone: 0845 402 4000
Email: [email protected]
Digital Tachographs
Driver Licensing
Castlerock Road
Waterside
Coleraine
BT51 3TD
---
Signature and Photograph ID
Digital tachograph driver cards will have a digitized version of your signature and your photograph on it. This is for identification purposes. DVLA can use the same photo and signature from your photocard driving licence.
---
Company Smart Card Applications
Heavy Goods Vehicle (HGV) operators can apply for or renew a company tachograph card online. Companies can also make an application to get the drivers' versions (on their behalf). But, companies must apply for each driver card as a separate application.
DVLA usually accept company cheque payments up to the limit of 25 DVLA driver card applications. You can fax the DVLA, using company-headed notepaper, to request several application packs.
DVLA
Fax: 01792 783 525
Note: The master section has more information on the rules of driving lorries, buses, and heavy good vehicles.
---
Driving while Waiting for a Replacement Digital Tachograph Card
Driving without your digi tacho card is only permitted if your previous version gets lost, damaged, stolen, or it malfunctions. In these circumstances you can drive up to fifteen calendar days without a DVLA driver card.
Exceptions occur if it takes longer to get the vehicle back to its premises. But, you may need to prove that you could not use the card during the extended time limit.
In case you were wondering:
As the driver, you must keep printout records of your Vehicle Unit (VU) if you need to drive while you are waiting for a replacement smart card. The records must also have the date, your signature, and your name printed on the reverse side of the files.
You should keep them in case you need to use them as evidence. For example, if you get stopped and inspected at the roadside by DVLA enforcement officers or the police.
As a rule, the DVLA will reissue a replacement driver smart card within five (5) working days once they receive an application for a new one. You must not drive if your card has expired.
You cannot have more than one card at any time. So you must return the old one if you later find the original. In this case, you should also send a covering letter with an explanation for the returned card.
---
RELATED HELP GUIDES
What is a Digital Tachograph Card?
The digital tacho device replaced the analogue version. The new tachograph rules follow the European Union regulation 1360/2002. It is about the same size as a car radio and it has its own event memory microchip card.
The tachograph card stores information for 365 days. The internal time clock is set permanently to UTC (same as Greenwich Mean Time).
Note: Another section explains the rules and regulations for HGV driving hours in greater detail.
How Long Does a Tachograph Card Last?
As a rule the tachograph card is valid for 5 years. Drivers should replace the card at the end of the five year period and before it expires. Digital tachograph cards are unique to each driver and vehicle. Cards display the 'valid from' and 'expiry' date.
How to Use Digital Tachograph Cards?
Digital Tachograph Units follow the same basic steps of use. Follow these 3 steps before you begin your journey:
Insert the card into the slot (chip facing up and chip in first).
Answer the screen questions while the device processes the information.
The tachograph unit records the different modes of operation once steps one and two are complete.
---
What are UK Rules for Truck Drivers?
Check out the lorry driving rules, bus driver regulations, and transportation section. The list of topics cover legal requirements for becoming a qualified lorry or bus driver. There is further information about the strict tests and health and safety rules for drivers of commercial vehicles.
Note: The short video explains how, and why, the Driver and Vehicle Standards Agency (DVSA) focus on catching truck drivers who are committing tachograph fraud.
---
D777B Form: Apply for or Renew Digi Card Online in United Kingdom