Roadside Checks on Commercial Vehicles
The police, or Driver and Vehicle Standards Agency (DVSA) officers, can ask any commercial driver to stop their vehicle at the side of the road.
They also have the authority to stop other large vehicles, such as buses, coaches, lorries, trucks, and vans.
The powers of police officers and DVSA allows them to carry out roadside spot checks on vehicles and issue prohibitions, where it becomes necessary.
Several things can happen if you get a roadside prohibition. As a rule, it prevents anyone from driving the vehicle until the problem has been fixed.
As a commercial driver, committing a motoring offence means you could also get a fixed penalty. The majority of fixed penalties follow a graduated system.
So, the type of fixed penalty you get would generally depend on the actual circumstances of the incident and the seriousness of the offence committed.
Important: It is the driver's responsibility to check and ensure the vehicle is in a safe, roadworthy condition.
---
Ways to Recognise DVSA Officers
All DVSA officers would be wearing yellow high vis jackets. The jacket will have either the VOSA or the DVSA logo displayed on it. Officers who conduct roadside vehicle checks for commercial drivers will always carry their DVSA warrant card with them.
The markings on DVSA vehicles is a black and yellow print showing on the side. There will also be either a Vehicle and Operator Services Agency (VOSA) or a Driver and Vehicle Standards Agency (DVSA) logo displayed on the car bonnet.
---
What Happens on a Roadside Vehicle Check?
Often, authorised officers will carry out vehicle checks at the edge of the roadside. In some cases, they may also make vehicle inspections at dedicated testing sites. Either way, the primary purpose of roadside checks is to keep unsafe vehicles off the road.
The officer would make a signal for the driver to stop the vehicle. Officers would then check to see if it is breaking any motoring rules and regulations, such as:
Checking the vehicle for general roadworthiness and for any mechanical faults.
Checking there is no breach of authorised load weights or the type of load permitted.
Inspecting the vehicle tachograph records.
Making sure the driver is in possession of a valid occupational driving licence (e.g. operator's licence).
Authorities can impound the vehicle if the driver has already committed a series of serious offences. All foreign-registered vehicles must also meet the same level of compliance as those registered in the United Kingdom.
In case you were wondering:
Carrying a high-value load means you would be able to keep the engine running, the doors locked, and the windows closed, until you are sure a bona fide police or DVSA officer has stopped you.
---
What if You Do Not Stop the Vehicle?
Failing to stop and pull over the vehicle, when asked to do so by a uniformed officer, is a motoring offence. They would create an official record of the incident and then interview you at a later date.
Important: If you do not stop you may face court action or have the case reported to the Traffic Commissioner. If so, they can either suspend or completely remove your operator's licence.
---
Maintaining Vehicle Roadworthiness
Making sure the vehicle is roadworthy is the responsibility of the driver and the operator. Thus, maintaining the roadworthiness of your vehicle will help you avoid problems with official roadside vehicle checks.
---
Responsibilities of the Driver
Before setting off on a journey, it is the driver who must make the final check and ensure the vehicle is safe to drive.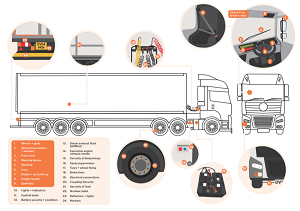 As the driver, you should carry out the HGV driver's daily walkaround check, which must include:
Lights and indicators
Fuel and oil (e.g. for leaks)
Tyres and wheel fixings
Electrical connections
Bodywork (e.g. security of body/wings)
Spray suppression
Load, trailer coupling security, and other equipment
A check made from the driver's seat (e.g. seatbelts, horn, windscreen wipers and washers, mirrors and glass, steering, height marker)
---
Driving Vehicles with Tyres Over 10 Years Old
Legislation introduced in February 2021 bans the use of tyres on front steered axles of lorries, buses, coaches, and single wheels of minibuses (9-16 passengers seats) if the tyre is more than ten (10) years old.
The Department for Transport reminded vehicle owners that new measures to improve road safety now include horseboxes that are over 3.5 tonnes.
Note: The Driver and Vehicle Standards Agency also produce guidance notes on the daily checks public service vehicle (PSV) drivers must carry out to make sure their vehicles are safe to drive.
The driver is also responsible for reporting vehicle defects. You should make a report in writing to the person in charge of fixing defects on vehicles within the organisation.
This kind of report should include the name of the person reporting the defects, and:
Details about the defects.
Vehicle registration or identification mark.
The date of the inspection.
---
Responsibilities of the Operator
As the operator, you must carry out safety inspections before using any vehicle for the first time. This also applies to any vehicles that you hire, lease, or 'borrow'.
Operator responsibilities also include:
Ensuring regular safety inspections are conducted on all commercial vehicles.
Providing their drivers with clear written instructions of the responsibilities that they have. Drivers must understand what they need to do.
Having a system that will ensure non-roadworthy vehicles get taken out of service.
Note: Only trained inspectors can carry out safety inspections during a roadside vehicle check for commercial drivers. They must also have a good working knowledge of all appropriate DVSA inspection manuals.
---
Roadside Prohibitions for Commercials
There are two types of roadside prohibition that a police officer, or one from the DVSA, can give to commercial drivers. It would either be an immediate prohibition or a delayed prohibition.
As a general rule, the one you get would depend on how dangerous the vehicle is (before fixing the faults).
Note: The Department for Transport (DfT) provides further safety advice for drivers and operators of vehicles that will be carrying overhanging loads in the United Kingdom.
Immediate Prohibition Notice
A prohibition can come into effect immediately. In most cases, it would result in the immobilisation of the vehicle. Besides not being able to drive it, getting immediate prohibition can also result in a prosecution.
Delayed Prohibition Notice
You can also get a prohibition that has a delayed effect. It means you would be able to drive the vehicle away.
The operator would have a period of time, up to ten (10) days, to get the fault(s) or defect(s) fixed. The officers would then reinspect it and they must remove the prohibition before you can use it on the road again.
Important: Give the prohibition notice to the operator and the owner of the vehicle. The details of how to clear a prohibition will be written on the reverse side of the notice.
Overload Prohibition Notice
Immediate prohibition notices are given out for driving an overloaded vehicle. The examiners may decide to have it immobilised or direct you to a nearby area. It may result in the load being redistributed or removed altogether.
They would also send a copy of the overload prohibition notice to the vehicle owner (or operator).
Roadworthiness Prohibition (PG9)
Vehicles with roadworthiness defects (e.g. bodywork, equipment), or mechanical problems, can get this type of prohibition. It can result in an immediate or a delayed effect – depending on the severity of the defect.
Note: A DVSA publication explains the categorisation of vehicle defects found during roadside inspections and what action they would take afterward.
S Marked Prohibition (severe)
Examiners may issue an 'S' marked roadworthiness prohibition if they believe there is a severe defect. It is most likely to happen when there is a significant breakdown in the maintenance procedures for the vehicle.
They do not give out 'S' marked prohibitions for vehicle defects that drivers could not have known about before the journey began, such as:
A problem that may have manufactured itself during the course of the journey.
A problem that the driver could not 'reasonably' have been expected to notice (e.g. a defect on the underside of the vehicle).
This type of roadside prohibition can start with immediate effect. It can also result in a prosecution for the driver or for the operator. Either way, DVSA officers would follow up with an assessment of the maintenance procedures carried out by the operator.
Variation of Prohibition
It is not uncommon for drivers to temporarily or permanently fix an immediate problem at the roadside. Even so, you could get a variation roadworthiness prohibition if others remain.
The variation prohibition allows drivers to return to their operating centre, or a garage, so they can get the initial problem fixed and repair the other faults.
There can be instances where an examiner issues a 'variation of roadworthiness prohibition' and then changes it from an immediate notice to a delayed one.
Here's a good example:
You should expect to get an immediate prohibition notice for a damaged vehicle wing if it is in danger of falling off. An examiner would consider it to be a potential road safety hazard.
But, the examiner might accept a 'temporary' repair if you are able to secure the wing back into its original place.
Drivers' Hours Prohibition Notice
Failing to follow the rules for drivers' hours can result in drivers hours prohibitions. Likewise, you could also get the same kind of penalty for a violation of tachograph regulations.
As a rule, commercial drivers would get a fine for a breach of drivers' hours regulations. But, it can also result in a prosecution or the officers might have the vehicle immobilised.
Hazchem Prohibition Notice
You could get a hazchem prohibition if inspectors find a problem with the way you are carrying dangerous goods (e.g. hazardous chemicals). In most cases, you can get the prohibition lifted by fixing the problem.
---
How to Disagree with a Roadside Prohibition
You should follow the roadside prohibition guidance if you disagree with the prohibition. As a general rule, that means making a complaint to the local police force or to the DVSA office that handed out the prohibition.
Driver and Vehicle Standards Agency (DVSA)
Email: [email protected]
Telephone: 0300 123 9000
Monday to Friday: 7:30am to 6pm
United Kingdom telephone rates.
Important: Do not get the vehicle repaired or adjusted while disagreeing with a roadside prohibition. You can also complain about enforcement action to the DVSA if you want to challenge the outcome (within 14 days of getting the prohibition).
---
Driving HGVs Without a Valid Operator's Licence
You must have a valid operator's licence to drive certain types of vehicles for any type of business. Other sections explain the rules in more detail about:
Several things can happen if you get caught driving a commercial vehicle without a valid operator's licence. They can impound and scrapped the vehicle after twenty one (21) days.
Either you, or your employer, would need to appeal to one of the local Traffic Commissioners for Great Britain to avoid this type of enforcement action.
You can only make an appeal to the traffic commissioner if:
You have proof that it was wrong to seize the vehicle (e.g. you or your employer held a valid operator's licence when they seized it).
Someone was using the vehicle 'illegally' (without the knowledge of the owner).
The vehicle had an exemption from operator licensing when it got impounded.
Note: The Traffic Commissioner may rule that the impounding was correct and justified. If so, the authorities may still decide to scrap the vehicle.
---
DVSA Fixed Penalties
You can get a fixed penalty from the police or from a Driver and Vehicle Standards Agency (DVSA) officer. The circumstances around the incident, and the seriousness of the offence, usually determine exactly how much you would have to pay.
The types of driving offences that you can get a fixed penalty notice for, include:
Driving an unroadworthy vehicle (e.g. one with a bald tyre).
Driving for too many continuous hours (e.g. without taking the required rest breaks).
Vehicles that weigh more than their maximum permitted weight.
The fines for fixed penalties range between £50 and £300. But, you may get taken to court for driving offences that are more serious. In this case, a magistrate would decide how much fine you need to pay.
Note: You can read more about the way DVSA graduated fines and financial deposits work for offences found at roadside vehicle checks for commercial drivers.
---
Endorsements Added to a Driving Licence
Besides a fine, some driving offences result in penalty points being added to your licence (called endorsements). So for example, driving a vehicle with defective brakes would mean you get three (3) points on your licence and a fine of £100.
Note: Receiving an endorsable offence means you would need to present your driving licence within fourteen (14) days.
---
Fixed Penalty Notices (FPNs)
Providing you have a satisfactory address in the United Kingdom, you would get 28 days from getting a fixed penalty notice to (either):
Pay the roadside fine (details below).
Ask for a court hearing (if you want to appeal against it).
You would get a 'conditional offer' in Scotland (instead of a fixed penalty notice). You would also get 28 days to pay it starting from the date of issue. You can get prosecuted for not paying the fine.
Note: A satisfactory UK address is one that you can be easily contacted through. The authorities do not usually accept agency, bed and breakfast, hotel, or solicitor addresses.
---
What if You Do Not have a Satisfactory UK Address?
Not having an address in the United Kingdom would mean you need to pay a 'financial penalty deposit'. So, this would be (either):
The combined total of all fixed penalty notices issued (you may appeal within 28 days).
£500 per offence if you go to court (you would have to pay on the spot and attend court at a later date).
In either case, the maximum amount you would need to pay as a financial deposit is £1,500. But, not paying it straight away means the officers may not allow you to continue your journey in the vehicle.
Note: Authorities use the money from deposits to pay any outstanding fixed penalties or court fines. They will refund any money left over from the deposit after the payment of all fines. Failing to pay the deposit means the vehicle will be immobilised.
---
How to Pay a DVSA Roadside Fine
You can use the service on DVSA roadside fines portal to pay:
Court deposits.
Fixed penalties for vehicle defects and certain other driving offences (e.g. breaking the rules that govern driving hours for truck drivers).
Vehicle immobilisation fees.
You would get an email and a text message from the Driver and Vehicle Standards Agency (DVSA). The notification gives you a payment code, the amount you need to pay, and the deadline for payment.
Before paying a DVSA roadside fine online it is best to prepare:
Your unique payment code.
A method for payment (e.g. debit or credit card).
Note: Failing to pay your fine on time means your lorry, bus, or coach could end up immobilised. You may also have to pay extra fees or get taken to court. Information explaining how to pay a DVSA roadside fine is also available in Welsh language (Cymraeg).
---
Paying DVSA Fines by Telephone
DVSA Customer Service Centre
Telephone: +44 (0)300 123 9000
Monday to Friday: 7:30am to 6pm
Find out about call charges.
To pay by phone you will need at least one of the following:
Your unique payment code.
Your fine reference number (found on a fixed penalty notice).
The vehicle registration number (number plate)
Paying DVSA Fines by Postal Methods
Only United Kingdom drivers or operators can pay a DVSA fine by post. When paying by cheque or postal order you should make it payable to 'DVSA Fixed Penalties Office'. Remember to write your payment code on the reverse side.
DVSA Fixed Penalties Office
Ellipse
Padley Road
Swansea
SA1 8AN
Note: You can also pay in person by cash given to the DVSA examiner at the time that they issue the fine.
---
What if DVSA Immobilise Your Vehicle?
Several things can happen if your vehicle is immobilised by the Driver and Vehicle Standards Agency (DVSA) officers or police officers. The DVSA and police have the power to immobilise vehicles after stopping them.
The main reason DVSA immobilise vehicles is when drivers have committed a serious offence that warrants an 'immediate prohibition'.
Put another way:
The authorities use immediate prohibition to prevent risks to road safety. A typical example, and reason for using it, would be for a tired driver or an unroadworthy vehicle.
In simple terms, you would not be allowed to drive the vehicle away from the roadside until you get the problem sorted out.
---
When You Can get Your Vehicle Immobilised
DVSA officers, or the police, can also immobilise a vehicle at the side of the road after they issue an immediate prohibition, because you (any):
Broke the rules that govern drivers' hours and tachographs.
Are driving an unroadworthy or overloaded vehicle.
Received a fixed penalty notice (FPN) but either you cannot or will not pay a financial penalty deposit.
As a rule, they will not give an immediate prohibition to all vehicles. In fact, they will give consideration to any special circumstances before issuance, such as:
The type of load being transported by the vehicle.
Whether you are carrying passengers on a public service vehicle (PSV) and whether immobilisation would inconvenience them.
---
How the Authorities Immobilise Vehicles
Officers from the DVSA, and the police, use a steel cable to immobilise vehicles and secure it with a padlock. They will fit it around the vehicle wheels and attach a warning notice.
The warning notice will provide information on how to get the vehicle released from the authorities. But, to get it released, you would need to:
Be able to satisfy the DVSA officers that you have dealt with the reasons for the immediate prohibition.
Pay a release charge (currently around £80).
Note: Removing the warning notice, or interfering with the immobilising device, is an offence. An official guide explains when and why DVSA can immobilise vehicles and how drivers and operators can avoid it.
---
Roadside Vehicle Checks for Commercial Drivers in United Kingdom