EQUIPMENT USED IN NETBALL: Listing all the training gear and match equipment used in netball.
This netball equipment list also has information on clothing kits and uniform dresses. Not forgetting the all-important court dimensions.
Check out the specifications on netball ball size and hoop ring rim dimensions.
What equipment do you need when you are gearing up to play in a competition?
You will find this checklist an invaluable resource of the essential tackle required. Make sure you add these fundamental items to your netball equipment list.
You and your teammates will need safe playing facilities. Add a colorful kit uniform and add a few other bits of paraphernalia and you are ready to start playing.
---
Netball Training Equipment List
What equipment do you need for netball? The minimum equipment needed to play netball consists of a court, two goal posts, and a ball. You will also need some netball uniforms if you are playing in a competition or a league.
If you have 14 enthusiastic players and someone to officiate the match you are good to go!
England Netball shops and suppliers cater in depth for mainstream players and fans of the sport. They also meet the needs of social sports in schools and all international tournaments.
Note: Nowadays the best England netball merchandise and the full equipment list is available online. Here is a list of netball gear you need and use to play the game.
---
Netball Court Size (indoor)
As a ground rule, a solid court surface is the best apparatus. It is considered to be standard equipment for netball in meeting the official dimensions of a netball court.
Note: This is especially important when you are playing the game indoors.
Sprung wooden courts get used in international matches. This is because they provide a safe firm flooring with clear positional markings.
---
Netball Hoop Size and Goal posts
There should be one vertical goal post standing 3.05 meters high (10 feet) at each end of the field or court. Each post should be secure and fixed at the middle point of each goal line.
Netball Court Dimensions in Meters
What is the length of a netball court? Netball court dimensions UK should measure 30.5 meters long and 15.25 meters wide.
Netball Hoop Height
The standard height of a netball ring is similar to the pole dimensions in basketball rules (without a backboard). A netball net hangs from a single metal ring protruding outwards at the top of the post.
The dimensions of a netball hoop rim are important because of the ball clearance. Netball hoops should have an internal diameter of 38 centimeters.
Netball Equipment Facilities for Kids
The kids' version is often called 'Netta' and youngsters should use smaller goalposts. The height of the posts used in netball games for children should be 2.4 meters high (about 8 feet). The posts are often padded with sponge to reduce child impact injuries.
---
Netball Balls Size 4 or Size 5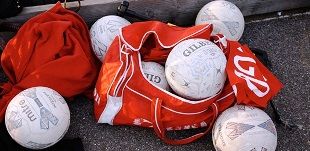 There are two official netball sizes of balls used in the game – netball ball size 4 and netball size five.
Youngsters or juniors between eight and ten years of age – children play 'Netta' – would typically use a netball size 4 ball.
Players older than ten years (10) use the official netball size 5 striped balls.
Nowadays, modern adult size pro netball balls are usually made of rubber or leather. The balls weigh 14-16 ounces (0.45 kg) with a circumference of 27-28 inches (70 cm). Most netball balls are colored orange, white, or blue, as a rule.
---
Netball Clothing and Kit Uniform Regulations
There are a few more things you need for netball. A comprehensive netball equipment list must include the proper attire. That means the team must follow netball bibs regulations.
Note: Wearing colored netball uniforms and bibbed netball clothing differentiates the team players.
Bright colored jersey tops and skirts or netball dresses make up the netball clothes uniform you need to play in competitions.
Comfortable clothes should always get included in your checklist of equipment needed for netball. Aim to buy gear that is purposefully designed for fluid movement during the racy game.
---
Netball Uniform Rules
Netball uniform regulations state that each player must wear a 'position' marked bib. It should remain on the player's torso throughout the match and during all break times.
Bibs are available in sets of seven different colored and identifiable vests. There is another important reason for wearing team shorts or skirts. It helps umpires and teammates identify the seven individual positions by their coloured netball kit. Not to mention the spectators!
England Netball Kit Suppliers UK
NETBALL UK gets recognised as a one-stop shop for everything in the game. They are netball clothing suppliers for everything you need to play comfortably and safely.
They also supply coaching and umpiring equipment used in netball. You should find what you are looking for. They supply school teams or individuals from small local leagues to the top Superleague.
Netball UK Ltd
Pennant Street
Oldham, OL1 3BS
Telephone: 0161 626 3936
---
Court Shoes and Ankle Supports Gear
Netball players should never overlook the importance of wearing the correct footwear. Playing in proper indoor sports running shoes should provide you with support and comfort.
The right pair of shoes allows the wearer to move smoothly around the court or on a firm surface. Wearing inappropriate or canvas footwear can cause foot and ankle blisters. Even worse injuries are likely if you do not wear the best netball shoes and footwear.
Many professional players also wear specialist netball gear. They may use knee or ankle guards which provide extra support and greater stability. Extra joint supports help to prevent players from getting serious sprain and strain injuries.
Kinesiology Taping® helps to treat sports injuries. It is usually available in sports shops, sports medical clinics, and high street pharmacies.
---
Advanced Netball Guides
Netball Coaching Drills: Get the latest training drills with coaching tips for beginners.
Netball Safety Rules: An important guide for netball health and safety regulations.
Netball Terminology: A concise list of netball terms and phrases from A-Z.
Role of Officials in Netball: What are the responsibilities of a netball umpire?
Note: The short YouTube video has tips about netballs, including what type to buy and how to take good care of your kit. For example, the Mitre UltraGrip Match Netball with ball pump (available in white, cyan, and orange colours).
---
List of Equipment Needed for Playing Netball in the United Kingdom