Out of Control Dogs: What Does it Mean?
Letting a dog be 'dangerously' out of control is against the law, no matter where! Besides a dog owner's home, the rules also apply at:
Any public place (e.g. a children's playground or park).
Private areas, such as at a neighbour's home or garden.
UK law considers a dog as 'dangerously out of control' if it makes someone feel worried about getting injured, or it causes an actual injury.
Important: The United Kingdom bans the ownership of certain types of dogs (see below). But, the law about controlling your dog in public areas applies to all breeds of dogs.
In some cases, the courts may also consider dogs as being out of control and acting in a dangerous manner, if (either):
It has been attacking someone else's domestic pets and animals.
The owner of another pet or animal feels they might get injured if they intervene and attempt to stop the dog attacking it.
Farmers can shoot and kill dogs chasing or attacking sheep or livestock (e.g. cows, goats, horses, pigs).
---
Penalties for Not Controlling Your Dog
The penalties for having a dangerous out of control dog is an unlimited fine or being sent to prison (for up to six months) – or both.
In the most severe cases, the authorities may destroy the canine and ban the person responsible from owning a dog in the future.
It can get worse:
Allowing your dog to injure another person can result in a prison sentence for a period up to five (5) years, being fined, or both. Deliberately using a dog to injure someone can result in a charge of 'malicious wounding'.
The person in charge of a dog that kills someone can be sent to prison for a period of up to fourteen (14) years, receive an unlimited fine, or both.
Important: Allowing your dog to injure an assistance dog (e.g. a guide dog) can result in a prison sentence for a period of up to three (3) years, being fined, or both.
---
List of Banned Dogs in the UK
The United Kingdom outlaws the ownership of certain dog breeds, including:
Dogo Argentino
Fila Brasileiro
Japanese Tosa
Pit Bull Terrier
Furthermore, it is an offence to sell (or give away), breed from, or abandon any of the banned dogs. However, the characteristics and features of a dog (not only its breed name) can also determine whether it belongs with the banned types.
---
What to Do if You Have a Banned Dog
One of the dog wardens at the local council (or the police with permission from a court) can take your dog away from you (and keep it) if it is on the list of banned dogs.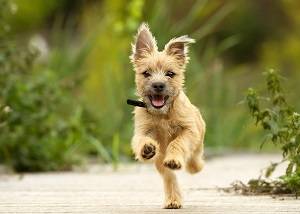 This is also true even if:
It has not acted in a dangerous manner.
No one made an official complaint about it.
But, according to the law, if the banned dog is discovered at:
A public place (e.g. a park area), the police will not need to get a warrant.
Your home (e.g. a private place), the police need to get a warrant from the court.
A private place and the police are already in possession of a warrant for another issue (e.g. a drugs search), they would lawfully be able to seize the dog without getting a separate warrant.
The next step is for a council dog expert (or the police) to determine the actual breed and whether they consider it as a danger to the public (or if it could be).
Following that, they will (either):
Release the dog from captivity.
Keep it in the kennels until they make an application to a court.
They will not allow you to visit your dog during the time that you are waiting for a decision from the court. But, you can choose to give up your ownership (they cannot force you to do so).
Note: Giving up ownership means they may destroy the animal and you may not need to attend the court.
---
If You Choose to Attend the Court
Going to court gives you an opportunity to prove your dog is not one of the banned types. But, it would be your responsibility to do so.
If you are successful, the court will order the return of your dog. Being unable to prove it (or pleading guilty), means you would be convicted of a crime.
Note: Having a banned dog is against the law in the United Kingdom. It can result in an unlimited fine, prison for up to six (6) months, or both. They would also destroy the dog./p>

---
The Index of Exempted Dogs (IED)
The courts do not consider all banned dogs as a danger to the public. In this case, they may have it registered on the Index of Exempted Dogs and allow you to keep it.
Index of Exempted Dogs
Mail: [email protected]
Telephone: 020 8026 4296
Find out about call rates
Dogs Index
PO Box 68250
London
SW1P 9XG
You would receive a Certificate of Exemption, which would be valid for the rest of the dog's natural life. But, the animal would need to be:
Neutered and microchipped.
Kept in a secure place (e.g. so it is unable to escape) and on a lead and muzzled any time it is in a public area.
Furthermore, the owner must (by law) be at least sixteen (16) years old, have insurance against it injuring other people, and:
Notify the Index of Exempted Dogs (IED) if there is a change of address (or the animal dies).
Be able to produce the Certificate of Exemption within five (5) days if asked to do so by a council dog warden (or police officer).
---
Public Spaces Protection Order (PSPO)
In England and Wales, Public Spaces Protection Orders has become the new name for the outdated Dog Control Orders (DCO). Hence, if a PSPO covers a public area, you may need to keep your dog on a lead, or.
Have your dog on a lead if directed to do so by a (any):

Someone from the local council.
Police officer.

Clear up any dog mess that yours makes (e.g. carry a poop scoop and disposable bags).
Limit how many dogs you have with you at any given time (this rule also applies to professional dog walkers).
Make sure your dog cannot access certain areas (e.g. farmland, sections of a public park).
Note: Another section explains more about the dog fouling law in the United Kingdom and how to report a dog fouling problem to your local council.
The penalties for ignoring a Public Spaces Protection Order (PSPO) can be a:
Fixed Penalty Notice (e.g. £100 on the spot fine).
Fine up to £1,000 if the case goes to court.
---
If there are PSPOs in Place
Informing members of the public about areas where there are PSPOs in force is one of the responsibilities of local councils. For example, they must display proper signage if dogs are not allowed in a park.
Likewise, the council must give notice (and publish it on its website) if it plans to enforce a new PSPO. Moreover, it must inform you where it will apply and where you can view an appropriate map.
---
Related Help Guides
Another section explains the latest advice about the 'stick and flick dog poo' method and how it is helping to clean up the countryside.
Anyone can file a report to the police about a dog and their owner. You can also report a dangerous dog to your council dog warden services department.
---
UK Rules for Controlling a Dog in Public Areas