Why Not Pick Up Dog Poop in Rural Areas?
It appears that some dog walkers are doing more harm than good by bagging up pet poo in the countryside.
So, instead of using poop bags, the recommended method is to brush or sweep it into the undergrowth (e.g. away from public footpaths).
The aim is to reduce the number of plastic carrier bags being left abandoned and discarded in urban and rural areas.
One MP has campaigned for better signage. Hence, placing signs at the entrances to open rural spaces and parks would guide dog owners about the stick and flick method.
What about the law?
There is no shortage of dog fouling laws in the United Kingdom. But, hanging poo-filled plastic bags from bushes and trees has become commonplace in many areas.
It is clear that we need new initiatives to tackle the problem in many rural areas. Research found local authorities in England and Wales receive around 70,000 complaints about dog fouling each year.
---
Poop-filled Bags Pollute the Environment
A Member of Parliament aims to stop people leaving poop-filled bags in the countryside. She says it is 'disgusting and a massive problem' that is polluting the environment.
Many people like to walk their dog in the fresh air of the rural parks and woodlands. Even so, reports suggest the problem has worsened in the last few years.
As a result, the number of dog poop bags in trees and plastic carriers hanging off bushes and railings has seen a significant increase.
Note: The section about pets and animals clarifies the rules for controlling your dog in communal areas and how Public Spaces Protection Orders work in England and Wales.
---
Stick and Flick: National Trust
Most dog owners are familiar with the litter and refuse laws in the United Kingdom. Thus, they think picking it up and bagging it is the right thing to do.
The problem starts when they cannot find any bins to throw away the mess. So, some will jettison the poop bag into the undergrowth. Whereas, others will simply sling it over any nearby garden fence.
In case you were wondering:
There are several potential hazardous outcomes related to the traditional method of bagging up dog mess in the countryside. Typical examples include:
Other animals can eat it.
Canine excrement gets cycled on (and spread around).
Small children can pick it up.
Note: Anyone taking care of horses will know they are attracted to the smell of cereal content in dog pooh. So, horses will eat it – and it can kill them! Please make sure you take a dog poop bag home or put it in a bin.
---
Stick and Flick Dog Poop Strategy
Dog owners must 'work with human nature'. Few will carry a messy dollop of dog poop on a two hour dog walk – and there are few rubbish bins in country forest regions.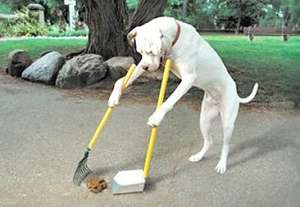 Ministers may press for better signage at entrances to forest areas and parks. The posters would give advice and guidance for proper dog poop disposal.
The Forestry Commission backs the campaign for dog walkers to adopt a 'stick and flick' method.
They suggest flicking the mess off pathways and into the undergrowth. Another solution is to cover it with leaves if you cannot find a nearby poopstick.
---
Keep Britain Tidy Dog Fouling Statistics
Keep Britain Tidy is an independent environment charity based in the United Kingdom. They campaign to reduce litter and garbage.
Their estimates suggest the UK has over eight million dogs. As such, canines produce a staggering 1,000 tonnes of dog excrement every single day. Those who know best say 10 weeks' worth of dog poo weighs about the same as St Paul's Cathedral.
The Dogs Trust
The National Canine Defence League is now called The Dogs Trust in the UK. They are an animal welfare charity and humane society.
The Dogs Trust has advice for dog owners who cannot find specific doggy waste bins. They suggest disposing of dog foul in the standard public litter bins.
Note: Falling foul of the dog mess law can result in a Fixed Penalty Notice. The owner or person in charge of the animal could get a £1,000 fine if it goes to court.
---
Who is Responsible for Picking Up Guide Dog Poo?
Even though guide dogs are generally trained not to foul while on duty, the rules do not apply to registered blind dog owners. Hence, legislation would not require a blind person to pick it up – according to the dog mess law in the United Kingdom.
---
---
Do You Have to Pick Up Dog Poop in the Countryside?