What is the Correct Way to Wear a Poppy?
Remembrance Day is a good time to look back into history. The flower is the red poppy and the location is Flanders Fields.
It is a remote region of Europe found to the north of Belgium and near to the scenic areas of Northern France (Nord-Pas-de-Calais).
Yet, some of the deadliest World War One battles took place in this region, and as a result, many died in the battlefields.
Despite being delicate wildflowers, poppies can grow and thrive almost anywhere. Hence, they represent a fitting emblem for remembering those who died in conflict.
In fact, the red remembrance poppy is not a real flower. It is artificial, but it represents the common field poppies called 'Papaver rhoeas'.
As a result, we have used remembrance poppies since 1921 to commemorate military personnel who died during war.
Moving on…
The Royal British Legion (RBL) is a UK-based charity that provides lifelong support for the British Armed Forces and their communities. The Legion helps to serve men and women, veterans, and their families.
You can contact the RBL Head Office and postal address at 199 Borough High Street London SE1 1AA. According to RBL protocol:
In essence, there is no single right or wrong way to wear a poppy. Poppy wearing etiquette allows personal choice to be the accepted norm.
As such, whether you wear one or not, and how you decide to wear it, is ultimately up to each individual.
---
Should the Leaf on a Poppy Point to 11?
According to poppy wearing etiquette, most individuals have the flower on the left side of their torso. Some say it feels closer to the heart.
Likewise, there are many who also suggest that men should pin it to their left lapel, similar to military medals or a boutonnière.
Many women will choose to wear their 'forget-me-not' on the right side of their apparel, much like a badge or a brooch.
The RBL sees no particular reason for not wearing a white poppy. Furthermore, they also have no specific conflict with people wearing a red poppy alongside a white poppy.
Nevertheless, the Royal British Legion says you should always 'wear your remembrance day poppy with pride and with gratitude'.
Myths about Poppy Wearing Rules
It is a myth that only members of the Royal Family can wear their poppy on the right side. It is also a myth that the poppy leaf should point to 11 o'clock.
The Queen follows poppy etiquette, and good manners, by wearing it on her left side. The red poppy is an emblem of remembrance and hope – not 'blood' red.
---
What Do Different Coloured Poppies Mean?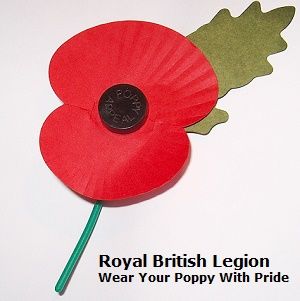 The bright red poppy represents the traditional appeal. Charities and organisations sell millions of red poppies every year leading up to Remembrance Sunday in the United Kingdom.
Proceeds from poppy donations go to the Royal British Legion (RBL). Red poppies are the most common sold during the November remembrance week.
You can also wear a white poppy. White poppies emphasize a lasting commitment to peace and have been in circulation since 1933.
White poppies commemorate civilian and military lives lost as a result of conflict. But, some critics argue that white poppy donations draw funds away from the RBL appeal.
Some animal charities produced a purple poppy in 2006. It represents animals as victims – not heroes. The lives of animals get taken 'without choice' in wartime.
Purple poppies commemorated animals killed in wartime conflicts, but the purple paw replaced it. People wear a purple paw any time of year to remember all animals and pets 'exploited' by humans.
---
When Should I Wear a Poppy?
There are many public controversies about the history of the United Kingdom. As a rule, the Royal British Legion poppy appeal starts towards the end of October each year. That is the time when you should wear a poppy.
It is not uncommon to wear them during the weeks leading up to Armistice Day (November 11th). Remembrance Sunday falls on the same date or the first Sunday following Armistice Day. That's why people wear poppies.
---
Wearing a Poppy Etiquette in Scotland
Despite being the same symbol of remembrance, poppies in Scotland have no poppy leaf and four petals. This is because different organisations produce them.
The Royal British Legion produces poppies in England, Northern Ireland, and Wales. Whereas, 'Poppyscotland' is the main producer of the different poppies for sale in Scotland.
Important: Disabled veterans are among the many people who make the Scottish poppy badge inside a factory in Edinburgh.
---
Poppy Controversy: Are Poppies Political Symbols?
The poppy controversy with football hit the news headlines in the United Kingdom. The FIFA poppies ban aims to stop players wearing poppies on international football jerseys.
But, the English FA said England players would wear armbands with embroidered poppy emblems. The armbands worn during an international football game played on November the 11th will be in honour of the war-dead.
Note: Several reports suggest the Royal British Legion has abandoned sales of poppies online to countries in the European Union (EU) sue to the extra bureaucracy and costs following Brexit [June 2021].
---
Related Content and Help Guides
DORA World War 1 | Find out exactly when the Defence Of the Realm Act was introduced… and why?
Guy Fawkes Facts | Discover the lesser known facts about Guy Fawkes and why he is a favourite villain.
Stupid British Laws | A quirky look at some of the weirdest codes still in effect in the United Kingdom.
Note: The short video presented by the BBC contains some controversial footage about the reasons why some people wear poppies – and others do not.
---
Poppy Etiquette: UK Rules for Wearing Remembrance Poppies