FIFA POPPIES BAN: The Fédération Internationale de Football Association placed restrictions on England footballers.
The Football Associations of England, Scotland, and wales will decide whether to enforce the sanction.
The move comes ahead of the teams' World Cup qualifying games on the 11th and 12th of November 2016. FIFA have blocked England and Scotland from wearing poppies on their jerseys.
This is not the first time FIFA have hit the headlines regarding their football shirt poppy rules.
It is a fact they have strict rules about political or religious symbols worn on football kit. It is also true that FIFA does not allow the wearing of poppies on international football jerseys.
FIFA Football Equipment Regulations is where you can find the substance for their sanction. The complex laws are somewhat detailed covering a multitude of football playing kit rules.
---
FIFA Equipment Rules
FIFA Rule 5.7 relates to the colour of adhesive tape. In more detail it targets the Colour of any tape or similar material temporarily applied to an item of playing kit.
It says tape "must be of the same group of a basic Colour as the predominant Colour of the same Playing Equipment item". A layperson translation would suggest you must use pink coloured tape any time you are taping up your pink boots.
---
FIFA Rules Advertising on Football Kit
FIFA Rule 57.1 relates to advertising on football kit. It states: "on all Playing Equipment items [which include jerseys] used on, or brought into (permanently or temporarily), the Pitch Area, for all Matches, any form of advertising… of political, religious, commercial, personal statements, images and/or other announcements, is strictly prohibited".
This same advertising rule also applies to 'Decorative Elements' on the kit. FIFA allowed poppy armbands during the Home Nations game in November 2011. So why does this rule ban poppy badges but not poppy armbands?
One reason could have been that several public figures protested against the ban. The Sports Minister and Prince William argued that the poppy does not represent a political or religious item.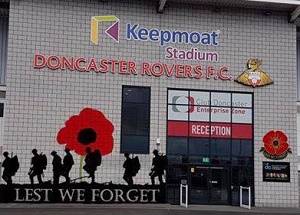 Even so, a University of Cambridge art historian argued his point in a 2014 book. He wrote that "the poppy has always been, and continues to be, a profoundly political symbol".
The result on that occasion lead to a poppy embroidered on a black armband. FIFA had held out against wearing poppies on international jerseys. "Accepting such initiatives would open the door to similar initiatives from all over the world, jeopardising the neutrality of football" they said.
FIFA Rule 6.11 addresses football shirt breathing holes. The regulation ensures that breathing holes in shirt numbers do not spell out a logo of a sponsor or any slogan. The aim is to ensure a consistent commercial product.
In fact, in 2004 FIFA charged Cameroon with huge fine for wearing a one-piece kit. The rules state players must wear separate shorts and jerseys.
Read more: Poppy Wearing Etiquette in England.
The conclusion may not please every football fan or politician. Nonetheless, FIFA allowed armbands embroidered with poppies in 2011. Would it be so wrong to compromise once more and appease the masses?
Updated: December 2016
FIFA DISCIPLINARY ACTION: Wales and Northern Ireland football clubs face penalties for crowd poppy signs. The disciplinaries have been set in motion by FIFA. The two international clubs are facing punishment for displaying signs of poppies.
Updated: September 2017
Information updates suggest FIFA will lift the ban on displaying poppies. The news came after they held talks with football associations in the United Kingdom.
We understand FIFA sent out a draft proposal to all member nations. The revised provisions could see the poppy permitted. But, opposing teams and the competition organiser for the relevant match must all accept its use and in advance.
FIFA has tightened new wording on the definition of what's deemed a 'political symbol' which prohibits:
The commemoration of any living or dead person.
Political parties or groups.
Any local or national government.
Discriminatory organisations.
Any group if the aims or actions would offend a notable number of people.
Any specific political act or event.
Note: Previous fines levied against some UK football associations look unlikely to need paying.
---
---
Why Did FIFA Ban Poppies on International Football Jerseys?