WHAT IS DORA WW1? The Defence Of the Realm Act 1914 became law in Britain on August the 8th 1914. WW1 censorship started only 4 days after the United Kingdom entered into the First World War.
The purpose of introducing the rules of DORA World War 1 was simple. It afforded the government a wide range of powers during the war period.
Censorship in WW1 introduced extra powers to regulate criminal offences. It also authorised the requisition of land and structural buildings for use in the war effort.
DORA Defence Of the Realm Act WW1 ushered in a variety of social censorship and control mechanisms and read;
"No person shall by word of mouth or in writing spread reports likely to cause disaffection or alarm among any of His Majesty's forces or among the civilian population."
---
Why was DORA WW1 Introduced in 1914?
There was no hesitation to enforce the wide interpretations of the WW1 DORA 1914 rulings to secure public safety. Facts about DORA show that anti-war activists got sent to prison during this period of wartime.
Many of what were often considered to be 'trivial peacetime activities' were no longer permitted. The government had the power to prosecute any person in Britain whose actions were deemed to 'jeopardize the success of the operations of His Majesty's forces or to assist the enemy'.
---
DORA Laws Passed During World War 1
Many new rules and regulations came to the forefront in Britain after the introduction of the DORA Defence Of the Realm Act 1914.
We hand-picked 7 of the most controversial and surprising measures taken at that time. But in fact, some of these strange British laws still remain in statute today. Many of them affect the lives of people in the United Kingdom even in the 21st Century.
---
1. DORA Act: British Summer Time Facts
You might know the reason why we turn clocks forward at the start of British Summer Time. But do you know where it originated?
In fact, British Summer Time occurred for the first time ever in May in 1916. It got instituted during the First World War. The aim was to maximize working hours in the day and particularly for those in agricultural work.
2. Alcohol and Drugs
During the war, there were claims made by some that displays of public drunkenness were hampering production of essential products. The result was a reduction in pub opening times and alcohol strength being served. Alcoholic beverages got watered down and pub opening times got restricted. Opening times of noon until 3:00 pm and 6:30 pm to 9:30pm was typical.
Apart from the weakened DORA alcohol strength, it also became an offence to buy alcohol for others. The introduction of the 'no treating order' became law. Possessing opium or cocaine became a criminal offence. There were some exceptions allowed if an authorized professional bought them, such as a doctor.
3. Whistling for a Taxi
In London, whistling for a taxi got banned. The reason was to avoid the whistle being mistaken for the siren of an air raid warning device.
4. Loitering in Public
The DORA Defence Of the Realm Act in 1914 addressed loitering in public. People were forbidden from loitering near tunnels and bridges. It also became illegal to light bonfires, fly a kite, and buy a set of binoculars.
Foreign Nationals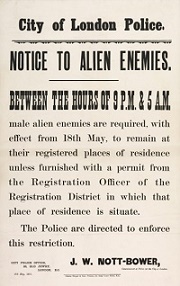 WW1 DORA 1914 also introduced restrictions on the movement of all foreign nationals. In particular, those who were from enemy countries. Many 'alien enemies' got interned and their freedom was severely restricted. The poster shown got issued by the City of London Police and read:
NOTICE TO ALIEN ENEMIES
Between the hours of 9 p.m. and 5 a.m. – Male alien enemies are required, with effect from 18th May, to remain at their registered places of residence unless furnished with a permit from the Registration Officer of the Registration District in which that place of residence is situate. The Police are directed to enforce this restriction.
5. DORA WW1 Blackout Regulations
It was not uncommon to enforce a blackout in certain towns and cities. The main reason for blackouts was to protect life and property during incoming air raids.
6. Press and Postal WW1 Censorship
Press and postal censorship got introduced thanks to DORA in 1914. DORA rules severely limited the reporting of war news. Many press publications also got banned.
Even some private correspondence got censored. In fact, the country's military censors examined around 300,000 private telegrams in one year (1916).
ALSO IN THIS SECTION
Poppy Wearing Etiquette | Reasons why we use poppies to remember the war and how to wear them.
Laws in British History | A beginners guide to the ancient and modern history of the United Kingdom.
The WW1 censorship regulations also prohibited discussing naval and military matters in public. Buying alcohol on public transport was not allowed.
7. DORA Rules on White Flour and Bread
The introduction of DORA 1914 during World War 1 meant that you could get fined for making white flour instead of whole-wheat. Fines were also issued if you allowed rats to invade a wheat store or if you got caught feeding bread to any wild animals.
As the war deteriorated, more restrictions and legislation on food production followed. This eventually led to the introduction of food rationing in the year 1918.
Strange and bizarre rules exist in every country. The UK Law Commission has the responsibility of pruning the statute book in Britain. They remove outdated regulations or pointless legislation.
Even so, it appears they are a tad slow according to our historical listing of 'crazy UK laws' which are still in effect today. Some of them are simply unbelievable and defy the realms of human logic!
---
DORA in WW1: Defence Of Realm Act Britain 1914 Facts