Bar Bouncer Rules UK
Despite helping to maintain order, bouncers need to keep a cool head. The chief role of bouncers, doormen, and crowd controllers is making sure people are safe while they enjoy themselves.
Even so, they will encounter stressful and hostile situations. Such is the nature of the beast! So, what the public wants to know is 'can a club bouncer punch you' and 'can bouncers detain you' according to UK law?
Here's the brutal truth:
Some reports seem to contradict the legal powers of bouncers. We based this list of bouncer laws and regulations on expert advice and licit guidance.
As part of public safety in the community, this guide should help to clarify the misconceptions on what door staff can 'legally' do during a face-off.
Note: Extra information explains what to do if you've been assaulted by a bouncer and how to apply for a door supervisor licence (SIA) in the United Kingdom.
---
Can Bouncers Search You UK?
In fact the law does allow bouncers (e.g. security staff on the door) to search entrants. They can search people to see if they have drugs or are carrying offensive weapons (e.g. knives, guns).
But, even though clubs do have the legal right to search anyone attempting to enter their premises, they must provide searchers of both sexes. Thus, they need to have female staff to search women and male staff members to search men.
Clubs should provide a clear and visible notice that displays their policy for searching and how members of the public can make a complaint.
Here's how it works:
In the United Kingdom, doorman search powers allow them to refuse entry to any person who refuses a search. But, the actual search must be confined to bags, pockets, and outside clothing (e.g. a jacket).
They would need your permission to conduct a 'legal' strip search. You would also have to give consent for any search made on your interior clothing. Either way, these types of searches must be conducted in private and in the presence of an independent witness.
Under United Kingdom law, only customs staff and police officers can perform strip searches without your agreement. So, the grounds for bouncer assault can include:
Being searched on your inside clothing.
Having a door supervisor conduct a strip search on you without your permission.
---
Important: Bouncers have the legal powers to confiscate any drugs or weapons they find. In this case, they can also detain you until the police arrive. They must return anything else taken from you when you leave.
---
Can a Bouncer Detain You in UK?
Let's look into your rights in greater detail. In fact, security guards have the same legal powers as any member of the public (nothing extra). Because of that particular law, they need to have your consent before searching you.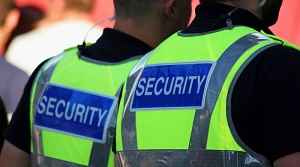 Note: You are free to walk away if you do not give consent!
Forcible detainment (e.g. detaining someone against their will) can only occur if bouncers make a citizen's arrest. They would need some evidence that you committed an offence to do so.
Most bouncers and security guards will receive door supervisor training on what they can and cannot do – as part of getting an SIA licence (details below).
As such, they will understand that making the wrong call can result in a lawsuit for assault or for false imprisonment.
Clubs and other business premises can legally ban you from entering even without evidence of a crime. In short, private enterprises can choose who they do business with.
Note: Check out your discrimination rights if you suspect that someone is targeting you because of your background or race.
---
Can a Bouncer Use Excessive Force or Violence?
The law does not allow doormen to engage in excessive force or violence as they see fit.
As a rule, bouncers can only use force if someone uses it against them in the first place.
These bouncer rules and regulations fall under the right to use self-defense in the United Kingdom. In this way, club bouncers rights are the same as any member of the public or ordinary citizen.
Door supervisor training will include tactical guidance for bouncers on conflict management and the use of communication skills, including:
How to refuse someone's entry into the premises.
How to eject a person in ways that reduce conflict.
Identifying the different types of incidents and how to deal with them.
Understanding how the law of arrest works in the private security industry.
---
What Specific Tasks Can Bouncers Perform?
United Kingdom law allows door supervisors to perform certain duties or tasks and to make measured responses, such as:
Checking patrons for proof of their identification. A bouncer can take your ID if they believe it to be altered in some way, counterfeit, or it fails to match the details of the person presenting it.
Issue verbal warnings and ask you to leave the premises.
Protect innocent bystanders from confrontation or from incidents of violence.
Break up hostile fights that they are not involved in.
Respond with equal force where appropriate or necessary (if someone attacks them).
Refuse entry to any customer who:

Fails to follow the policies of the establishment.
Acts disorderly or is too intoxicated.
Engages in argumentative or aggressive behaviour.
Note: People who are drunk or disorderly must leave the premises if requested to do so by a doorman. You would be committing an offence if you fail to leave the premises when asked to do so (unless you had a reasonable excuse not to).
---
What are Club Bouncers Trained to Do?
Most door staff (men and women) will have received proper training to an appropriate level in how to handle confrontations with the public. For example, SIA training helps them to remedy situations using verbal communication instead of physical force.
As a general rule, club bouncers will be big 'mean-looking muscle-bound guys' who look like they can handle themselves in a fight. So, their visible presence alone is often enough to deter most kinds of aggressive behaviour.
Even so, despite the physical requirements they would also receive specialist training in other important areas, such as:
Awareness of the Law in the Private Security Industry
Health and Safety for the Private Security Operative
Emergency Procedures
---
What are Bouncers Not Allowed to Do?
Door supervisors must not use 'unreasonable force'. But, they will be acting within bouncer laws when using reasonable and proportionate force to:
Defend themselves or other people.
Protect property.
Prevent a crime or make a lawful arrest.
Note: As a rule, door staff and club bouncers are not permitted to strike any patron with a kick or with a punch. Some mitigating exceptions may apply for one or more of the above circumstances.
The law does not prevent the use of a choke-hold or face down restraints. But, expert recommendations suggest it is best to avoid these 'potentially harmful techniques' where possible.
---
What if You get Assaulted by a Bouncer or Doorman?
Members of the public can make an assault claim against an individual doorman or a team. They can also make claims against an establishment that employs bouncers.
Follow these basic steps if you were assaulted by a bouncer or a doorman:
Create a written report of the details while the incident is still fresh in your mind. Describe the whole incident including any circumstances leading up to the assault. Your report should also include anything relevant that happened after the assault.
Include the dates and times in your notes. You should also add the full address of where the incident took place.
Ask the authorities to give you copies of any police reports (where applicable). They may be helpful for a legal team to use in court.
It is important to get the contact information of the bouncer who assaulted you. Try to get written information from any witnesses to the incident as well.
Most establishments who employ doormen require them to make written incident reports. This is especially so any time bouncers use physical force. It is a good idea to request a copy of any such incident report from the employer.
Note: Legal experts say it is important that any investigation into an incident of bouncer assault looks at the broad picture. It must include the events that occurred before, during, and after the altercation.
In some cases, video footage may provide clearer evidence. There are several important areas for the authorities to consider when it comes to incidents such as these.
---
Applying for a Door Supervisor Licence (SIA)
You will need to get a door supervisor licence if your job involves guarding a licensed premises. For this purpose, a licensed premises is one that is open to the public and sells alcohol or it provides regulated entertainment.
To meet the door supervisor licence eligibility criteria, you must:
Be at least eighteen (18) years old
Pass an identity check
Pass a criminal record check
Have a recognised qualification in door supervision
Note: A door supervisor licence is not a legal requirement if your job only involves the use of closed-circuit television (e.g. CCTV surveillance) equipment.
Door Supervisor Qualifications
You would need a qualification in door supervision recognised by the Security Industry Authority (SIA) before applying for a licence.
The SIA Door Supervisor Training course contains four (4) modules and three (3) exams. The schooling takes at least four (4) days to complete and the topics you study are:
The 'Common' module according to SIA
Door supervision module
Conflict management module
Physical intervention skills module
SIA Licence Integration
The door supervisor licence is a qualification to earn around £13 an hour and it integrates with other licences. It would authorise you to carry out other activities (e.g. be a keyholder or work as a security guard).
Some of the changes in the training needed to get a front line Security Industry Authority (SIA) licence, includes:
The introduction of updated qualifications required for almost all sectors from the 1st of April 2021 (excludes close protection).
Needing to have a first aid qualification before applying for a door supervisor or security guard licence (begins 1st of April 2021).
The introduction of updated close protection qualifications, starting from the 1st of October 2021.
A requirement for having one of the new qualifications (or taking top-up training) before applying for a door supervisor and security guard licence (from 1st of October 2021 and includes renewals).
The key reasons for introducing changes to the training needed for an SIA licence is to keep members of the public safe, to follow new working practices, and to integrate the use of new technologies.
Note: The short video [4:17 seconds] presented by the Security Industry Authority (SIA) has further information on how to be a bouncer and how the process of security officer training works.
---
Disclaimer: The information given in this guide is a general outline of our understanding of bouncer law. Nonetheless, it would be better to seek independent legal advice for any matters of importance.
---
Bouncer Laws: Regulations for Security Door Staff in United Kingdom