REPOSSESSIONS UK: This guide explains the legal process of house or home repossession.
Find out what your mortgage lender must do and what happens at a court repossession hearing.
There is further advice and information about possession orders and how to get help with your legal costs.
Your mortgage lender is a financial institution looking for full return on their investment. So what happens if you fall behind on the payments and develop mortgage arrears?
In this case your mortgage lender, likely to be a banking system or building society, will want you to clear the debts. If you fail to do this, the lender can start court action to repossess the property and then resell it.
---
Get Advice about Repossessing a House
In some cases you can postpone or stop your home getting repossessed. That is why you need to get expert advice about house repossession laws. You can get free advice from a Citizens Advice office, Shelter, or your local council.
Note: You can search for a solicitor online and check if you can get legal aid to help with your legal costs. Those who are eligible may get advice from Civil Legal Advice. The legal process for repossession of a house is different in Scotland.
---
Before Repossession Goes to Court
There is a legal course of action your mortgage lender must perform before the house repossession goes to court. So, before any mortgage lender can legally repossess your property they must:
Inform you of the total amount you owe.
Review any request made by you to change the method of mortgage payments.
Respond appropriately to any payment offers you make.
Provide you with their reasons for declining your offer of payment (within 10 days).
Allow you reasonable time to consider any other proposal they make.
Provide you with at least 15 days' written warning if they plan to start the legal repossession process of a house in court.
Inform you of the date, time, and venue of a court repossession hearing.
Inform your council within 5 days of getting notification of the date of the court hearing. This is to alert the council that you may be applying as legally homeless and in need of emergency housing.
---
Alternative Solution to the House Repossession Process
In some cases you can find a solution to avoid house repossession. This is possible even if your mortgage lender has already started court proceedings.
But, you must still attend the court to inform the judge about any agreement made. The exception could be if the court informs you the hearing got postponed or cancelled.
---
Mortgage Repossession Defence Form
What happens first if your mortgage lender starts a repossession action against you? The court sends you a blank defence form and guidance notes on how to fill in the defence form.
The purpose of a defence form is for you to explain why you think your home should not get repossessed by the lender. You must return your defence form to the court within 14 days.
The court will also send you:
Copies of the claim forms for possessing your home. Your mortgage lender will have filled them in already.
A court hearing venue, date, and time.
Contact details for the court.
---
How to Get Help Paying Legal Fees
Legal Aid
Those who are on a low income may qualify to get legal aid support.
Free Legal Advice on the Court Day
What happens if you have not got any legal help before this point?
You may get last-minute legal help under the Housing Possession Court Duty Scheme.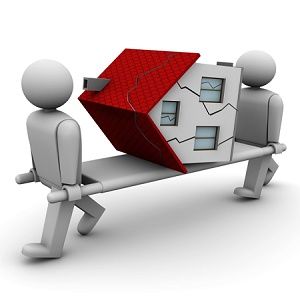 The HCPDS runs in county courts throughout England and Wales. It provides defendants with a specialist adviser on the day of the hearing. The legal adviser can:
Represent you in court.
Help you negotiate an arrangement with your lender to pay off your mortgage debts.
Your local council, or the court where your case gets heard, can give you more details about the scheme.
---
House Repossession Court Hearing
As a rule most repossession hearings take place in a judge's chambers. It is uncommon to have repossession cases heard in a courtroom. Nonetheless, judge's chambers gets treated the same as regular court cases.
Even though you may bring a friend or your adviser to the hearing, the person must be an adult.
Note: What happens if you fail to attend the court repossession hearing? In most cases the judge will grant permission for your mortgage lender to evict you from the property.
You must honour any agreement you make in court to pay off your mortgage arrears. Failing to do so means you may still lose your home.
---
Items to Bring to Court
In most cases you will need to take certain documents with you to the court.
They will usually ask for proof of your finances. Document proof may include:
Payslips and bank statements
Job offers
Correspondence letters about your rights to benefit entitlements
Estate agent letter (e.g. if trying to sell the home to pay off mortgage arrears)
---
Repossession Order Process UK
The mortgage lender can only repossess your home if the court judge grants them permission to do so.
The court judge can decide to:
Adjourn the hearing. That means the hearing gets delayed until later because the judge feels unable to make a decision on the day.
Set aside the case. That means no order gets made and the hearing ends.
Grant a house repossession order from court.
Outright Possession Order
Terms of an outright possession order mean you have to leave the property before the date given in the order. Often the date is 28 days after your court hearing.
The lender has a legal right to own your home on the date given in the order. This is also called an 'order for possession'.
What happens if you fail to leave your home by the date given? Your landlord can then ask the court for a 'warrant for possession' to get you evicted. An eviction notice gives you a date when you must leave your home.
Note: Failing to leave means your landlord can use bailiffs to evict you from the property.
---
Court Money Order
Court money orders mean you must pay the amount set out in the order to your mortgage lender. If you fail to make the payments the courts can take action to recover the money. Court action can include:
Deducting money from your bank account or your wages.
Sending bailiffs to take away personal things that you own.
Note: Your landlord can go back court and ask for a possession order if you get into rent arrears again.
Suspended Possession Order
A suspended order for possession means you might be able to stay in your home. But, you must make the payments or obey any specific conditions set out in the order. Your landlord can ask the court to evict you if you fail to make the payments.
---
Possession Order with Money Judgment
A judge has legal power to add a money judgment to any of the different types of possession orders. This would mean that you owe a specific amount of money and is usually made up of:
Your mortgage arrears.
The legal costs of your mortgage lender.
A money judgment does not apply if:
You pay your mortgage arrears and the amount set out in a suspended possession order.
Your lender sells your home for a higher price than the amount set out in the money judgment.
But, a money judgment applies if you fail to pay the amount set out in the suspended possession order linked to a judgment. The landlord can also ask the court to carry out the instructions in the order and the judgment if you fail to pay.
---
County Court Time Order
A court time order means the judge changes the amount you pay on your mortgage for a set time by:
Changing the regular amount that you pay.
Changing your mortgage interest rate.
Delaying the next time you should make a payment.
Failing to make the payments in a court time order means your lender can ask the court to evict you. As a rule, a time order gets made on some types of loan such as a second mortgage.
---
Delaying Eviction: Suspend the Warrant for Possession
In some cases you can ask the court judge to 'suspend the warrant for possession'. This could delay the eviction or allow you to stay in your home providing you are able to make the payments again.
It is not an automatic decision for the judge to agree and suspend the possession warrant. The outcome depends on what happens in the court hearing. But, if he agrees you will get a new hearing. You should get legal advice without delay if you want to get a warrant suspended.
---
How to Apply for a Suspension
You must fill out the application notice if you want to apply for a suspension. Send or hand deliver the application form to the same court as your hearing.
You must inform the court that you need a hearing at short notice and it should be before your eviction date. In most cases you will need to pay a court fee for this service.
---
Fee Remission
Note: Those who are claiming rightful benefits or on low income may not have to pay the fee.
---
How to Appeal Judgement
What happens if you think the judge made some mistakes about the law or the facts of your original case hearing? You may have right to appeal the judge's decision.
Note: As a rule your appeal gets heard by a more senior judge at the court.
---
Getting Permission to Appeal
Ask the judge at the end of your original possession hearing for permission to appeal. You can ask a senior judge instead if the judge refuses to give you permission to appeal.
Make your application without delay after your original possession hearing if you get permission. In most cases you will need to pay a court fee.
Note: Those who are claiming rightful benefits or on low income may not have to pay the fee.
What Happens at the Appeal?
If you get granted an appeal the judge can then make several decisions which could include:
Keeping the original decision.
Changing or dismissing the previous decision.
Ordering a new court hearing.
Note: The court judge can also determine who must pay the legal costs of the appeal.
---
If a Home gets Repossessed
Help from the Council
The council must offer some practical advice and help you to find a new home. In some cases, they can provide emergency accommodation or a more permanent home.
Buying another Property
You must inform any new mortgage lender if a previous home of yours got repossessed. This often makes it quite difficult to get a new mortgage.
Note: A previous lender may be able to claim some of the proceeds of a new home. This would still apply if you owe them money when you sell the property.
---
---
House Repossession Process in the United Kingdom