WHD SCHEME UK: The one-off payment could reduce your electricity bill by £140 this winter if you qualify.
But, not everyone qualifies for the Warm Home Discount Scheme. Some people will need to apply each year to get consideration for payment.
This guide explains the eligibility criteria to meet the Warm Home Discount regulations. Find out how to make a claim for the annual payment and do it before the yearly deadline date runs out.
Claiming a Warm Home Discount payment does not affect a claim for Cold Weather Payments. You may also get a £300 Winter Fuel Payment on top.
The WHD scheme operates throughout the coldest months between September and March. In most cases, this is a time when your energy bills are at their highest.
Payment is a one-off discount taken off the consumer's winter electricity bill. Please note that the money is not a direct payment made to the consumer [you].
---
Warm Home Discount Eligibility Criteria
You can qualify for the Warm Home Discount Scheme in one of two ways. As a general rule, you will be able to apply if:
The method you use as eligibility for the £140 discount will determine how you should apply (see further details below).
---
Warm Home Discount Qualifying Date
The qualifying date for the Warm Home Discount scheme 2021-22 was Monday the 4th of July 2021. So, if ALLthese applied to your situation on the actual qualification date you will qualify:
Your energy supplier is participating in the scheme (see a list of suppliers below).
The electricity bill has your name on it (or the name of your partner).
You were receiving the Guarantee Credit element of Pension Credit (even if you also get Savings Credit).
Note: All applications for the 2021/2022 winter warmer have now closed. The Warm Home Discount Scheme 2022 to 2023 starts around October this year [2022].
---
WHD Pre-pay and Pay-as-you-go Meters
People who use a pre-pay or a pay-as-you-go electricity meter may still qualify for the discount. In some cases, you would get a voucher for topping up your meter. You should contact your electricity supplier for more information.
Park and Mobile Homes
Applications for the 2021 to 2022 winter payment closed on the 31st of March 2022. But, you can contact Park Home Owners Club or 'Charis Grants' if you have an existing application.
Park Home Owners Club
Telephone: 0330 555 9424
Monday to Friday: 9am to 5:30pm
(closed on UK bank holidays)
Note: Anyone who is living permanently in a park home can register an expression of interest in advance of the scheme opening again (expected to be some time in Autumn).
---
Suppliers Participating in WHD Electricity Scheme
Does your energy supplier provide you with gas and electricity? If so, the WHD scheme can offer cheap gas and electric for low income families.
It means they may apply the discount to your gas bill instead. Contact your provider to find out whether you can get help with electric or gas bills.
---
Warm Home Discount Scheme List of Suppliers
Affect Energy (see Octopus Energy)
Atlantic (see SSE)
Boost (see OVO)
British Gas Evolve (previously British Gas X)
Bulb Energy
Cooperative Energy (see Octopus Energy)
E (Gas and Electricity)
Ecotricity (if eligible for the core group)
EDF Energy
E.ON
iSupply Energy
London Power
Lumo (see OVO)
M&S Energy
npower (and Powershop)
nPower Select (see E.ON Next)
Octopus Energy (including London Power, M&S Energy)
Powerhouse
Qwest Energy (see Octopus Energy)
Roar Power
Sainsbury's Energy
Scottish Hydro
ScottishPower (Manweb)
Shell Energy (was First Utility)
So Energy
Southern Electric
Spark
SSE (Scottish Hydro, and Southern Electric)
Swalec
Symbio Energy
Tonik Energy
Utility Warehouse
---
How to Apply for Warm Home Discount
People who qualify should receive a letter around October – and no later than December 2022. The Warm Home Discount form will have further information informing you whether:
There is no need to apply because the discount will be an automatic process.
You need to apply before the 28th of February 2022. You do not get this electricity bill discount if you miss the application deadline.
Electricity suppliers will apply the reduction to the bill before the end of March 2022. You can contact the Warm Home Discount Team if you do not receive a letter but you believe you should qualify.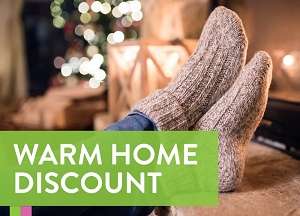 Warm Home Discount Telephone Number
Telephone: 0800 731 0214
Monday to Friday:8am to 6pm
Warm Home Discount Team
Blue Zone, Ground Floor Phase 1
Peel Park
Brunel Way
Blackpool FY4 5ES
Check cost of phone calls in the UK.
The Warm Home Discount Scheme helpline opens in October 2022.
---
What If You Do Not Qualify for WHD 2022/23?
You may not qualify for WHD if you do not get the Guarantee Credit element of Pension Credit. But, check with your electricity supplier for other options. They may be able to offer alternative help for those who are:
Note: People in the 'broader group' must stay with the same supplier until the bill is paid (to get the discount).
Advice from Selectra UK
Note: Selectra UK energy comparison tool helps people save money on gas and electricity bills. The short video [2:55 seconds] explains more about how the government scheme works.
The BEIS Correspondence Team deal with complaints about energy suppliers in the UK. Contact BEIS if you find the response by your energy supplier as unsatisfactory. Remember to show them any correspondence made with the electricity suppliers.
Business, Energy and Industrial Strategy Correspondence Team
1 Victoria Street
London
SW1H 0ET
Mail: [email protected]
Note: You will find a lot more information in the main heating and housing benefits section. For example, it explains how to find energy grants and several other ways to save energy in your home.
---
Warm Home Discount Scheme Payment: When is WHD Paid?