CHILD BENEFIT COMPLAINTS PROCEDURE: HMRC administers Child Benefit and the Guardian's Allowance.
You should follow their normal grievance process and procedures if you want to make a complaint about Child Benefits.
Client complaints have different procedures any time you want to make an appeal to the Social Security and Child Support Tribunal.
As a rule, a complaint refers to the way you received poor treatment. It is not the same as complaining against a decision on a claim for Child Benefit.
The GOV.UK website publicizes how the Child Benefit Department welcomes your objection. It will help them learn from any errors and to correct mishaps as quickly as possible.
---
Child Benefit Complaint Causes
Child Benefit complaints usually occur because of one of the following reasons:
An unreasonable delay in HMRC complaints process or an avoidable mistake.
Inappropriate staff behavior in the way you get treated.
Extremely poor, confusing, or misleading advice with unprofessional use of discretion.
The Child Benefit Office will admit it if they make an error or misjudgment. In this case you can try claiming compensation for any reasonable costs incurred.
For example you may get reimbursed for phone calls and postage.
You may also get compensated for professional fees. But, you must have paid for them in connection with your claim.
In some of the worst cases, you may also have entitlement to a redress of payment for undue worry or distress caused by the Child Benefit office complaints procedure.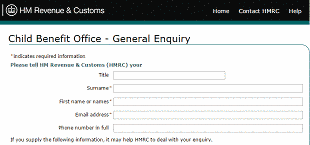 You can choose which method you use to complain. But you should not delay making a complaint about Child Benefit. Claimants can make their complaints in writing or by telephone. You can also send in a complaint form to the Child Benefit Office.
---
Child Benefit Complaints Online
You can make a complaint online about Child Benefit, call them, or contact them by letter. If you write the word 'complaint' at the top of the letter it will let them know the subject matter.
Note: In most cases, you should receive a reply from the Child Benefit Department within 15 working days.
---
HMRC Complaint Requirements
You will need your National Insurance number.
You should provide them with your name, contact details, and best time to contact you back.
Provide clear details of what happened and when (including reference numbers).
Inform them how you would like your complaint to get settled.
---
Child Benefit Complaints Address UK
Child Benefit Office Telephone Number and Helpline
Telephone: 0300 200 3100
Telephone: 0300 200 3103
Outside United Kingdom: +44 161 210 3086
Monday to Friday: 8am to 8pm
Saturday: 8am to 4pm
Check the charges for phone calls.
Complain in writing to the Child Benefit Office (use the same contact details for Guardian's Allowance).
HMRC Child Benefit Office Newcastle Address
PO Box 1
Newcastle Upon Tyne
NE88 1AA
United Kingdom
---
ALSO IN THIS SECTION
,
What is Child Benefit?
It is a tax-free payment aimed at assisting parents cope with the cost of raising children. One of the parents may be eligible to claim Child Benefit or get more help if you have other children.
How Often is Child Benefit Paid?
As a rule, CHB payment dates fall every four weeks and most often on a Monday or Tuesday.
When Does the Child Benefit Stop for High Earners?
A new system got introduced on the 7th of January in 2013 for high rate taxpayers (over £50,000 per year).
---
HMRC Child Benefit Office Response
You will receive a letter with their decision. You can ask them to review their response if you are still unhappy. The Child Benefit Office Director's Complaints Team may take up your case if you are still unsatisfied. The next level complaint is a 'Tier 2' complaint.
You can contact the 'Independent Adjudicator' if you are still unhappy with their final decision. What if the issue remains unsatisfactory? Your Member of Parliament can send your case to the Parliamentary and Health Service Ombudsman. They sometimes call this the Child Benefit Ombudsman.
---
HMRC Complaints Process: How to make a Child Benefit Complaint