SEAT UPGRADE AUCTION: Virgin Trains will start auctioning off empty First Class train seats on selected routes.
The new service will use the Seatfrog smartphone application. That should make getting to the destination a little less frustrating for many.
Virgin Trains offer the service for its operations on the East Coast of the United Kingdom. It means passengers can make bids to upgrade on unsold First Class tickets.
Passengers can upgrade a ticket up to 30 minutes before train departure. They do so using a digital bidding initiative against other rail travellers.
Virgin says the new upgrade service is an 'open and transparent auction' process. First Class seating upgrades start from £5. It removes the need to get extra printed tickets and does not need any new paperwork.
Virgin Trains First Class seat upgrades work through a dynamic bidding system. It becomes available around two and a half hours before a train departs from its original source.
---
Virgin Trains Partners with Seatfrog
Virgin have a good record of innovating for the benefit of their customers. Partnering with Seatfrog offers rail customers more opportunities to experience First Class travel.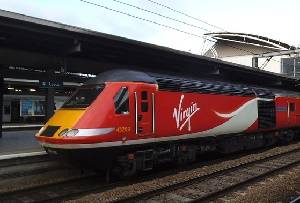 The auction winners get to receive all the benefits and services of First Class seating. It includes:
Complimentary food and drink.
Free Wi-Fi services.
Reclining leather seats.
Additional legroom.
Note: It also means you can relax in First Class lounges of selected stations.
The founder and CEO of Seatfrog founder said: "Modern travel is full of rules and regulations. That can make getting to your final destination a frustrating experience."
Most train travellers love to upgrade. But, it has never been easy to change your mind at the last minute. Thus, people suffer because of the countless complications that exist in rail travel.
Welcome to the new last-minute upgrade service by Virgin Trains. Travellers can use it on weekdays for business and leisure on selected East Coast services.
---
A First Class Trip with Seatfrog
Seatfrog base themselves in London, Sydney, and Tokyo. They see no reason why passengers cannot switch to a later train. Why not grab a last minute upgrade to business class? Their innovative system makes travelling by train easier and more spontaneous.
---
---
Virgin Trains Start Auctioning Seat Upgrade Service via Smartphone App in the United Kingdom