UK RAIL FARE CHANGES: May 2017 sees a system overhaul with new pricing for selected rail fares.
The plan is to create simpler passenger routes. The 'Rail Delivery Group' say it should remove unnecessary and unwanted train fares.
They also state that the trialled changes would guarantee simpler fares for customers. They hope to ensure the best possible price deal every time passengers travel by train.
The changes come after the Department for Transport worked with those in the industry as well as some consumer groups.
They developed an Action plan for clearer information on rail fares and simple ticketing regulations. It also includes measures to make ticket machines a lot more user-friendly.
Fare ticketing machines will provide travelers with better information. It will be simpler to get the right ticket and at the right price for the journey.
---
Rail Delivery Group Proposed Changes
The Rail Delivery Group (RDG) provides strategic and tactical services for the whole rail industry in the United Kingdom. They plan a ten-point overhaul to UK rail fares and ticketing systems.
The upgrade aims to remove confusing jargon and inform passengers when a machine will sell cheaper off-peak tickets. The improved clarity also addresses what tickets machines sell – and do not sell.
The improvements could be in place by the end 2017. The rail fare overhaul means:
A route will reflect what is actually on offer. That would end the existing situation where changes to train services often only allow fares to get added to the system. Less relevant older routes would get removed from the fares system to make it clearer.
RDG will test the best value end-to-end 'through fare'. This would be welcome on journeys where customers change trains. One price would combine the cheapest fare for each leg of the journey. Current fare pricing rules need an operator to set and maintain a thorough price. This must occur even where there are cheaper deals available.
Easier to plan journeys. The best price in each direction on selected routes would allow train passengers to mix and match the best fare. That system would be comparable to airline bookings.
---
Fares Overhaul for 16 Million Train Fares
Some of the regulated return fares date back to the 1980s. It is complex to sell these types of train tickets online.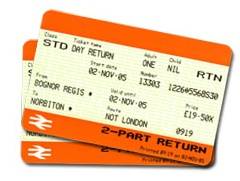 This has produced inflexibility in the system. The train fare pricing overhaul should offer customers what they want.
Rail Delivery Group gave some comments on the trial of clearer ticket pricing regulations.
"There are more than 16 million different train fares, many of which nobody buys. We know customers can find it hard to get the right ticket for their journey. This is often due to complex train fare rules and regulations built up by the government. It is difficult to give passengers the best and simple options on ticket machines."
"We're determined to work with the government and overhaul the system. That should cut out the jargon, much red-tape, and unnecessary complications. We aim to make it easier for customers to buy fares that they trust, and that includes those from a ticket machine."
What happens after train companies trial clearer ticket pricing regulations? There should be clearer information on ticket restrictions along with greater transparency on fare prices.
---
GoEuro Travel Platform
The GoEuro travel platform aims to make navigating your way around the United Kingdom as easy as possible.
GoEuro created a train ticket guide to define which tickets exist – highlighting the 'pros and cons'. With the right information, you can buy the ideal ticket for the journey – without spending more money than necessary.
---
National Rail Flexible Season Tickets
Using the hashtag #TheFutureIsFlexible, the Department for Transport (DfT) announced the arrival of a new era of rail travel in England in the form of a 'passenger-focused' railway.
Seen as one of the biggest makeovers for commuters in a generation, the new national rail flexible season tickets offer (after the lifting of travel restrictions):
Access to a new Great British Railways ticket website and Smartphone application, simple digital ticketing, and contactless pay-as-you-go travel.
Greater control over journey times (for 2 and 3 day-a-week commuters) with potential savings compared to daily and season tickets.
The biggest change is the issuance of paperless tickets. It means train passengers can travel on any eight (8) days in a twenty eight (28) day period.
Passengers have the convenience of being able to scan mobiles or tap smartcards at the station. Hence, having to select the days of travel in advance is fast becoming an outdated procedure.
Note: We understand train passengers can buy the new national rail flexible seasons tickets from the 21st of June 2021.
---
Related Workplace News and Help Guides
Note: The main section contains a list of articles about the workplace in the United Kingdom, including featured archives from previous years.
---
Train Companies Trial Cheaper Ticket Pricing Regulations in United Kingdom