Military Low Flying in the United Kingdom
The MOD conducts low level flying maneuvers across the majority of the UK (and surrounding areas overseas) when training military aircrew.
Their military low flying system defines lower altitude routes as:
250 feet for fixed-wing aircraft (AGL).
100 feet for rotary-wing aircraft (from the surface to above ground level (AGL) or mean sea level (MSL)).
Note: It is not uncommon for the Ministry of Defence (MOD) to authorise rotary-wing aircraft (e.g. helicopters) to fly lower than one hundred (100) feet from the ground (e.g. as part of a sortie).
As a general rule, they do not usually allow the low flying of military aircraft around specific areas, such as:
Around major towns and cities (e.g. with a population over 10,000).
In the immediate and surrounding airspace of large international and domestic airports.
Some exceptions apply where there are local landing sites situated nearby. For example, some areas combine airspace restrictions and topographical features, which makes it difficult for aircrew to vary their flying routes.
Other sections provide further guidance about:
The noise from roads, trains or planes (including commercial airports).
Why the armed forces undertake low flying in the United Kingdom (including the safety concerns of flying close to the ground).
---
Low Flying Areas in the UK
Most of the activities take place in twenty separate low flying areas, including three 'tactical training areas' (TTA) in:
Central Wales
The border areas around southern Scotland and northern England.
Northern Scotland
Note: The Ministry of Defence publishes more information about the Royal Air Force (RAF) operational low flying training timetables and MOD sponsored air exercises in the United Kingdom.
---
Air Weapons Ranges
The Royal Air Force uses air weapons ranges for low flying military aircraft and for air to ground bombing. The ranges are based at:
Carmarthenshire (Pembrey Sands)
Lincolnshire (Donna Nook and Holbeach)
Ross-shire (Tain)
Sutherland (Cape Wrath)
The MOD air weapons ranges activity timetable provides information about their monthly schedules. They use red flags (or lights), signs, and sentries to show when members of the public cannot go onto an air weapons range.
Note: The Ministry of Defence (MOD) helps to secure the United Kingdom through the British Army, Royal Navy, Royal Air Force, and the Strategic Command (UKStratCom).
---
Information about Low Flying Military Aircraft
England, Wales, Scotland
Low Flying Complaints and Enquiries Unit
Email: [email protected]
Telephone: 01780 417558
Monday to Friday: 8:00am to 4:00pm
RAF Wittering
Peterborough
PE8 6HB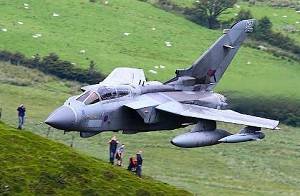 If you want to make a complaint about low flying aircraft, you would need to send your name, full address (with postcode), telephone number, and the:
Date, time, and location of the event.
Type of aircraft (if you can establish it).
Grounds for your complaint.
The low level advisory service handles enquiries about horse riding activities (e.g. if you have concerns about low level flying aircraft while you are riding a horse in public areas.
Low Level Advisory Service
Telephone: 0800 515544
Learn about call charges
Note: The Defence Flying Complaints Investigation Team may investigate the complaint if it relates to serious injuries or damage. As a rule, you will receive a response within twenty (20) days.
Northern Ireland
Email: [email protected]
Policy Legacy (FOI Team)
HQ 38 (Irish) Bde and Northern Ireland Garrison
Thiepval Barracks
British Forces Post Office 825
---
How to Apply to Have Low Flying Stopped
You can make an application for the MOD to stop their low flying activities in your area – albeit 'temporarily'. For example, during the Royal Windsor Horse Show (RWHS) or a major agricultural event.
In most cases, providing a postponement will not disturb their low level flying training schedules, they will grant the request. Contact the MOD and include details about the name (and nature) of the event, along with:
Its location (with ordnance survey grid references).
The contact details for the people who will be holding the event.
Details about the date and time for stopping the low flying.
---
Related Help Guides
The main section glides through the most important categories that relate to the rules of flying and key regulations for flights coming in and going out of Great Britain.
The British Horse Society produces a leaflet that explains the impact of military helicopter low flying with extra safety advice for horse riders.
Note: The short YouTube video shows some clips of low-level flying and pilot training taking place around the mountains of Wales (accredited to Elwyn R).
---
Guide about Low Level Flying Military Aircraft in United Kingdom