ELIGIBILITY: You will need to meet the qualification criteria to get money off court or tribunal fees.
As a rule, you must have little in the way of savings or have no savings at all. You must either be on certain benefits as well or have a low income.
The method used to apply for help with court fees depends on the case.
The aid is for claims made at the Court of Protection or at the First-Tier Immigration and Asylum Tribunal.
Note: The same guide is also available in Welsh language (Cymraeg).
---
Savings, Benefits, and Income Criteria
Savings and Investments
Anyone under 61 years of age must have less than £3,000 in savings and investments to meet the eligibility criteria.
The upper limit for savings increases to £16,000. But, this only applies if the court fee is between £1,000 and £10,000 'or' you or your partner are 61 years old (or older).
Qualifying Benefits
If you do not qualify because your income is too high you would need to be claiming one of these benefits:
---
Low Income Amount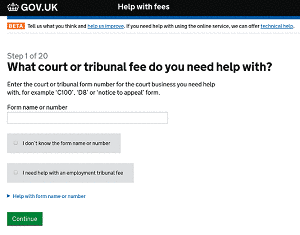 What if you are not on any of the qualifying benefits? In this case a single person would need to be earning less than £1,170 a month before tax. If you have a partner the upper limit increases to £1,345.
The threshold increases by an extra £265 for each child that you have.
An Example: You want to apply for help with court fees. You have a partner and two children. So, in this example you would need to earn less than £1,875 to qualify.
It is best to prepare some basic information before you apply such as:
The court or tribunal form name or number (e.g. C100 or D8).
The case, claim, or 'notice to pay' number (if you know it).
Note: In some cases you will need to provide extra details about your income and your savings. A different process to get help with court fees applies in Scotland and in Northern Ireland.
Start the process now to get help with court fees on the GOV.UK website. The first question asked is 'what court or tribunal fee do you need help with'? Some questions do not apply depending on your specific circumstances.
---
Get Help with Court Fees Form
You can also apply for financial help towards a court fee by filling in the paper application form EX160 instead.
---
Apply for Help with Court Fees Online or by Application Form in United Kingdom