ASYLUM SCREENING UNIT UK: You must visit one of the screening units to apply for asylum in the United Kingdom.
As a rule, you will need to telephone the asylum screening unit to make your appointment.
Note: Many displaced people claim asylum as soon as they arrive in this country. In these cases they will get screened at the UK border control.
---
Asylum Screening Unit Appointment
Use the 'Appointment Line' asylum screening contact number to phone for an appointment. You can also check what you need to take with you for screening before you go to the unit.
Note: Those who have nowhere to live do not need to phone for an appointment. You can visit the screening unit any week day from Monday to Friday between 7:30am and 4:00pm. Go to the unit as early as possible to ensure there is enough time to complete the asylum screening process.
Appointment Line
Telephone: +44 (0)20 8196 4524
Fax:: +44 (0)20 8760 8717
Monday to Thursday: 9am to 4:45pm
Friday: 9am to 4:30pm
Check call charges in the United Kingdom.
---
Where to go for Asylum Screening
This section explains the process for asylum screening. Find out what happens if you need to go to the asylum screening unit in Croydon, near to London.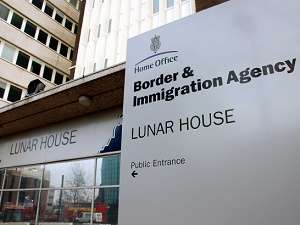 Home Office Lunar House
40 Wellesley Road
Croydon CR9 2BY
United Kingdom
Displaced persons can make a visit without an appointment. But, they may ask you to go back another day if you walk in without making an appointment.
Note: The asylum screening unit does not offer any financial help for travel costs to or from the center.
---
What Happens at the Screening Unit?
When you arrive at the walk-in screening unit you will need to pass through a security check. The staff will search you and you must also go through a security body scanner. The machine will also scan your bags if you have any.
---
How Long is the Process for Asylum Screening?
The asylum screening process can take up to 4 hours to complete. You may also get detained after screening in some cases. So, remember to take anything you need with you. For example you or your children may need food or medication while you get screened at the unit.
---
ALSO IN THIS SECTION
Apply for Asylum: How to claim asylum to stay in the UK as a refugee and what documents you need.
Asylum Helplines: A list of helpline telephone numbers and call center opening hours.
Asylum Rules: UK law guidelines to help displaced persons understand the support process.
Asylum Support: How to apply for asylum support while waiting to find out if you get accepted.
---
Asylum Screening Units in the United Kingdom