DVSA Introduce Online Service for Motorists
Vehicle testers issue well over half a million duplicate certificates on an annual basis in Great Britain. That's about 2% of all MOT tests conducted by test stations each year.
They issue duplicates if vehicle owners need to get a new MOT certificate (e.g. after losing or damaging the original).
The MOT team at the Driver and Vehicle Standards Agency (DVSA) have now made the replacement process a lot simpler to achieve. Now, you can avoid having to visit a garage 'in person' to get a paper certificate.
From May 2019, anyone losing an MOT certificate can use the online service. It means vehicle owners with a PC, tablet, or smartphone will be able to:
View their MOT certificate as a Portable Document File (PDF) and save it.
Print off a replica of their original MOT certificate.
The last time we checked, motorists will be able to use the MOT history service to get a reprinted certificate for:
Motorcycles (e.g. class 1 and 2 vehicles)
Cars and passenger vehicles (e.g. class 3, 4, 5, and 7 vehicles)
Only certificates issued since the 20th of May 2018 will be available on the service. But, it will include information on the test results record for vehicles that passed as well as for those that failed.
To view a certificate:
Type in your 11-digit reference number from the current vehicle registration document (V5C log book).
The test result and the certificate will be available after recording the result in the MOT testing service.
Note: You can use the service to replace a lost or damaged MOT certificate 24-hours a day (7 days a week). The DVSA will expand the facility to include certificates for buses, lorries, and trailers.
---
Motorists Can Still Get Paper Duplicates
MOT test centres can still provide a paper certificate copy for any vehicle owners who may need one. Although it would be a separate charge to the current MOT test fees, the centre can charge up to £10 for issuing a duplicate paper certificate.
As the vehicle owner, you would need to provide the testing station with (either):
The vehicle registration number and the 11-digit reference number from the current log book (V5C)
The test number from the original certificate (this may not be applicable if you lost it or it is unreadable)
---
Protection from Unofficial Websites
There is no shortage of Internet scams and fraudulent behaviour online. In fact, some online businesses will try to charge vulnerable people for unofficial MOT certificates.
As a rule, these companies will not have a licence or any other permission granted to them by DVSA to produce look-a-like certificates.
Note: The new MOT replacement service allows individuals to get access to duplicates, free of charge, through the official government website. It also allows the authorities to take action against unofficial websites.
---
Replace Your Lost or Damaged MOT Certificate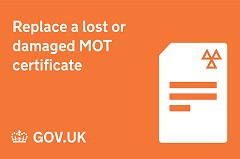 The GOV.UK image links to the official website. Use it to get a replacement MOT certificate online.
There is no charge to replace a lost or damaged original. But, you would need to provide the system with:
The vehicle registration (number plate)
The 11-digit number from the vehicle log book (V5C)
Note: There is a different service for heavy goods vehicles (HGVs), public service vehicles (PSVs) and trailers. Use the document titled 'replace heavy goods vehicle (HGV) plating or test documents (VTG59)' for HGVs and trailers or the document titled 'replacement fitness and testing documents application form (VTP6)' for PSVs.
---
What is the DVSA Working On Next?
The Driver and Vehicle Standards Agency (DVSA) is also working on ways to improve their guidance and services to MOT testing stations.
As part of improvements to MOT rules and regulations, they are also:
Improving the risk rating system to focus on the higher risks.
Developing a guide for managers on how best to manage a testing centre.
Planning to make further changes to inspection manuals.
---
How to Replace a Lost MOT Certificate in United Kingdom