PASSING THE MOT: If a vehicle passes the Ministry of Transport test:
You get a receipt style MOT test certificate from the testing centre.
The centre record MOT test results for vehicles in the MOT database.
---
Vehicle Mileage Reading
The MOT test certificate will display the mileage reading for the vehicle. MOT results show the current mileage on the test date and the mileage for the three (3) previous test passes of the vehicle.
You can see it recorded under the 'odometer reading and history' section. You should always check the mileage recording so that you can:
Report any mistakes made on the latest mileage reading to the MOT testing centre (within 28 days).
Get a replacement MOT certificate from the testing station.
What if they issued the test certificate more than 28 days ago? In this case, you should report the mistake to the Driver and Vehicle Standards Agency (DVSA) instead.
They will need some proof of the mileage close to the time of the MOT result (e.g. vehicle service receipts). Send photos, scans, or copies of any documents by email or post to DVSA. They will not return 'original' documents.
DVSA
Email: [email protected]
MOT Replacements
DVSA
Jupiter Road
Helleson
Norwich
NR6 6SS
Note: The MOT centre cannot change any mistakes made on earlier mileage recordings. They can only change the current one. Click to view a sample of MOT test certificate.
---
What Happens If a Car Fails an MOT?
A test result listing any 'dangerous' or 'major' problems means the vehicle will fail the MOT. This might mean you cannot drive it until you fix the problems.
In some cases, the tester might record 'minor' or 'advisory' problems after testing. If so, you will need to monitor or fix them in the future.
If the vehicle fails the MOT test:
The test centre will issue a 'refusal of an MOT test certificate'.
The test failure will get recorded in the MOT database.
Note: MOT rules and regulations allow you to appeal the result if you think the MOT failure got made in error.
---
Driving after MOT Failure
If the current MOT certificate is still valid you can take the vehicle away even after failing the test.
But, if the MOT has run out you can take the vehicle to:
Get the failed defects repaired or replaced.
Another pre-arranged MOT test appointment.
In either case, the vehicle must still meet the minimum standards of roadworthiness at all times to avoid a fine.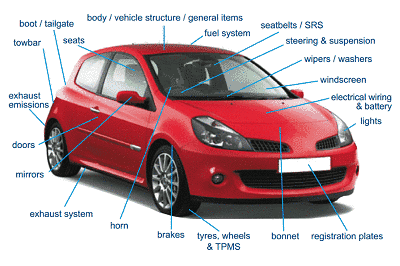 You must check the vehicle is safe to drive. Driving a vehicle in a dangerous condition after failing its MOT can result in a fine up to £2,500. You could also get banned from driving and receive 3 penalty points.
---
MOT Results: What Happens after a Test Pass or a Fail?