MOTORWAY RULES UK:This guide covers the essential information of how to drive on a motorway. But, other Highway Code rules and regulations apply, wholly or in part, to motorway driving in Great Britain.
The UK rules of motorway driving get updated on a regular basis. The police have new powers to curtail careless or aggressive drivers.
In fact, you can get an on-the-spot fine and 3 penalty points for tailgating or lane-hogging. The same rules apply to cutting up other drivers or using a hand-held mobile phone at the wheel.
Motorists can use this section to brush up their knowledge of Highway Code motorway driving rules. Relearning proper motorway driving etiquette is a good way to avoid motoring penalties.
---
General Rules for Driving on Motorways
Rule 253: Pedestrians and certain vehicles are prohibited on motorways. The list of vehicle types which MUST NOT use a motorway include:
Holders of a provisional licence for a motorcycle or a car and riders of motorcycles under 50cc (mopeds).
Agricultural vehicles, powered wheelchairs, and powered mobility scooters.
Cyclists, horse riders, some slow-moving vehicles, and those carrying oversized loads (except by special permission).
Note: Provisional licence holders may drive on the motorway for lessons if accompanied by an approved driving instructor (ADI). The car must have dual controls fitted and display red L plates (D plates in Wales).
Rule 254: As a rule, drivers have less time to react on a motorway. This is due to traffic traveling faster than on other highways and minor roads. Thus, use vehicle mirrors and indicating signals early and often on motorways.
---
Joining Motorway Lanes from a Slip Road
Rule 259: Generally, when you join a motorway you will approach it from a road or an adjoining motorway from the left-hand side in Great Britain.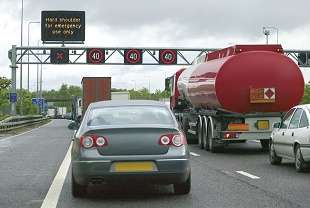 The motorway joining lane is called a slip road. Follow all the motorway lane rules when using slip roads or special adjoining motorways:
All motorists should give priority to traffic which is already moving on the motorway.
Check traffic on the motorway and while in the left-hand lane, match your speed to fit safely into the traffic flow.
Do not cross any solid white lines where they get used to separate the lanes.
Do not use the hard shoulder to enter a motorway.
The slip roads Highway Code advises you to stay on the slip road if it continues as an extra motorway lane.
Keep your vehicle in the left-hand lane long enough to adjust to the speed of traffic. Thus, use safe motorway lane discipline before you consider changing lanes or overtaking.
---
Driving on the Motorway
Rule 260: When driving on a motorway, if you can see well ahead and the road conditions are good, as a general rule you should:
Continue to drive at a steady cruising speed. It should be a speed which you and your vehicle can handle safely and within national speed limits.
Always keep a safe distance from the vehicle in front. Increase the gap in bad weather conditions (e.g. wet or icy roads, or in fog).
Rule 261: Drivers MUST NOT exceed 70 mph (112 km/h), or the maximum speed limit permitted for your vehicle.
You MUST NOT exceed the lower limit where a lower speed limit is in force. An example could be for road works. These motorway rules apply whether a reduced speed limit is permanent or temporary.
You MUST NOT exceed mandatory motorway overhead signs (displaying the speed within a red circle). They get used on some motorways to vary the upper speed limit in an attempt to improve traffic flow.
Rule 262: All drivers should note that the monotony of driving on a motorway may make you feel more tired and sleepy than driving on urban roadways.
Rule 263: You MUST NOT reverse, cross the central reservation, or drive against the traffic flow. You should carry on to the next available exit if you miss your motorway exit, or have taken the wrong route.
---
Motorway Stopping Rules
Rule 270: Stopping your car on any lane of a motorway is dangerous. Drivers MUST NOT stop on the carriageway, hard shoulder, slip road, central reservation or verge (except in an emergency).
Exceptions apply if told to do so by the police, traffic officers in uniform, an emergency sign, or by flashing red light signals.
Note: Do not stop your vehicle on the hard shoulder to make or receive calls from a mobile phone.
Rule 271: Unless it is an absolute emergency, such as a motorway breakdown, you MUST NOT pick up or set down anyone, or walk on motorway carriageways.
---
Rules for Leaving Motorways
Rule 272: Unless road signage indicates otherwise, leave the motorway by a slip road on your left-hand side and:
Look out for the signs which show when you are getting near to your exit.
Maneuver your vehicle into the left-hand lane well before reaching your exit.
Signal left in good time and reduce your speed on the slip road as necessary.
Rule 273: When you leave a motorway, or use a linking road between motorways, the speed of your vehicle may be higher than you realize. Often 50 mph feels like 30 mph after leaving a motorway.
So, drivers should always check the speedometer and adjust the vehicle's speed accordingly. Be aware also that some slip-roads and motorway link roads have sharp bends. Be prepared to slow down as you are leaving the motorway.
Related News Article: Learner Drivers to Get Car Driving Lessons on Motorways
---
Smart Motorway Rules Highway Code
There are several different types of smart motorways used in England. So, understanding how to drive on a smart motorway is essential reading for most motorists.
Note: Smart motorways have a hard shoulder converted into a fast-moving traffic lane. So, in effect it becomes a 4 lane motorway. Find out what should you do if you break down on a smart motorway.
---
Highway Code Motorway Driving Rules in United Kingdom