CHILDREN WITH SEND: Special Educational Needs is a legal definition. The term SEN defines children who show learning difficulties.
It also applies to disabilities which make it harder for them to learn. This is especially evident during their schooling days.
Specialist teachers and voluntary organisations can provide extra help.
They can provide alternative care for children with special educational needs and disabilities.
There is a set method used to measure their learning capabilities. It is a comparison with the majority of other children or young adults from the same age group. This is how they determine the capacity of SEND children to learn.
Having SEND means a child's ability to learn the national curriculum is a challenge. It is difficult for them to use recognised and traditional study methods.
Thus, these children and young adults need specialist help in many areas because it affects their:
General behaviour and ability to relate with adults or socialise with others. For example, it would be a struggle for them to make friends.
Schoolwork and their reading and writing skills, or number work, if they have dyslexia.
Method of expressing themselves or causes a weak ability to understand things happening around them.
Their levels of concentration if they have attention deficit hyperactivity disorder (ADHD).
Their sensory or physical ability to join in with certain school activities.
---
Special Educational Needs Support Service
Support for Parents
Parents should find extra help and support from the SEN co-ordinator or 'SENCO'. They are usually based at the nursery or the facility where your child is being schooled.
Your local council can also offer further advice with SEN support. Contact them if your child does not attend any of the traditional types of school, college, or nursery.
A local 'Information, Advice and Support Service' can provide valuable information for parents. They can also help disabled children and young people with Special Educational Needs.
Support for Your Child
Children with Special Educational Needs and Disabilities may qualify for:
SEN support given during school time (e.g. reading or speech therapy).
EHC or 'Education, Health and Care' plan. This is extra help and support outside of schools. EHC focuses on children and young adults (up to 25) with more complex needs.
Note: Support continues for those who got support before September 2014 until the council change it to an EHC plan.
---
SEN Support for Children Under 5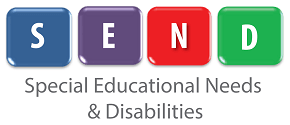 SEN support for your child will be available at their school or their college.
They may need an education, health and care (EHC) plan if the school is unable to provide enough support. The Special Educational Needs support available for children under 5 can include:
Conducting a written progress check for your child when they reach 2 years old.
Health checks carried out by a child health visitor for children age 2 to 3 years.
A summer term written assessment for their first year of attending a primary school.
A plan providing reasonable adjustments for disabled children (e.g. using tactile signs).
There is extra SEN support for children under 5 years old at most nurseries and playgroups. All childminders registered with Ofsted, should follow the framework of the Early Years Foundation Stage (EYFS). This ensures an increased level of support exists for children with SEND.
Note: Talk to your doctor or health adviser if your child does not attend nursery school and you think they may have SEND.
---
SEN Support for Children between 5 and 15
What if you feel your child needs SEN support and they are between the ages of 5 and 15? Discuss it with the school teacher or the SEN co-ordinator if you feel your child needs:
Placing in a special learning program with extra help from a teacher or assistant.
To work in a smaller group with additional observation in class or at break times.
Special help for taking part in regular class activities.
Extra encouragement in their learning (e.g. asking questions or doing things they find difficult.
Helpful encouragement and advice for communicating with other children.
Support with physical or personal care difficulties (e.g. eating, toilet use, or moving safely around the school).
---
People in Further Education from 16
Contact the college ahead of time to ensure the facility of Further Education (FE) meets the needs of your child. Extra help is available from the college and your local authority.
---
Education Health and Care Plan (EHC)
Children and young adults can get extra support from the education, health and care plan. An EHC plan provides increased health and social support beyond the basic SEN for people up to the age of 25.
---
How to Request an EHC Assessment
Your local authority can carry out an education, health and care assessment if you make a request. You can also request an EHC plan yourself if you are between 16 and 25 years of age.
Note: Family friends, doctors, health visitors, or teachers can also make a request for the EHC plan.
It can take up to 16 weeks for your local authority to determine whether they will carry out an assessment. If an education, health and care assessment goes ahead you may need to provide them with:
Your child's school or nursery records and reports (or childminder reports).
Any assessments of your child performed by a doctor.
A letter stating the circumstances about the special needs required for your child.
---
Steps for Creating an Educational Health Care Plan
Your local authority creates a draft EHC plan and then sends a copy to you.
You get 15 days to comment on the draft. That allows you to say if you prefer your child to attend a specialist needs school or a specialist college.
From the date of the assessment, the authority then has a up to 20 weeks to give you the final EHC plan.
If You Disagree with the Decision
You can make a challenge to your local authority about several different outcomes including:
If they decided not carry out an assessment.
If their decision was not to create an EHC plan.
Any of the special educational support laid out in the EHC plan.
The school chosen and named in the EHC plan.
Note: What if you are unable to resolve the problem with the authority? You can appeal to the First-tier Tribunal (Special Educational Needs and Disability).
Personal Budgets for Children with EHC Plan
A personal budget may be available for your child or they may get told that they need one. Having a personal budget means you can suggest how to spend the support money. There are several ways you can use a personal budget from an EHC plan. You can choose to have any (or a combination) of:
Direct payments paid into your own account so you can buy and manage the services yourself.
Notional arrangements. This is an arrangement between you and your local authority or school. It lets them hold the money for you, but you decide how and where to spend it.
A third-party arrangement. This means you choose or appoint another person to manage the money for you.
Independent Support for Children (all ages)
The new SEN assessment process allows Independent supporters to help you and your child. Thus, an independent supporter can help to:
Replace the statement of special educational needs with the new EHC plan.
Move a child from a learning difficulty assessment (LDA) to an EHC plan.
You can find further information on getting local support via:
---
Children who got SEN Support Before September 2014
What happens if your child got support before September 2014? In this case, they move over to an education, health and care (EHC) plan before:
September 2016 if they have a learning difficulty assessment (LDA).
Spring 2018 if they have a statement.
This process should happen at one of the planned reviews. It may also take place when your child changes to another school. Your local council will inform you which one will happen. Your child should be receiving SEN support already if they got help through:
School Action or School Action Plus
Early Years Action or Early Years Action Plus
---
Getting Support when Your Child Leaves School
A 'transition plan' gets drawn up in Year 9 for children who have a statement of special educational needs. This helps to plan continued and future support after your child leaves school.
Your child may also request an EHC assessment. This would apply if they consider needing more help than they are getting at the school or college.
---
Getting Help and Advice about SEND
You can phone the 'Contact a Family' helpline or 'Independent Parental Special Education Advice' for further help. They offer advice about children with Special Educational Needs and Disabilities (SEND).
Contact a Family Helpline
Mail: [email protected]
Telephone: 0808 808 3555
Monday to Friday: 9:30am to 5pm
Check call charges to 0808 numbers.
IPSEA Advice Line
Telephone: 0800 018 4016
Monday to Thursday: 10am to 4pm and 7pm to 9pm
Friday: 1pm to 4pm
Check call charges to 0800 numbers.
---
Children with Special Educational Needs and Disabilities in the United Kingdom