FIA REGULATIONS: The amendments relate to machinery eligibility.
Out goes the old ruling of demo cars needing to be at least two years old.
So why are Formula One rules getting an overhaul for 2018? The main reason is to allow teams to run their most current cars at demonstration events.
It follows F1 Live spectacular staged at Trafalgar Square in London 2017.
FIA World Motor Sport Council has already approved the change. That is a great piece of sports news for all fans of Formula One car racing.
The news means more fans will have a chance to see the most current Formula 1 cars. They will be spinning and smoking on future demo events organised by Liberty Media.
F1 commercial rights holder will organise the venues for the demos. But, they will exclude all currently-approved Formula 1 circuits.
Some of the most recent cars, seen at F1 Live London, were in fact cars from 2015. That was because of the two year F1 car eligibility ruling.
Even so, there is no doubt how much of a success the event was. A crowd around 100,000+ and all 10 Formula 1 teams were in attendance. That proved to be a record outside of a normal Grand Prix weekend.
There is no shortage of Formula 1 rules and regulations already in place. The governing body also has tight restrictions on how teams test their current cars.
The rules define those built to the regulations of the previous season. But, it also governs those in the current season and the one following.
---
Celebrating Championship Success
The 2017 car rules limit teams in demonstration events for fans and sponsors. At the discretion of the FIA, two demo days can go ahead to celebrate championship success.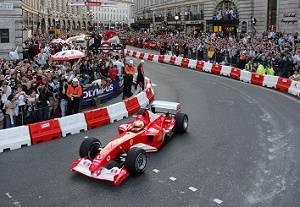 But, pre 2018 demos can be no more than 15km (3.1 miles) in length. They must also take place between the last race of the season and the end of the calendar year.
Racing teams can also carry out two filming days. They must use special tyres and not exceed 100km. The rules allow this for promotional and marketing purposes. Any other promotional events have to use older cars.
The restrictions meant some teams were absent at the London Live event. Liberty set up the publicity stunt to go ahead in July before the British Grand Prix.
The picture shows the 2017 car ballyhoo taking place in central London. Of course, the cars were running at reduced speeds. But, there was an abundance of smoky spins and revving engines. It was a successful show and Formula One bosses are keen to repeat the format.
---
---
Formula One Slacken the Rules for Demonstration Events from 2018