GAY MEN BLOOD BAN RULE: The government reviewed the 12-month 'celibacy' period for gay male blood donation.
Prominent doctors in the United Kingdom welcomed the research and the results.
Currently, [2015] gay males must abstain from sex for a minimum period of 12 months before they give blood. The same ruling applies even if they use protection or are in a long-term relationship.
Note: New blood donation guidelines for gays and sex workers changed from November 2017.
---
Can Gay People Donate Blood?
The logic behind the restrictive ban got introduced following the rise in HIV cases. But, many bisexual and straight heterosexual lobby groups, including British doctors, questioned it.
The UK seems set to follow the dropping of the ban by the French Health Ministry. They announced that they will lift their 30-year ban.
---
12 Month Blood Donor Ban
At present, according to the United Kingdom National Health Service, you should not donate blood for 12 months after having sex with:
A commercial sex worker.
Someone who has injected drugs.
Someone who has haemophilia. This is a health condition that stops your blood from clotting in the normal way. The same also applies to other blood disorders that require clotting factor treatment.
Someone who has been sexually active in parts of the world where HIV and AIDS are common. Typical examples include sub-Saharan Africa.
A man who has had oral or anal sex with another man (if you are female).
A man (if you are male) – with or without a condom.
---
2016 Gay Blood Donation Law Review
The Public Health Minister confirmed in the House of Commons that there would be a review of the issue. She went on to say: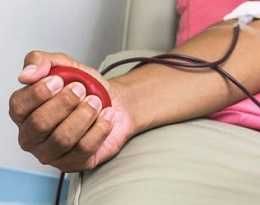 "Making sure that the blood supply is safe is an absolute priority. The UK blood donor rules on deferral for men who have sex with men changed from lifetime to 12 months in 2011. But, four years later it is time to look again at the question.
Public Health England has undertaken an anonymous survey of donors. The Advisory Committee on the Safety of Blood, Tissues and Organs will review the issue in 2016.
The blood service does not discriminate on sexual orientation. The deferral period gets based on sexual activity. It applies to several other groups other than only men who have sex with men."
One of the Conservative MPs (Michael Fabricant) wanted to know why it was taking so long to lift the ban in the United Kingdom.
She confirmed that the safety of blood is paramount. But, many clinicians feel that a review on gay blood donation is long overdue. We may finally achieve equality in this matter.
A spokesperson for the equalities group Stonewall expressed their delight in the announcement. A fair donation system based on up-to-date medical evidence is the right way to move ahead.
They fail to see why straight people who may have had unprotected sex can donate. They suggested that current rulings are unfair. They want to see an accurate assessment of the risk of infection. That should be irrespective of sexual orientation.
---
---
Reviewing the Laws on Gay Male Blood Donation in the United Kingdom