The interactive learning tools and text message tips will support children's early language and literacy at home.
It is part of a society-wide push to help prepare some of the most needy and underprivileged children for schooling.
Free access is going to benefit thousands of families from disadvantaged backgrounds. The digital applications include some of the best children's educational apps for smartphones and tablets.
The DfE wants parents to use children's screen time in a constructive manner, instead of an undemanding distraction.
Government reports show that most deprived children fall behind in their general development. Often, the slide is as much as four months by the time they reach 5 years old.
By the age of eleven, underachievement has grown by an extra six months. On average, many of these children will be 19 months behind the overall attainment of their peers at time they sit their GCSEs.
---
Educational Apps for Phones and Tablets
There is no shortage of educational apps for smartphones and tablets on the market. Many parents buy them to support children's early learning activities.
Despite the choice and availability, finding reliable information on which are the best and most effective is lacking in many cases.
This is one of the reasons why the Department for Education is buying subscriptions to high-quality early learning apps.
Note: Trials take place in a dozen or so pilot areas across the country. It provides free access to disadvantaged families with children aged between two and four years old.
---
Comments from the Education Secretary
Being a parent is somewhat like learning to drive a car or bike. It is full of discovery, but challenging at times. There's always a few obstacle to swerve around.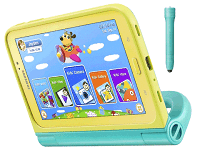 Children are growing up in a world that changes 'constantly' and it is hard to keep up. A manual would be very useful when it comes to children and technology. Thus, when it comes to screen time:
The pressures that come with social media (and time spent looking at a screen) is a key worry for parents.
The power of technology and the internet can open up a whole new world when embraced properly.
Even so, it is difficult to navigate and often an expensive experience for parents. That is why the DfE is supporting parents of all backgrounds.
They can embrace its benefits and use it in a measured, yet sensible way. Doing so will help to improve the early development of their children at home.
Related Articles:
Software Tool Identifies Online Child Grooming
'Talk not Tap' Child Internet Rule Explained
Why is Homeschooling On the Rise in the UK?
Screens and monitors prove to be an easy distraction for children. But, we can harness the power of technology to support early communication and development. The result is another tool to help young kids develop those skills.
---
New Projects Run by EEF and SHINE
From February 2019, six thousand families located in the north of England will take part in four new programmes. The projects provide practical tools and advice, such as:
Parenting group sessions.
Educational toys and books.
Text message tips sent directly to mobile phones.
DfE have recruited close to 400 schools and nurseries for projects run by the Education Endowment Foundation (EEF) and Leeds-based education charity SHINE.
It builds on a 10-year ambition. The aim is to halve the proportion of children who leave Reception lacking the communication skills they need to thrive.
---
Apps to Improve Child Reading, Writing, and Speaking
The UK Government approved six new early years apps. The new technology will help families support children's literacy and language skills – from newborn to age five.
It follows a competition seeking to find the best child apps for parents to enhance home education. The panel chose six (6) new early years apps (published on the Hungry Little Minds website) that focus on literacy, language, and communication.
They cover a range of activities that include:
Educational video games
Handwriting exercises (using Information Technology combined with Artificial Intelligence)
Interactive story books
Note: New data shows three in four children (aged 5 and under) have already used a smartphone or tablet app as part of their learning process.
---
DfE Pay for Disadvantaged Families to Benefit from Free Early Learning Apps