TALK DON'T TAP: Many psychiatrists are calling for dinner time table manners to include a so-called 'talk not tap' ban.
Their announcement emphasizes many parents' reliance on smartphones, tablets, and information technology saturation.
It gets used on young children to extreme proportions in this digital age of apps and computer games.
The worry is that a huge number of children are spending an increasing amount of their day crouched over their phones and devices. Many of them get transfixed by social media.
---
Digital Nannies
Technology seems to be taking over our children's lives. Top psychiatrists are advising parents to enforce a social 'talk not tap' culture. This especially emphasised while seated at the family dinner table.
The aim is to stop smartphones and tablets creating a society of 'emotionally' stunted children. They risk becoming unable to cope properly with the real world.
Parents may unknowingly be contributing to the problem. Many are allowing apps and computer games to take on the role of 'digital nannies'. Entertainment and stimulation for children 'does not compute' if we compare it to the way real human interaction once did.
There is a health concern. Experts believe that screen time overload changes how children learn. A leading child consultant and adolescent psychiatrist reiterates the point.
"Access to digital media can have certain educational benefits. But, excessive screen time is changing children's emotional sense of reality. There is an extra potential for inappropriate or damaging information."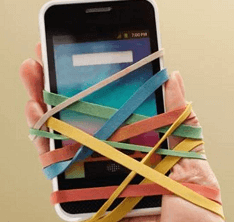 She went on to state that important emotional skills are at risk of getting lost altogether. Children can lose the ability to socialize in person.
The main fear is that kids might begin to think they can exercise control at the tap of a key. They get used to receiving instant gratification.
In turn, they lose the ability to read emotions and to empathize with others. It is a form of 'cyberbullying' – not uncommon to bullying at school.
Children travel to school bent over in complete immersion with their phones. They have less real knowledge about their friends. Most of it – they picked up through social media platforms.
---
Smartphone Usage
Estimates suggest the average smartphone user checks their device well over 200 times a day. Youngsters get bombarded with texts, emails, and electronic messages. They hear some digital 'noise' almost every hour they are awake.
Studies warn that digital technology is resulting in brain 'rewiring'. True – children are becoming better at scanning information. But, they are less imaginative and less focused. Their writing and communication skills are falling behind.
There are fears that increasing interaction with smartphones is destroying normal social relationships. Digital applications and computer games have become the norm.
Parents have tough choices to make. They can say no more tapping of devices at dinner and spend more time talking. Or, they can ignore the warnings and allow the reliance to continue.
Organisation for Economic Cooperation and Development
A major international study echoed the findings. The publications revealed a mixed relationship between screen time and children's performance at school. The Organisation for Economic Cooperation and Development (OECD) made the analysis. They found a possible link between playing video games and exam results in some subjects.
Those who enjoy some video games in moderation scored slightly higher overall. They also fared particularly well in digital problem solving tasks. It was part of the 'Pisa' tests of mathematics and literacy conducted by the OECD.
Whereas, those who played online multiplayer games, or devoted longer periods to gaming, performed worse in the tests.
---
---
Talk not Tap Rule Saves Children from Digital Saturation in the United Kingdom