BADMINTON OFFICIALS EQUIPMENT: In most cases, the tournament coordinators and sponsors will supply the gear and uniforms.
They usually provide clothing for the referee and umpires to wear, along with equipment for the players to use.
As a rule, championship organisers also provide some apparatus too. They usually donate shuttlecocks and issue a high chair for the adjudicator.
Even so, there may be occasions when match officials and line judges need to bring their own uniform and gear. This guide explains what badminton kit and paraphernalia you might need.
Badminton umpiring responsibilities extend beyond the players and spectators. The officials must also ensure all the match equipment is used appropriately and treated with due care during the games.
Note: Either a BWF electronic scoreboard or a manual scoring system is an essential part of badminton officials equipment. Manual scoreboards should be placed to one side of the umpire's chair.
---
Umpire and Referee Equipment
So, you may be asking yourself what equipment do badminton officials need? To officiate a badminton game the umpire will need some essential hardware, including:
A watch with a timer facility (or a stopwatch).
Two (2) caution cards (one yellow and one red).
A clipboard used for team tactics and strategy.
The scorecard and at least one pen.
A badminton umpire chair with a seat height of 155 centimetres (as shown in the diagram)
A black card is handy badminton referee equipment to have for issuing a disqualification (optional).
Note: You may find it useful to review the section comprising badminton equipment name list and descriptions.
---
Equipment for Line and Service Judge
Apart from good eyesight, what equipment does a line judge need in badminton? To assist in officiating a formal game, the line and service judges will need:
A pen
A watch (or stopwatch timing device)
---
Technology Used by Officials in Badminton
Hawk-Eye Computer System
The Badminton World Federation (BWF) first introduced Hawk-Eye technology in India in 2014. They now use the SMART Replay technology of Hawk-Eye in many of the major tournaments.
The main purpose is to help officiate on the game's infringements, such as line calls and service faults. It visually tracks the trajectory of the shuttlecock (also called birdie in badminton terminology) and so it displays a moving image profile of the most likely path.
Hawk-Eye's tracking cameras also help to enhance televised broadcasts by providing additional and intuitive data (e.g. on shuttle speed).
---
Badminton Uniform and Clothing Regulations
All badminton officials appearance and uniform must distinguish them from the players. As a rule, a badminton referee would wear a single colour polo shirt (e.g. white). Umpire shirt colours should not be too garish either.
Always tuck badminton shirts inside trousers or knee-length shorts.
Referee equipment also applies to their assistant linesmen. They should be wearing rubber soled indoor court trainers during the game.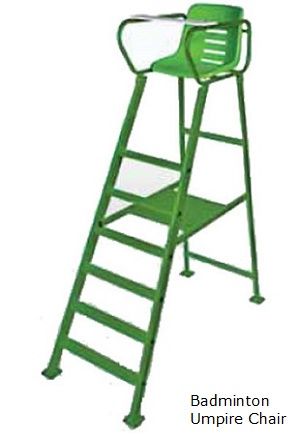 Major Tournaments
It is not uncommon for officials to receive sponsored badminton attire. Most sponsors will supply shirts and clothing as part of the uniform for badminton officials.
This happens most often when the tournament has a large prize fund or it will attract a lot of attention from the media.
The same applies to big money-earning international championships, when umpires, referees, and linesmen wear 'uniformed shirts'.
Adverts usually get imprinted on all badminton officials uniforms. It is common to display an advert for the sponsor's brand on the shirts.
Minor Tournaments
Badminton officials equipment is often different for minor tournaments. Usually, it will be the regional club that determines the uniform rules for the officials to wear at smaller competitions.
The badminton clothing rules and regulations are less restrictive in county games. Small clubs rarely have enough funds to donate uniformed shirts or to enforce a particular dress code with the match officials.
In case you were wondering:
Organisers of minor tournaments may not even hire standard officials (e.g. line and service judges). This is due to the prize or sponsorship money often being too little. It may not even cover the administrative cost of looking for volunteer officials.
As a general rule, line and service judges overseeing lesser contests can wear a somewhat less formal outfit. But, they would usually need to wear a decent uniform for elite competitions.
---
Badminton World Federation (BWF)
According to BWF rules and regulations shirt colors should not be too bright. Wearing dazzling clothing can distract the players during a match.
Note: Teachers and coaches will find further rulings in the official badminton rules and regulations PDF.
---
Badminton Umpire Equipment for Officials Refereeing in United Kingdom