ORIGIN OF BADMINTON GAME: The sport has retained its complex roots. The history and origin of badminton has survived through the ages.
The popular sport of modern day indoor badminton has been around since the 16th century.
---
Origin of Badminton 'Battledore and Shuttlecock'
Back then, an upper class pastime called Battledore and Shuttlecock was developing in England and several other European countries.
The aim was to hit a shuttlecock backwards and forwards between two people. Sometimes, the game would also entertain a group of players too.
They would use a simple bat or paddle to pass the shuttle to each other. The skill was passing it around as many times as they could without it falling to the ground.
A similar game was getting played in India in the 1800s – called Poona. British military officers brought back a contemporary form of this game. It became one of the first known widespread pastimes to evolve where players were hitting a shuttlecock over a net.
Despite this, or because of it, shuttle badminton is one of the newest sports in the modern Olympic Games. Nowadays, it gets played by the masses in India, Japan, china, and Greece.
---
History of Badminton House Gloucestershire
The founder of badminton game official moniker originates from the Duke of Beaufort. He had a stately home called 'Badminton House'. The Duke held a lawn party at his country place in 1873 and the game of badminton was born.
It was further popularized among the British society's elite in Gloucestershire, England. In fact, that is when the Bath Badminton Club formed.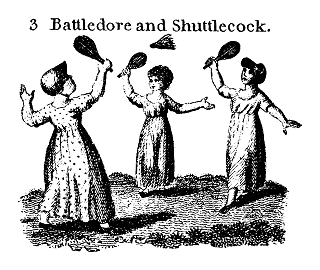 They developed the first official set of badminton rules in 1877. The International Badminton Federation is still currently based in Gloucestershire.
The IBF formed in 1934 with nine original members. They were Canada, Denmark, England, France, Ireland, Netherlands, New Zealand, Scotland, and Wales. India joined as an affiliate in 1936.
The United States joined the nine founding members four years later in 1938.
A steady increase in membership ensued. Badminton reached its first pinnacle following the Olympic Games debut in Barcelona.
There are now believed to be over 150 IBF member countries.
They held the first Open Tournament in 1898 at Guildford. This got upstaged the following year by the first 'All England' Championships.
As years passed, Canada, Denmark, and the USA became ardent followers of the game. In 1948 the first major IBF tournament held was the world men's team championships. Many badminton historians will recognized the title better as the Thomas Cup.
---
Commonwealth Games Badminton Facts
The year of 1966 was a big year for Badminton facts. The sport got introduced as a Commonwealth Games program in Jamaica. It has had an inclusion in every Commonwealth Games since. The initial competition included all five disciplines. The Teams Event started showing in later programs.
Facts about Badminton Olympic Games
Badminton became an Olympic Games sport in Barcelona in 1992. Later in 1996, a mixed doubles event got included in Atlanta. It remains as the only mixed doubles event in all the Olympic sports.
---
ALSO IN THIS SECTION
Do Badminton Officials Wear a Uniform?
Yes, as a rule badminton umpires wear a specific uniform. It should be clear and distinguish them from the players and spectators.
What Specialist Equipment is needed for Badminton Umpires?
Badminton umpire equipment and clothing often gets provided by tournament coordinators or sponsors. Match officials and line judges may need to bring their own badminton tool kit if not.
What are Badminton Health and Safety Rules?
It is not typically recognized as a punishing or extreme contact sport. But, following the health and safety rules in badminton will help you to reduce body strains.
How Do Officials Communicate in Badminton?
Badminton umpires and referees use a series of hand signals to communicate. For example: A raised right hand straight above the head while calling the player's name is one of the hand signals.
---
Badminton History and Origin: Battledore and Shuttlecock Badminton Facts