THE QUEEN: Queen Elizabeth II was born on the 21st of April 1926.
The Queen's accession to the throne took place in 1952 and she is the longest-reigning UK monarch.
Requesting a Telegram from The Queen
You can get a telegram as a personal message from Queen Elizabeth ll.
British nationals can apply for a birthday or anniversary message sent by The Queen. But, only certain birthdays and anniversaries qualify.
Telegrams have been used for international messages since 1981 in the UK. A telegram is a message sent by telegraph and later delivered in a printed or written format.
Find out which notable anniversaries and birthday celebrations qualify and what documents you will need. You can apply for the Queen's message:
Up to 3 weeks before your birthday or anniversary date (5 weeks for online applications).
Up to 6 months after birthdays or anniversaries for belated messages.
---
100th Birthday Telegram Wishes from The Queen
How do you get a 100th birthday letter sent from The Queen? You can get a congratulatory birthday message but it must be:
For someone celebrating their 100th birthday.
For those who celebrate a 105th birthday.
For each birthday celebration for every year that follows their 105th.
You can apply for Queen's message online or download and complete the application form.
---
Anniversary Message from The Queen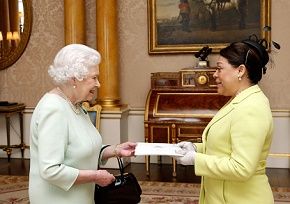 The Queen also sends out congratulatory messages for couples who celebrate their achievements including:
60th wedding anniversary telegram from the Queen (diamond wedding telegram).
65th anniversary of marriage.
70th wedding anniversary card from the Queen (platinum wedding telegram).
For each anniversary that follows their 70th.
You can apply for Queen's message online or download and complete the application form.
What Happens if the Person Lives in Australia, Canada, or New Zealand?
In this case you should apply directly to the Governor-General. Contact the Anniversaries Office for further details.
Anniversaries Office
Telephone: 020 7930 4832
Monday to Friday: 9am to 5pm
UK phone call charges chart.
---
Buckingham Palace Telegrams from The Queen
The Queen recognises significant milestones of British nationals. Queen Elizabeth ll sends celebratory wishes to thousands of people every year.
The personal messages include a birthday or wedding anniversary card from The Queen. They get sent on behalf of The Queen to help them celebrate significant milestones in their lives.
Receiving a congratulatory card from Her Majesty Queen Elizabeth is a memorable part of any celebration. The Anniversaries Office at Buckingham Palace arranges most deliveries. It is a continuing tradition dating back to 1917.
A cherished congratulatory card has a personalised message from The Queen. As one would expect, it is befitting to learn that your letter from the Queen arrives in a 'royal' envelope.
---
Buckingham Palace Telegrams: How to get a Telegram Message from the Queen