HORSE MICROCHIP LAW: Anyone owning a horse, pony, or donkey will need to get it microchipped once the new laws take effect.
RSPCA figures show that they rescued close to 1,000 horses in the year of 2017. Their statistics highlight how many horses get dumped or fly-tipped each year.
But, these horrific conditions should start to diminish from October in 2020. That is when it will be mandatory for all equine owners to microchip their horses, ponies, and donkeys.
The new equine ID legislation will run in coexistence with the new Central Equine Database. That means local authorities and the police will be able to track down the owners of horses that get dumped.
The outcome should mean more of the offenders will get caught and punished. It will make it easier to reunite lost or stolen horses with their rightful owner. Thus, the animals will stand a better chance of receiving the care that they deserve.
Note: The new horse microchipping regulations apply to all domesticated horses. The mandatory microchipping of horses does not include wild ponies.
---
The Central Equine Database
Protecting horses with the National ChipChecker and Digital Stable means horse owners will be able to:
Manage their Equine Passports and information from one single access point.
Check and verify the data held on the horse microchipping database.
Quickly make a report of a missing horse to national authorities.
Set statuses and alerts on the National ChipChecker.
Check whether a horse is being sold according to the correct and legal processes.
---
Animal Welfare Minister
A report issued by the Animal Welfare Minister highlighted the government's stance on microchipping horses:
The UK Government shares the high regard of the British public for the welfare of animals. It is completely unacceptable that hundreds of horses and ponies end up abandoned every year by irresponsible owners.
This is the reason behind the new regulations laid out in Parliament requiring horses to be microchipped. It will fortify the ability of police and local authorities to identify abandoned animals. The result means those who mistreat ponies or horses will face the consequences.
The Central Equine Database (CED) logs information on all domesticated horses. It will also store the data on all equines that need microchipping no later than October 2020.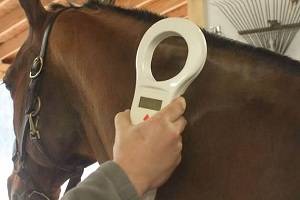 UK horse ID legislation offers a practical solution to many of the pressing animal welfare issues. It will become easier to rehome abandoned horses and other equines.
Defra is working with animal vets and the British Horse Council. One of the most important aspects is highlighting the change in regulations.
The first step is explaining that all horse owners will have until October in 2020. By that date, owners must make sure they have microchipped all their horses, ponies, or donkeys.
The announcement came in 2018 so there is some time before horse microchips become law. Thus, it allows most horse owners to combine the microchip implant with a routine visit to, or from, an animal vet. In most cases, the horse microchipping procedure should cost no more than £30.
---
RSPCA Comments on Microchipping Horses
The RSPCA is happy to see the new regulations take full effect. It will help to ensure that horses of all ages get microchipped.
Many of the rescued horses are not microchipped. That makes it almost impossible to trace the owners. Often, RSPCA inspectors deal with dumped horses. Most of the animals are very sick, dying, or sometimes already dead.
The animal welfare charity welcomes the extension of the rules on compulsory microchipping of horses. It will go some way to help find the irresponsible owners that abandon their horses. It will also help owners to reunite with any of their stolen animals.
---
The Penalties
There will be consequences for horse owners who fail to microchip their equines before October 2020. They could face sanctions from a local authority, which may include a compliance notice. In some severe cases, failing to comply could result in a fine up to £200.
---
---
Chair of The British Horse Council
The British Horse Council completely support the new legislation. They have been working with Defra on the project. It achieves an important step of requiring all equine animals to have a microchip implant.
They see it as a huge advance for horses, ponies, and donkeys in the United Kingdom. It means irresponsible owners get held accountable for the treatment of their animal. It also supports UK-wide efforts to protect equines from disease outbreaks.
Note: The regulations are much like those that require all dogs to be microchipped. But, the new horse microchip regulations should get parliamentary approval on the 1st of October 2018.
---
Compulsory Microchipping of Horses in the United Kingdom