HORSE PASSPORTS UK: Almost all horses, donkeys, ponies, and equidae (related animals) need to have a horse passport. That includes many zoo species such as zebras.
An equine passport is either a smart card or a small booklet that:
Identifies the height and species of the animal.
States whether the animal can get used for human food after it dies.
Note: An exception applies to semi-wild ponies in Dartmoor, Exmoor, the New Forest, and Wicken Fen. They only need a passport if they are under your control (e.g. horses on farms or wearing a saddle).
---
Using a Horse Passport
There are several strict rules for using horse passports. It must be valid and kept with the animal at all times. That means while they are in a stable and any time they get moved.
You must be able to show a valid equestrian passport at any time, but 'especially when':
A veterinarian examines the animal or provides treatment. A horse passport categorises the amount and type of medication that the animal can get.
A health inspector asks to see it. The same applies to a Trading Standards inspector or any other enforcement officer.
The animal gets sold or given as a gift to someone else.
Note: Failing to show a valid horse passport for an equine animal in your care can result in an unlimited fine.
---
Buying a Horse
If you buy a horse you must contact the Passport Issuing Organisation (PIO) within 30 days. They will need to update the document details for any new ownership.
What if you do not get the horse's passport from the seller? Contact the local Trading Standards office for further advice.
---
When the Horse Dies
Send the passport back to the same PIO that issued it within 30 days of the horse dying. The PIO will update their records and then either invalidate or destroy the document.
In some cases, the PIO can return the booklet or smart card to you after the invalidation process. Of course, this is not possible if they destroyed it.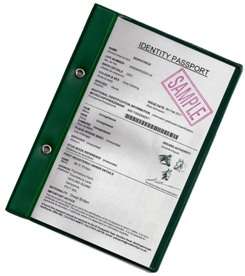 ---
Applying for a Horse Passport
Owning a horse or any of the related equidae animals means you need to get a horse passport for it. You must make an application for the horse passport before the animal gets to 12 months old.
Make the application through a 'Passport Issuing Organisation'. You will need to register with a PIO that manages studbooks if you have a pedigree animal.
Horse passport applications often take up to six weeks to process. The type of animal usually determines which method of payment you can use. Even so, to complete the application are going to need:
The services of a veterinarian to implant a microchip in to the animal.
To make a declaration of whether the animal can be used as food for humans after its death.

Note: This option cannot get changed once you declare it.
Note: Similar to pet passports there is no expiry on a horse passport. Thus, it will last for the entire lifetime of the animal.
How to Replace a Horse Passport
You should contact the same PIO that issued the original passport to ask for a duplicate. You can apply for a replacement from another PIO office if you are unsure.
Duplicates are available from an EU PIO if the horse had a passport issued in another EU country and is a pedigree. Horses with duplicate or replacement passports do not get used as food when they die.
What happens if you find the original passport afterwards? In this case you should send it back to the issuing PIO. It can be any UK PIO if the original office no longer exists or it is not in the United Kingdom.
Note: Applying for a replacement horse passport or a duplicate is breaking the law if the original is not lost.
---
Importing or Exporting Horses (or related animals)
There are different procedures for importing a horse (or related animal) than exporting one.
---
How to Import a Horse
The animal must get registered with a UK Passport Issuing Organisation within 30 days if it got imported from within the EU. It must be a PIO that manages studbooks if you have a pedigree.
The process differs if you import a horse from outside the European Union. In this case you must:
Make contact with the 'Animal and Plant Health Agency' (APHA) before it arrives in the United Kingdom.
After arrival, but within 30 days of arriving in the United Kingdom, you must then:

Contact a United Kingdom Passport Issuing Organisation to either:

Register the animal.
Upgrade the documentation.
Replace the horse's documents.
Apply for a new passport.
---
How to Export a Horse
The rules for exporting horses and ponies get explained further in one of the government publications. Follow those regulations and keep the passport with the horse at all times.
---
Expert Help and Advice
The PIO will help if you have any concerns or questions. What if you have some concerns about the conduct of Passport Issuing Organisation? In this case you can contact the Department for Environment Food and Rural Affairs (Defra).
Defra Address and Helpline
Email: [email protected]
Nobel House
London SW1P 3JR
Note: Another section explains the driving licence category, operator licence rules, and documentation needed to transport horses around Great Britain and Northern Ireland.
---
Getting and Using a Horse Passport in the United Kingdom