ICAO is the International Civil Aviation Organization. They have a unique method of describing a drone, that being:
"an aircraft without a human pilot aboard".
No matter what you call your drone, you can buy unmanned aerial vehicles (UAV) in an array of different shapes, sizes, and weights.
Most operators of drones will be piloting small handheld models. Even so, some drone manufacturers now produce them as missiles in sizes akin to large passenger planes.
Flying a UAV drone around the countryside might seem like harmless fun to a remote pilot playing with a new toy.
After all, drone flight is an exciting technique for capturing stunning images and footage. But, all RPAS operators have a legal responsibility to follow the strict drone laws in Great Britain.
UK drone laws state you must always fly drones in a safe manner. That refers to other aircraft in the air, as well as people and property on the ground nearby or in the close neighbourhood.
---
UK UAV Laws: CAA No Fly Zone
The CAA govern the regulations for flying drones around many areas of the United Kingdom. They place particular stringency on any UAV drone weighing more than 20 kilograms.
Operators need a special licence for flying drones of this caliber. Even so, the permit restrictions only allow flights in a segregated airspace.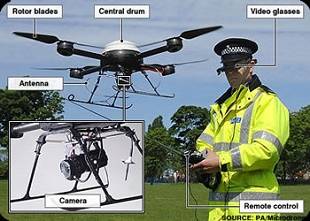 Note: Flying an unmanned aerial vehicle around any busy airport flight path is a definite no-no. It could land you in deep water (or a court).
So, you need to know how and where you can use them legally to avoid potential prosecution and civil conviction for illegal drone flight.
Small recreation UAVs weigh less than a kilo. But, if you plan to pilot a UAV for commercial use, you still need a license attesting to the competence of the operator.
Here's a perfect example:
A surveyor may want to fly a drone (or a remote-controlled pilotless aircraft) to carry out surveillance work. It is not uncommon for surveyors to use drone flights for taking aerial photographs.
Consider referring to the rules and regulations of the air navigation order for extra detailed information. Restricted airspace within the United Kingdom is available for further interpretation at [www.skydemonlight.com]
So, here's a handy list of everything you need to know about recreational drone usage in the United Kingdom.
---
UK Drones Laws (dronecode)
Operating the unpiloted craft must not endanger anyone or anything. Always keep the drone and people around you safe.
The remote pilot (person in charge) must keep the aircraft within their unaided line of sight. New flight rules are being tested by Amazon Prime Air drone package delivery in the United Kingdom.
The suggested distance for visual line of sight to avoid hitting other things is 500 metres horizontal and 120 metres vertical.
Note: You must follow the manufacturer's instructions every time you fly a drone. Endangering the safety of an aircraft is a criminal offence which may result in a prison sentence up to five (5) years.
---
You Must Not Fly a Drone:
Above 400 feet (120 metres) or within five kilometers (3 miles) of any airport or airport boundary. New laws on the flight restriction zone came to force in July 2018.
Within 500 feet (150 metres) of (or over) a congested area.
Within 500 feet (150 metres) of (or over) an organized open-air assembly of 1,000+ persons (e.g. sporting event or concert) without CAA permission.
Within 150 feet (50 metres) of any vehicle, structure, or vessel which is not under your (the pilot) control.
Within 150 feet (50 metres) of any person (except take-off or landing).
Within 100 feet (30 metres) of any person (except for the drone operator) without CAA permission.
Note: From November 2019 owners of drones weighing 250g or more will need to register with the Civil Aviation Authority (CAA). Drone pilots will also need to take an online safety test. Any drone pilot who fails to register and take the theory test can get a fine up to £1,000.
Drone Theory Test UK
As a drone user, you will need to sit an online theory test – under the new UK registration scheme. The multiple-choice quiz is free. There are twenty (20) questions with a pass mark of sixteen (16).
The rules allow you to refer to 'The Drone and Model Aircraft Code' while sitting the test. There are no limits on how many times you can take the theory test.
Example Question:
You are flying your drone behind a cluster of tall trees. Your drone is out of sight until it comes out the other side of the trees. Is this a safe way to fly a drone?
Yes, because your drone comes quickly back into view.
No, because you must be able to see your drone at all times.
Yes, providing you checked behind the trees beforehand.
Note: The 20 questions test your knowledge on drone safety and how to fly UAVs legally in the United Kingdom (drones weighing between 250g and 20kg).
---
Drone and Model Aircraft Registration and Education Service
Starting from the 5th of November 2019:
The UK Drone Registration Fee is £9 per year.
An exemption from sitting the online theory test will apply to:

Holders of current CAA permissions or exemptions for drone operations.
Model flyers holding an achievement certificate issued by a UK model aircraft association with a CAA reviewed achievement scheme.

Register as an operator with the CAA system is not needed for members of ARPAS-UK, British Model Flying Association (BMFA), Scottish Aeromodellers' Association (SAA), Large Model Association (LMA) and FPV-UK. The associations will be able to collect the registration fee from members directly and then supply their data to the CAA.
---
Frequently Asked Questions about Drone Flight
Do I Need a Licence to Fly a Drone?
Here is an update on who needs a drone licence. A licence is not required to fly a consumer drone used for recreational purposes.
To be UK legal, the drone must weigh under 20 kilograms. You must also follow all the drone rules and regulations listed in this help guide.
---
Can I Operate a Drone in My Garden or at the Beach?
It is a common question put to us… 'where can I fly my drone'? The last time we checked, flying over a beach would not be breaching the drone code, per se. But, the drone must be flown more than 50 metres distance from any people and buildings.
Is it Illegal to Fly a Drone over Private Property in UK?
The Civil Aviation Authority (CAA) regulates United Kingdom laws on consumer drones (those classed under 20 kg).
For safety reasons, it must NOT be flown higher than 400 feet (120 metres) and it MUST be at least 50 metres away from people and private property.
Note: The distance increases to 150 metres from any congested areas or any organised open-air assemblies that contain more than 1,000 people.
---
UK Drone No Fly Zones for Operators
An unpiloted drone 'no fly zone' is similar to that of a normal manned airplane. It simply refers to the areas or pockets of airspace that aircraft (manned or unmanned) cannot legally fly into.
As a rule, drone no fly zones UK fall into four main categories:
Restricted Areas: A No Fly Zone that should never be flown over or into (e.g. a prison or a nuclear power station).
Controlled Airspace: A No Fly Zone that should never be flown into without permission (e.g. airfields, airports, aerodromes).
Prohibited Areas: UK No Fly Zones that are highly recommended not to fly into for your own and everyone's safety. Examples include HIRTA Aviation 'High Intensity Radio Transmission Areas' which may cause interference with aircraft equipment.
Danger Areas: UK regions which are set aside for military weapons or pilot training. This includes the testing of military technology (GPS jamming exercises).
Restricted zones also extend up skyward hundreds or thousands of feet from the land surface. In fact, due to the UK's flying rules and regulations, some of the banned zones may not even start at the surface.
Cloud pockets of controlled airspace range from a few hundred metres to several hundreds of miles horizontally.
---
Advisory : UK Data protection laws protect and guard the rights of the public to reasonable privacy. Thus, you should comply with this legislation in United Kingdom. Done inadvertently or not, using a surveillance camera mounted on a drone to collect, to store, or to publish images of identifiable individuals is subject to the Data Protection Act.
---
Updated Drone No Fly Zones in United Kingdom